At first glance, pitting Jim Carrey against Adam Sandler may feel a bit like an arbitrary choice, but the two of them have a lot in common. Both got their start in Hollywood on sketch comedy shows (In Living Color for Carrey, Saturday Night Live for Sandler), both enjoyed career highs and a ubiquitous big-screen presence during the 1990s, and both have proven they can handle more dramatic material when the circumstances are right. But on top of all that, both actors have also recently experienced a pop culture resurgence, with Sandler turning in an award-winning performance in the Safdie brothers' Uncut Gems and Carrey not only premiering the second season of his acclaimed HBO series Kidding, but also set to open a major film in one of his most anticipated recent roles as the one and only Dr. Robotnik in Sonic the Hedgehog. Each of them has experienced some intense career highs and lows, and we decided to take a look at their box office earnings, their Tomatomater resumes, and some other fun criteria to decide who is the ultimate funny man. Check out the video for our assessment, and let us know what you think about our verdict in the comments.
---
Sonic the Hedgehog is in theaters on February 14, 2020, and Season 2 of Kidding premiered on HBO on Feburary 9, 2020. Uncut Gems opened in limited release in theaters on December 25, 2019.
#1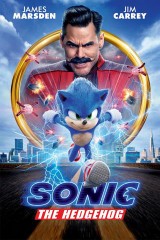 Critics Consensus:
Fittingly fleet and frequently fun,
Sonic the Hedgehog
is a video game-inspired adventure the whole family can enjoy -- and a fine excuse for Jim Carrey to tap into the manic energy that launched his career.
Synopsis:
The world needed a hero -- it got a hedgehog. Powered with incredible speed, Sonic embraces his new home on...
[More]
---
Like this? Subscribe to our newsletter and get more features, news, and guides in your inbox every week.