Rotten Tomatoes is celebrating Halloween with 31 days of horror double feature recommendations. Each day of the week will have its own theme, with today's being Twisted Tuesday! And if you want see what's in store or what you missed, see the Daily Double schedule.
---
(Photo by Columbia/Paramount/courtesy Everett Collection)
Twisted Tuesdays sink a knife into the facade of normalcy and twist the blade. For this Daily Double, women under the influence…of murder!

Before Single White Female became a verb describing a woman who tries to siphon off the energy or personality of a female friend, it was the name of the 1992 horror film starring Bridget Fonda and Jennifer Jason Leigh as roommates-cum-frenemies. Fonda plays Allie, a computer software whiz in need of someone to split the rent, who lets Hedy (Leigh) into her life. There are red flags when Hedy reveals that she was supposed to be a twin but that her other died in the womb. Next, Hedy grows possessive, messing with Allie's life and relationships, which she takes in stride until Hedy shows up with a new Allie-centric makeover. And then things go off the rails. This adaptation of a John Lutz novel presented a portrait of a woman with Borderline Personality Disorder, albeit in a very negative light. The film was only moderately received by critics and audiences, yet stuck around in the cultural consciousness because it did tap into a very real phenomena between women, in spite of being sensationalized far past any reasonable bounds. A movie that's both embraced and criticized by women (sometimes the same women!), Single White Female continues to find new fans who revel in feminine violence and obsession.
Available on Amazon Video, iTunes, YouTube, Google Play, Vudu, FandangoNOW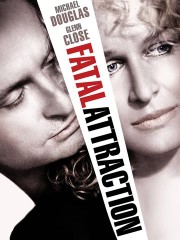 Single White Female
isn't the only film about a woman driven insane by passion and which spawned a timeless euphemism in the process. Here's where we get the term "bunny boiler," which won't be explained further, lest we spoil one of the most resonant scenes of
Fatal Attraction
.
Single White Female
was actually following in the footsteps of Adrian Lyne's 1987 erotic classic, featuring Glenn Close playing Alex Forrest, a femme fatale who strikes up an illicit relationship with Michael Douglas's Dan Gallagher. Close had only done goody-goody or kind characters before this, and had to prove herself as a sex symbol. And boy does she. This film possesses two of the most memorable sex scenes in cinematic history — sloppy, playful, and totally hot. But what people probably retain most after watching the film are Alex's mental breakdowns, played with sensitivity by Close throughout, even if the film wants to exploit her mental illness for shock at times.
Attraction
single-handedly changed the trajectory of Close's career, leading her into more complex roles, but it also just holds up as a cinematic feat. Lyne's style with a long lens shooting in cramped corridors creates at first a comfy feeling of intimacy before morphing into frightening claustrophobia. It'll make you think twice before having an affair.
Available on Amazon Video, iTunes, YouTube, Google Play, Vudu, FandangoNOW

---
 Yesterday: Monster Monday! | Schedule | Tomorrow: Weird Wednesday!