Rotten Tomatoes is celebrating Halloween with 31 days of horror double feature recommendations. Each day of the week will have its own theme, with today's being Slasher Saturday! And if you want see what's in store or what you missed, see the Daily Double schedule.
---
(Photo by New Line/courtesy Everett Collection)
For Slasher Saturdays, we pay tribute to that most basic, primal version of horror to haven risen in the past few decades. But it's not all just stabbings and teen sex: This Daily Double looks at some of the most clever, meta-deconstructions of the genre.
You can binge on slasher flicks whenever you want, so maybe October should be reserved for something particularly clever from the sub-genre. Case in point: Scott Glosserman's consistently inventive
Behind the Mask: The Rise of Leslie Vernon
, which is not only a sly satire of slasher flick tropes, cliches, and conventions, it also becomes kinda creepy in its own right! Nathan Baesal is great as the seemingly affable psycho, as is Angela Goethals as a filmmaker intent on documenting all of the killer's murderous tricks. Really fun stuff, doubly so if you know your slasher flick history.
Available on Amazon Video, YouTube, Google Play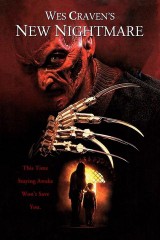 Horror master Wes Craven was struggling a little in the early '90s. The People Under the Stairs has gone on to become a cult favorite, but it didn't exactly blow the box office doors down at the time. So he logically turned to reliable old Freddy Krueger for some support. But instead of banging out another traditional sequel like Dream Warriors, he chose to get super-meta: This time around Freddy is targeting the actual filmmakers! It's all very subversive and self-aware, sometimes to a fault, but the astute horror fan will of course note that there's quite a bit of Scream DNA to be found in New Nightmare — which Mr. Craven would direct right after surviving the debacle known as Vampire in Brooklyn.
Available on Amazon Video, YouTube, Google Play, Vudu, FandangoNOW

---
 Yesterday: Freestyle Friday! | Schedule | Tomorrow: Sunday Funday!