Rotten Tomatoes is celebrating Halloween with 31 days of horror double feature recommendations. Each day of the week will have its own theme, with today's being Sunday Funday! And if you want see what's in store or what you missed, see the Daily Double schedule.
---
(Photo by Sony Pictures/courtesy Everett Collection)
For Sunday Fundays, we pick a movie that can be seen with the whole family, and then a follow-up after the kids are put to bed. Featured for this Daily Double: haunted houses!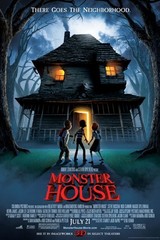 We've all been there: The kids want to watch a haunted house movie, and so does your adult partner. What ever shall you do? Try a double feature that kicks off with Gil Kenan's
Monster House
, a funny adventure flick that contains the mildest of creepy moments as well. Plus, it's sweet and pretty darn smart.
Monster House
 is likely to have a very long shelf life, as it's the kind of movie young parents will remember fondly from their own childhood.
Available on Amazon Video, iTunes, YouTube, Google Play, Vudu, FandangoNOW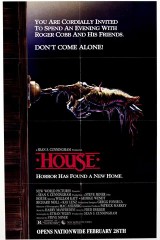 And then once you get the kids to sleep, the grown-ups can settle in for another haunted homestead movie that combines old-fashioned horror tropes with a decidedly nastier edge. 'Twas the '80s! House may not be hallowed as a true haunted house classic, but as someone who saw this in theaters opening night I can tell you it was a big-time crowd-pleaser. This one's about a spirit-infested house's latest occupant, a horror writer, estranged from his wife after their son vanished, PTSD-addled from Vietnam, and whose aunt has left the home vacant after killing herself. Expect fantastic practical effects, wicked humor, and familiar '80s TV comedy ghouls like George Wendt, and Richard Moll.
Available on iTunes, YouTube, Google Play, Vudu, FandangoNOW

---
 Yesterday: Slasher Saturday! | Schedule | Tomorrow: Monster Monday!