Join us weekly as Rotten Tomatoes reports on what's indie features are streaming. From promising releases by new voices to experimental efforts from storied filmmakers – or perhaps the next indie darling to go the distance for end-of-year accolades – we will break it all down for you here each week.
---
For the foreseeable future, the specialty box office and all theatrical releases will be on hold as we all make efforts to socially distance ourselves and reduce the spread of the COVID-19 coronavirus. With that in mind, we have reshaped our Indie Fresh List to include VOD and select drive-in releases. This week we have a Dickens period piece, a gripping sports doc about Paralympians, and a teen horror-comedy. In our Spotlight section, we highlight the period sex comedy Yes, God, Yes, adding a new interview with lead actress, Stranger Things' Natalia Dyer. Finally, in Indie Trailers, we have new clips featuring Bill Murray, Rashida Jones, Jesse Plemons (Fargo), and Jessie Buckley (Wild Rose).
---
New This Weekend
---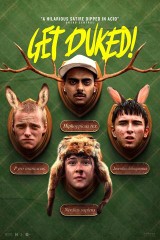 A group of Glasglow youths head off to the woods for a motivational camping trip called the Duke of Edinburgh Award, during which they learn the skills to live off the land and work as a team. Joined by a studious and exemplary student, the boys are suddenly set upon by a sinister group looking to hunt them through the Scottish countryside. Comedian Eddie Izzard co-stars as one of the hunters in what feels like a Scottish Goonies with a horror-comedy twist. Formerly titled Boyz in the Wood, Carmen Paddock of One Room with A View calls the film "a chaotic exuberance of its protagonists, combining all moving parts into a triumphant whole."

Available to stream August 28th on Amazon Prime.
---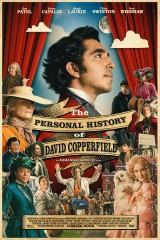 The practice of diverse-casting was popularized by the Broadway musical Hamilton but the idea of casting actors regardless of historical context has been employed on the London stage for years. That said, The Personal History of David Copperfield is one of the few major motion picture adaptations of classic literature to put the practice on screen. Mary Queen of Scots and some other films have used diverse casting with some of the supporting roles, but not with the entire cast, which is why this new adaptation of the Charles Dickens classic starring Dev Patel as the titular David Copperfield is such a breath of fresh air. Adapted and directed by Veep creator Armando Iannucci, The Personal History of David Copperfield is not only "a vivacious adaptation of the Charles Dickens classic, this is as wide-eyed and open-hearted as they come." according to Clarisse Loughrey of the Independent (UK).

Playing select theaters and drive-ins on August 28th. 
---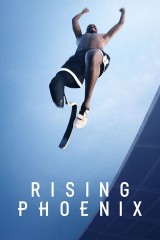 The Paralympics have always been a beloved and thrilling part of the quadrennial competition of elite athletes, and it has grown to become the third-largest sports competition in the world. Rising Phoenix is a powerful new documentary from Netflix that dissects and reflects on the Paralympic Games and how they impact a global understanding of disability, diversity, and excellence. Featuring interviews from Paralympians and key figures like the Duke of Sussex, Prince Harry, "You get to see the athletes in their glory, and the filmmakers really build up the suspense of each event. If you didn't follow the Paralympics and don't know the outcome, you'll really root for the athletes you've met along the way," writes Fred Topel for Showbiz Cheat Sheet.

Available to stream August 28th on Netflix.
---
Available on VOD – Spotlight Pick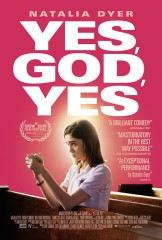 Strangers Things' Natalia Dyer stars in this period sex comedy that takes a look back at the days of dial-up modems and AOL chat rooms. Dyer stars as Alice, a 16-year-old midwest Catholic school girl who lives a chaste adolescent life until she stumbles into an online chat room and it unexpectedly goes from innocent to X-rated. Presented with new evidence and discovering the joys of self-love, Alice begins to question her repressed upbringing and heads to a mysterious religious retreat, where she discovers things may not be all they appear and embarks on a journey of self-discovery… and satisfaction. A semi-autobiographical tale from writer-director Karen Maine, "Yes, God, Yes feels new and specific to the character because of its commitment to sex-positivity. It is a break from today's chaotic world as it cannonballs into a time of teenage anxiety and naiveté," writes Shea Vassar of Film Daze. We sat down with Yes, God, Yes star Natalia Dyer and chatted about the film, the '80s vs. the '00s, and the joys of starring in a female-led sex comedy.

Jacqueline Coley for Rotten Tomatoes: How did you join the project?

Natalia Dyer: I joined the short in 2016. I got an email from Colleen, one of the producers, on Karen's behalf with the script for the short. Pretty soon after I read it, I was excited. There were some nerves with the subject matter, but I realized the reason I was nervous was also the reason I wanted to do it. At the read-through, Karen explained that she was using the short as a proof of concept for a feature-length version. So I knew it could possibly be a journey with this character.

This is a rare sex comedy from the female perspective. What do you hope audiences take from it?

I hope people recognize the humor, the tone the film is going for. I hope they see a story about how confusing female sexuality can be even for women and how some of the ideas people carry around sex can be comical or contradictory.

The premise of the film presents some hilariously awkward moments. Was there anything you struggled to shoot with a straight face?

The mop scene was a silly one. I recall using the mop one way and Karen saying, "Oh, funny, I would use it the other way!" Another was a scene with Francesca Reale in the cafeteria. I couldn't stop giggling — it's amazing we ever got the scene done.

'80s (Stranger Things) or 2000s (Yes, God Yes) — which do you prefer?

That's hard! I really love the fashion from the '80s, but I think the 2000s hold all the nostalgia for me.

What is on your Indie Fresh List?

Some of my favorite TV during quarantine has been Peaky Blinders and I May Destroy You. I also recently rewatched A Knight's Tale and The Birdcage. Classics.

Yes, God, Yes is available to rent or buy now on FandagoNow, Vudu, iTunes, Amazon, and Google Play and playing at select drive-in theaters. 
---
Along with…
---
New Indie Trailers
---
Sophia Coppola's next Oscar hopeful, On The Rocks, stars Bill Murray and Rashida Jones, who play a father and daughter who bond on booze as they set out across the city to learn whether or not her husband is being unfaithful.
---
I'm Thinking of Ending Things (2020) 82%
Charlie Kaufman is back, and people are buzzing about this his latest colorful meta-narrative dramedy I'm Thinking of Ending Things, starring Jesse Plemons (Fargo) and Jessie Buckley (Wild Rose) as a couple on the brink of a breakup.
---
Thumbnail image by Courtesy of Amazon Studios