This week at the movies, we've got murderous in-laws (Ready or Not, starring Samara Weaving and Mark O'Brien), an agent on the run (Angel Has Fallen, starring Gerard Butler and Morgan Freeman), and a faithful runner (Overcomer, starring Alex Kendrick and Aryn Wright-Thompson). What are the critics saying?
---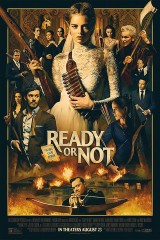 Dealing with meddlesome in-laws is a necessary evil for many married couples, but how frequently do those in-laws engage in ritualized murder? That's the premise behind Ready or Not, a sneaky, cheeky thriller starring Samara Weaving as a young woman who marries into an ultra-wealthy family who made their fortune in the board game industry. On the night of her wedding, she's obliged to observe a longstanding family tradition and play a game chosen at random, and the game she picks is a particularly deadly version of Hide and Seek. Can she survive until dawn? Why are her new relatives so bloodthirsty? And what happens if she wins? You'll have to see the movie to find out, but thankfully, critics say Ready or Not is well worth a watch, full of outlandish violence, a few unexpected surprises, and a starmaking performance by Weaving. Seriously, everyone loves Samara Weaving in this movie. It's not likely to win any awards, blow you away with its nightmarish beauty, or worm its way into your psyche and keep you awake at night, but as far as late-summer diversions go, most say this one is pretty entertaining.
---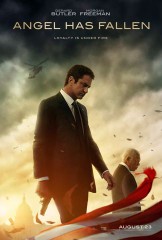 Let's be real: 2013's Olympus Has Fallen was essentially the latest in a long line of "Die Hard, but in a [insert location here]" knock-offs, and even the Die Hard franchise itself eventually ran out of good ideas. Nevertheless, this week brings us the third installment of what we'll call the Fallen franchise, starring Gerard Butler as the John McClane-esque Secret Service agent Mike Banning. In Angel Has Fallen, an assassination attempt on President Trumbull (Morgan Freeman) is pinned on Banning, who goes on the lam from the FBI and the Secret Service in order to clear his name and uncover the true threat. It's a plot we've seen play out on screen a number of times in other movies, and critics say there aren't many surprises here, from the predictable storyline to the cardboard cutout characters, but it occasionally works if you don't think too hard about it. If you're expecting something fresh and inventive, look elsewhere, but if all you need from a movie is Gerard Butler in full-on action mode, that's what you'll get.
---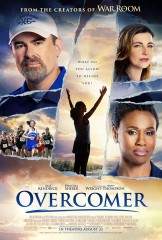 Faith-based films don't exactly boast a heavenly track record on the Tomatometer, as they're frequently preachy and overtly sentimental, even if they're competently filmed and acted. But since they typically cater to a very specific audience — one that doesn't mind a bit of sermonizing — the studios that release them rarely allow for early screenings. Such is the case for this week's Overcomer, a drama about a small-town high school basketball coach (Alex Kendrick, also the director and co-writer of the film) who is asked to head up the cross-country team as well and bonds with one runner, Hannah (Aryn Wright-Thompson), who must… overcome her asthma to become a winner. We'd love to tell you what the critics thought of this movie, but almost none of them has seen it, and at the end of the day, their reviews probably won't matter a whole lot to the folks who will turn up for this film.
---
Also Opening This Week In Limited Release
---
Like this? Subscribe to our newsletter and get more features, news, and guides in your inbox every week.