Before he took on the monumental task of continuing the Star Wars saga with The Last Jedi, writer-director Rian Johnson was best known for his twisty, eccentric thrillers Brick, The Brothers Bloom, and Looper. With his latest film, Knives Out, he revisits that familiar territory to spin a fun, quirky mystery about a murdered author and the gaggle of suspects who may or may not have perpetrated the crime. Critics so far say the old-fashioned whodunit is a return to form that makes the most of Johnson's talents and those of his A-list cast, some of whom sat down with RT to talk about the new film ahead of its release. RT correspondent Naz Perez chatted with Johnson and stars Chris Evans, Ana de Armas, Daniel Craig, Jamie Lee Curtis, Don Johnson, Katherine Langford, and Jaeden Martell to talk about crafting the perfect whodunit, playing a bunch of (mostly) a-holes, and the joys of telling your co-stars to "eat s—t" over, and over, and over again. Plus, each star tells which castmate they'd enlist to help them bury a body… if they ever needed to.
---
Knives Out is in theaters November 27, 2019
#1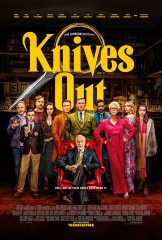 Critics Consensus:
Knives Out
sharpens old murder-mystery tropes with a keenly assembled suspense outing that makes brilliant use of writer-director Rian Johnson's stellar ensemble.
Synopsis:
The circumstances surrounding the death of crime novelist Harlan Thrombey are mysterious, but there's one thing that renowned Detective Benoit...
[More]
---
Like this? Subscribe to our newsletter and get more features, news, and guides in your inbox every week.