As more and more people are compelled to practice social distancing and encouraged to stay home, as movie theaters temporarily shutter their doors, and as studios continue to pull their scheduled 2020 films off the release calendar, we've decided to reformat the Critics Consensus column to focus on titles that are newly available on the home entertainment market. With that in mind, our list of digital and streming new releases this week includes a political satire written and directed by Jon Stewart, a big man/little girl comedy, and a musical spoof. See below for details.
---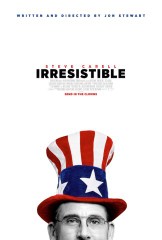 For more than a decade and a half, Jon Stewart was best known for his hilarious, razor sharp observations on current events as the host of Comedy Central's The Daily Show, which came to be regarded as a vital, if comedic, voice in the public discourse. Stewart exited the show in 2015 after 16 seasons and after successfully making his big-screen directorial debut with the based-on-true-events drama Rosewater, which, though political, was decidedly not comedic. This week brings us Stewart's sophomore effort, and it should feel a little more familiar to fans of The Daily Show: Irresistible is a political satire that takes aim at the imperfect system currently in place, rather than any specific party or ideology, with Steve Carell playing a Democratic strategist named Gary who pounces on a small-town hero-turned-viral sensation (Chris Cooper) as a means to win over middle America. The Republicans have their own superstar consultant (Rose Byrne), of course, and when she descends upon said small town to counter Gary's efforts, things quickly get out of hand. Unfortunately, despite Stewart working in familiar territory, critics haven't been wowed by Irresistible, which they say is neither as funny as its talented cast might lead you to believe nor incisive enough in its political commentary to land any significant blows on, well, anyone. In other words, there are a few laugh-out-loud moments and clever insights to be found, but it all feels strangely watered down, which is a little disappointing, considering it came from the mind of Jon Stewart.
Available Friday, June 26 on: FandangoNOW, Vudu, Alamo On Demand, Google Play
---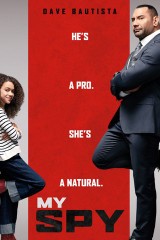 There comes a point in the career of every big (both figuratively and literally) action star when they inevitably sign on to do a self-aware comedy that pits their ultra-masculinity against the cutesy antics of children. We've seen it with Hulk Hogan, Arnold Schwarzenegger, Vin Diesel, and Dwayne Johnson, among others; even John Cena did one just last year. Well, the time has finally come for Dave Bautista, he of Guardians of the Galaxy and Blade Runner 2049, to join that list, and he does so this week in My Spy. One of the few 2020 films that was pulled from the theatrical release calendar and sent straight to a streaming service (in this case, Amazon Prime), My Spy pairs Bautista's down-on-his-luck loose-cannon CIA agent JJ with Sophie (Chloe Coleman), the 9-year-old daughter of the family he's been sent to surveil. When Sophie discovers what JJ is up to, she strikes a deal with him: she won't blow his cover as long as he teaches her how to be a spy. Is there more to the story, like bad guys and some sort of evil plot? Probably, but that's not the point of a movie like this, is it? And audiences who tune in to watch My Spy likely know exactly what they're getting into. That said, critics have reacted predictably to the film, which they say is charming enough in its bland, inoffensive take on the familiar formula but offers almost nothing extra to set it apart from its predecessors. There are already a slew of films like it out there, and this one is maybe slightly better executed than some others, but if you're expecting anything more than "musclebound man learns to soften up with help from a little girl," you will be disappointed.
Available Friday, June 26 on: Amazon Prime
---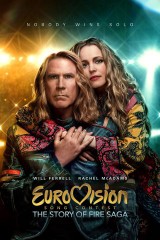 Though most viewers in the US are likely unfamiliar with the Eurovision Song Contest, it remains one of the longest-running international television events ever, a music competition held annually between more than 50 countries across Europe (plus Australia) and televised in many more, with past winners including the likes of ABBA and Celine Dion. In other words, it's largely foreign to Americans, which also means it's unfortunately kind of a perfect target for parody. Enter Will Ferrell, Rachel McAdams, and director David Dobkin, who reunited (all three worked on Wedding Crashers together) to bring us this week's Netflix comedy Eurovision Song Contest: The Story of Fire Saga. Ferrell (who also co-wrote the film) and McAdams play Lars and Sigrit, two Icelandic musicians with hopes of representing their country at Eurovision who encounter setbacks at every turn and must deal with competition — both for the Eurovision title and for Sigrit's heart — from a Russian pretty boy played by Dan Stevens. Critics say Eurovision isn't so much a series of cheap shots at an unfamiliar subculture as it is a gentle, affectionate celebration of it, notwithstanding a few inconsistent accents and slapstick set pieces. And while it features a few great supporting performances, particularly by a scene-stealing Stevens, and it's not mean-spirited or altogether terrible, it does meander a bit and go on for a bit too long. It's kind of goofy, and its jokes are a tad hit-or-miss, but at the end of the day, it's a surprisingly warm and wholesome feelgood comedy that just overstays its welcome a little bit.
Available now on: Netflix
---
Thumbnail image by Focus Features