Rotten Tomatoes is celebrating Halloween with 31 days of horror double feature recommendations. Each day of the week will have its own theme, with today's being Sunday Funday! And if you want see what's in store or what you missed, see the Daily Double schedule.
---
For Sunday Fundays, we pick a movie that can be seen with the whole family, and then a follow-up after the kids are put to bed. In this Daily Double: Two adaptations of the Headless Horseman legend.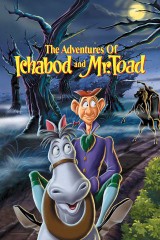 The Legend of Sleepy Hollow
is one of Disney's darker animated releases, so no wonder they attached it to the treacly
Wind in the Willows
as a package film. Hewing close to the Washington Irving short story, no one comes off as a good soul in this one: not Ichabod Crane, the scheming and conniving schoolteacher newly arrived in town; not Katrina van Tassel, the flighty and shallow love interest; nor Brom Bones, the lout and bully who may indeed be the Headless Horseman who disposes of his rival Crane. It's a good fun family Halloween tale that chills, with the added bonus that the dulcet narration and songs might get your kids asking about Bing Crosby.
Available on Amazon Video, iTunes, YouTube, Google Play, Vudu, FandangoNOW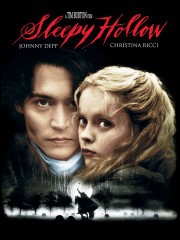 After putting the kids to bed, turn to this adaptation of the Irving tale. Tim Burton took his first baby steps towards his current career in epic fantasy filmmaking here, while maintaining the twisted charm of his earlier output.
Sleepy Hollow
re-positions Ichabod as a detective with a suitcase of analog science equipment, as he unravels the head-rolling mystery. The movie has a desaturated look that's fatigued of color except for, of course, blood red, which allows for some macabre fun. This Ichabod is feckless and faint-prone, and Johnny Depp remains unabashedly quirky and charming, his performance shining through despite his current occupation in Hollywood headlines for less than savory reasons.
Available on AStarz, Amazon Video, iTunes, Google Play, Vudu, FandangoNOW

---
 Yesterday: Slasher Saturday! | Schedule | Tomorrow: Monster Monday!