Rotten Tomatoes is celebrating Halloween with 31 days of horror double feature recommendations. Each day of the week will have its own theme, with today's being Weird Wednesday! And if you want see what's in store or what you missed, see the Daily Double schedule.
---
(Photo by Tidepoint Pictures/courtesy Everett Collection)
On Weird Wednesdays we'll walk with the movies that go off the beaten path…as though machete-wielding hockey mask killer zombies were 'normal' anyways. For this Daily Double, it's bizarre takedowns of hearth and home from the lonely island of Japan!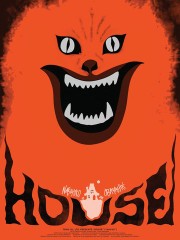 If the structure of Nobuhiko Obayashi's 1977 cult classic Hausu lops off your head with its non-sequitur twists and turns, there's good reason for it. Obayashi began his career as an experimental commercial director but wanted to broaden his body of work by writing and directing his first feature film. As legend has it, Obayashi believed our imaginations are never more fertile than when they are young, so he found inspiration in his young daughter when he asked her to describe to him in detail all the scary dreams she had. Inexplicable but frightening, these child's nightmares provided the basis for what would become one of the trippiest and scariest horror-comedies ever made. Hausu is about seven giggling Japanese school girls who travel to a woman's rural home, where they meet a cast of strange characters. This movie has everything: Shapeshifting watermelons, severed heads, aggressively violent mattresses and grandfather clock prisons. For the feline fanciers among you, be prepared for a fluffy white cat with special talent. Like something between The Picture of Dorian Gray, the nonsensical hotel horror of The Shining, and The Monkees, Hausu is a marvel of oddities crafted with great purpose — to scare the bejesus out of kids and return every adult back to their sleeping-with-the-light-on childhood.
Available on Amazon Video, iTunes, Vudu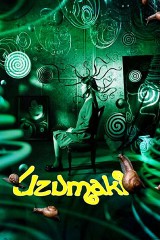 Now that you've seen seven silly girls devolve into madness, check out Higuchinsky's 2000 anime-inspired film Uzumaki. Perhaps you've wondered what would happen if your town were suddenly infected by malevolent spiral vortexes. Well, here's your chance to see how it might play out. Higuchinsky (Akihiro Higuchi) based his film off of the Manga work of Junji Ito and somehow finds a way to meld the lo-fi realism of grittier handheld camera with otherworldly surreal effects, which ground all these trippy visuals. The whole thing kicks off with a man who is so obsessed with spirals that he wants to become "one" with them and therefore commits suicide by hopping in the dryer and spiraling himself to death. From there, the strange shape begins popping up every in town. What do drills, cochlea, fingerprints, snails, and tornadoes all have in common? They all contain spirals and will in some way figure into the horror of Higuchinsky's tongue-in-cheek exploration of curses and mania. This film has been more divisive for audiences over the years, carrying a Tomatometer score of 54%. But those who adore Uzumaki ignore the slippery narrative and become evangelists for the film's eccentricities and extravagances, which were undoubtedly born from a wild and sincere imagination.

---
 Yesterday: Twisted Tuesday! | Schedule | Tomorrow: Throwback Thursday!