Rotten Tomatoes is celebrating Halloween with 31 days of horror double feature recommendations. Each day of the week will have its own theme, with today's being Freestyle Fridays! And if you want see what's in store or what you missed, see the Daily Double schedule.
---
(Photo by Concorde Pictures/Shapiro Glickenhaus Entertainment/courtesy Everett Collection)
For Freestyle Fridays, we turn to a Rotten Tomatoes writer to offer up personal favorites. Today: Senior Editor Grae Drake, who you've seen doing interviews on-camera and hosting our live event show Your Opinion Sucks, goes off the beaten path with two killer '80s artifacts.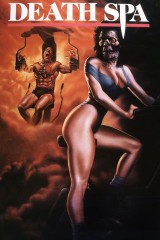 In case you were searching for reasons to skip the gym, look no further than Death Spa. Health clubs, full of be-spandexed tone-seekers, were rising in popularity in the '80s, so it made perfect sense to set a slasher movie in a gym. This particular one promised its members state-of-the-art equipment controlled by a fancy computer…that unfortunately gets possessed by the ghost of a really angry woman named Catherine, so hopefully they had appropriate insurance. What sets this movie apart, and makes it the subject of many a podcast and YouTube explainer video, is just how bananas it is at every turn. The kills are creative and graphic, the set and costumes are impressively dated and on-point, and a ghost possesses a computer at a gym, remember? This movie is totally tubular.
Available on Amazon Video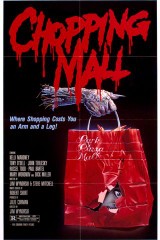 The mall was an equally culturally significant symbol in the '80s – and the idea of keeping all that shiny merchandise safe after closing time kept all those business owners up at night. Writer/director Jim Wynorski helped address that concern with
Chopping Mall
, where the overnight security was handled by cutting-edge robot guards that have abilities, ranging from checking special ID badges to tasing and incapacitating intruders. But, in a memorable argument for surge protectors, a lightning bolt to the robot control center on the roof of the mall sends all the robo-guards on a murderous frenzy. And wouldn't ya know it happened on the same dang night that Alison (Kelli Maroney) and her friends decided to hang out after hours, making out and testing those new mattresses?
Chopping Mall
is hindered (or aided) by some cheesy effects, but there's some impressive stunts, and the movie now serves as a vivid glance back in time.
Available on Amazon Video, iTunes, YouTube, Google Play, Vudu
---
 Yesterday: Throwback Thursday! | Schedule | Tomorrow: Slasher Saturday!