This weekend at the movies, we've got a Fast and Furious spinoff (Hobbs & Shaw, starring Dwayne Johnson and Jason Statham). What are the critics saying?
---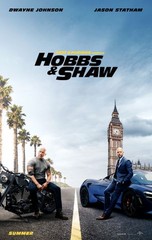 Fans of the Fast & Furious franchise are likely aware of the off-screen feud between stars Vin Diesel and Dwayne Johnson, but Universal found a way to have its cake and eat it, too. Though Johnson won't appear in the forthcoming Fast & Furious 9, he and former series villain Jason Statham headline this week's Hobbs & Shaw, the first spinoff of the franchise, which hopes to deliver the same kinds of high-octane thrills that have characterized the past few films. Vanessa Kirby joins the gang as a rogue MI6 agent on the run from a genetically cyber-enhanced would-be supervillain in the form of Idris Elba, and it's up to Johnson's Luke Hobbs and Statham's Deckard Shaw to put their differences aside in order to save the agent and neutralize the threat. It's pretty standard stuff, as far as globetrotting action blockbusters go, but critics say Hobbs & Shaw benefits from the easy chemistry between its leads, who play off each other with fairly effective comedic timing, and a strong turn from Kirby, who gets plenty of her own chances to shine. All that said, the film is patently ridiculous, and some critics found elements of it a bit too far over-the-top, even for a Fast & Furious movie. But when you come to one of these, you know what you're in for, and Hobbs & Shaw more or less delivers exactly that.
---
Also Opening This Week In Limited Release
---
Like this? Subscribe to our newsletter and get more features, news, and guides in your inbox every week.