In 1995, Paul W.S. Anderson introduced himself to the world with Mortal Kombat, an action flick about three fighters preventing the apocalypse by entering a magical martial arts tournament. The film came on the heels of the 30-year-old director/movie lover's debut film Shopping (also the feature debut of Jude Law), and his fresh style, his ability to stretch a budget, and his love for the Mortal Kombat video game helped secure his spot in the director's chair. It was a high-profile gig that many directors had turned down, as the stench of Super Mario Bros. and Double Dragon still filled the air in Hollywood.
Instead of being scared away, Anderson plugged his nose and jumped headlong into the $20 million-budgeted production, adapting a video game beloved for its bloody, graphic violence into a PG-13 family-friendly movie. Guided by longtime producer Larry Kassanoff and fueled by geeky enthusiasm, Anderson hired a diverse cast and crew of excellent martial artists who understood the film's cheeky tone and focused on giving Mortal Kombat fans what they wanted — lots of fights.
When it was released during the waning days of summer on August 18th, it pulled off a nearly flawless victory, overcoming the 1990s video game adaptation curse — commercially, at least — and claiming the number one spot at the U.S. box office with an impressive $22 million opening weekend. Critics were split at 47% on the Tomatometer, but audiences loved the electronic soundtrack, creative fight scenes, and diverse cast of committed actors who sacrificed multiple bruised ribs to bless us with some excellent brawls. The film remained number one at the box office for three weekends and finished with a stellar $122 million worldwide haul.
To celebrate Mortal Kombat's 25th anniversary, we look back and break down five reasons why it serves as the perfect exemplar of Paul W.S. Anderson's career.
---
HE WORKS WITH DIVERSE, INCLUSIVE CASTS
(Photo by R.E. Aaron/©New Line Cinema)
Assessments of Anderson's career are full of backhanded compliments and hyperbolic criticisms, and they never bother to discuss his 25-year history of casting diverse groups of actors and his willingness to think outside the box. It feels strange to compliment someone for doing what's right, but in 2020, it's still rare to see such inclusive casts. It took the beloved Marvel Cinematic Universe a full decade to unleash Black Panther and Captain Marvel while they built their brand with Iron Man, Captain America, Thor, the Hulk, Ant-Man, and Doctor Strange. Compare that to Anderson, who, in 1995, dared to cast Robin Shou as the savior of the world in Mortal Kombat and, in 1997's Event Horizon, gave Laurence Fishburne some all-timer dialogue ("We're leaving") as the captain who fights back against a spaceship from hell.
In 2005, AVP – Alien vs. Predator saw Sanaa Lathan become an honorary Yautja hunter, or Predator, after she kills a Xenomorph and helps rid the world of a justifiably pissed off Alien Queen. In fact, before Jordan Peele's Us opened with $70 million dollars, it was AVP that held the record for the highest opening weekend for a movie led by a black woman. That's an impressive accomplishment, and when talking about her character Alexa Woods, Lathan said, "In 1979, Alien came out and Sigourney (Weaver) was in it with a bunch of guys, and nobody at that time expected the woman to be the hero, so that was a tradition that Alien started. When Paul did this, I think he had it in mind, and he auditioned all races, to set this apart and yet still carry on that tradition, which is great, because it's a woman and you would never expect a black woman to be the hero."
(Photo by Coco Van Oppens/©Screen Gems, Paramount Pictures, ©New Line Cinema)
Of course, Anderson is most famous for his collaborations with Milla Jovovich, who he helped solidify into an action icon. The two first teamed up for the 2002 sleeper hit Resident Evil, which led to an 18-year collaboration (and an ongoing 11-year marriage) that saw the six Resident Evil movies collectively grossing over $1 billion worldwide. If you've listened to the Blu-ray commentaries and read various interviews, it's clear Jovovich and Anderson have worked closely during their collaborations, and their teamwork has created some all-time movie moments (yeah, we said it). In an interview with Thrillist, Anderson said he had to fight to cast Jovovich over a male star because she was "a strong female lead back in the day when that was absolutely not acceptable in mainstream Hollywood movies." Within the Resident Evil franchise, Alice has saved the world, wiped out gigantic creatures, and joined forces with Ali Larter, Oded Fehr, Li Bingbing, Colin Salmon, Michelle Rodriguez, and Boris Kodjoe.
Anderson's adherence to female-fronted action franchises and diverse casting are evident again in his upcoming 2021 film Monster Hunter, another video game adaptation that features Jovovich and international action superstar Tony Jaa. As a fan of Ong-Bak and Triple Threat, it's thrilling to see Jaa on the poster of a major international release.
Listen, it's a shame that a director hiring a diverse cast is rare enough that we applaud it when it happens, but one look at the history of Hollywood reveals why Paul W.S. Anderson stands out in that respect.
---
HE KNOWS HOW TO STAGE UNIQUE FIGHT SCENES
Do yourself a favor and rewatch the nearly 10-minute final fight between Liu Kang (Robin Shou) and Shang Tsung (Cary-Hiroyuki Tagawa). It showcases the actor's martial arts skills, and the scene isn't edited into oblivion as they trade up to 12 strikes before a cut. Shou helped choreograph the fight, and he worked with stunt icons Pat E. Johnson (The Karate Kid, Teenage Mutant Ninja Turtles), J.J. Perry (Warrior, Captain America: Civil War, Haywire), and Jeff Imada (They Live, The Bourne Ultimatum) to create some iconic battles throughout the film.
It's clear that Anderson learned a lot on the set of Mortal Kombat, as he and his various production designers over the years have built sets around the fight choreography to make them unique. In AVP, Soldier, Resident Evil: Afterlife, and The Three Musketeers, the fight scenes blend seamlessly into the surrounding environments in fantastic action set-pieces. Watch this corridor fight in Resident Evil: Retribution and you'll see Anderson, Jovovich, and the stunt crew in perfect sync as they execute an expertly staged brawl that looks beautiful in 3D.
(Photo by Rafy/©Screen Gems courtesy Everett Collection)
Another highlight occurs in Resident Evil: Afterlife. The bathroom fight between Alice (Jovovich), Claire Redfield (Larter), and the executioner, a hulking monstrosity who loves body piercings and wields a massive axe, is an ambitious spectacle. Shot with a Phantom Camera and James Cameron's Avatar 3D rig, the battle makes the most of its setting, as it erupts into a shower of exploding porcelain, tile, and broken pipes. Does it rely a little heavily on the slow-mo? Sure, but setup is simple, the action is economical, the result is satisfying, and we even get a wall flip and a superhero landing. Part of what makes it work is that Larter and Jovovich did most of their stunts, which only adds an extra layer of badassery.
When Anderson doesn't have the luxury of a Robin Shou, Jason Statham, or Milla Jovovich to bust heads, he has no problem getting creative. While filming Mortal Kombat, Anderson was fully aware that Goro, the four-armed behemoth from the video games, could barely move, as the beautiful looking 10-foot tall animatronic created by the legendary Tom Woodruff Jr. (who worked with Anderson again in AVP) was basically a glorified lawn ornament. Knowing the fight scene would be cumbersome and ineffective if played seriously, he had Johnny Cage (Linden Ashby) hit Goro with a low blow (the close-up of his bulging eyes is admittedly cheesy), kick him into a pit, and throw in an Easter Egg for fun. When life hands you a beautiful animatronic lemon, have some fun with it and make some fan-service lemonade.
---
HE MAKES EFFICIENT USE OF SMART PRODUCTION DESIGN AND PRACTICAL EFFECTS
(Photo by ©New Line Cinema courtesy Everett Collection)
In 1995, Kevin Thomas of the Los Angeles Times wrote that, "as impressive as the special effects are at every turn, even more crucial is Jonathan Carlson's superb, imaginative production design, which combines Thailand exteriors with vast sets that recall the barbaric grandeur of exotic old movie palaces and campy Maria Montez epics." Very early on in Anderson's career, he realized that inspired production design and practical effects could make movies look much more expensive than their budgets. In his relatively lower-budget films like Mortal Kombat ($20 million), Resident Evil ($32 million), and Death Race ($45 million), it helped to utilize exotic exterior shots and settings to help limit the number of extras, locations, and set builds.
There's a moment in the 2008 film Death Race when a massive big rig called The Dreadnought smashes into a spiked barricade and explodes. In an interview with Grantland, Anderson explained, "We crashed that truck for real, and it was an awesome thing to shoot, because it's 10 tons of steel flying, traveling really fast, hitting a dead stop, and flying through the air." It's one of the best examples of Anderson making the most of his budget. He and producer Jeremy Bolt realized early on that their $45 million budget wouldn't allow them to shoot around the world, so they settled on industrial areas in Montreal to stand in for the film's island, where the prison races take place. With the money they saved, production designer Paul Austerberry (who also worked with Anderson on The Three Musketeers and Pompeii and would go on to win an Oscar for his work on Guillermo del Toro's The Shape of Water) and stunt coordinator Andy Gill (Bad Boys II, Pearl Harbor) focused on procuring real cars, generating real explosions and, of course, obliterating an 18-wheel Dreadnought. Anderson was also able to bring in some A-list talent, like Tyrese Gibson, Ian McShane, and three-time Academy Award nominee Joan Allen, who classed up the production.
Anderson's most beautiful creation comes in the 1997 horror spectacle Event Horizon. The "haunted house in space"-themed film focuses on a search and rescue team who fall prey to a ship that has returned from a Hell-like dimension with a malevolent spirit on board. The massive gravity drive at the ship's core was built by production designer Joseph Bennett on the cavernous James Bond stage in England's Pinewood Studios, and it actually worked (the part that spun on cue, that is; not the part that opened a wormhole to Hell). Emboldened by a gigantic $60 million budget, Anderson cherry-picked elements from the best of the genre, peppering in visual references to films like Solaris, Alien, and 2001: A Space Odyssey.
The film is arguably most famous for its images of torture and depravity, which Anderson conceived after researching the paintings of Hieronymous Bosch and Pieter Bruegal. But he understood the importance of showing only just enough, and the few frames of mayhem we do get in the film have inspired a sort of cult fascination among horror hounds. These scenes feature grotesque, Clive Barker-inspired practical makeup; hit pause at the right moment, and you'll see the gnarly, bloody gags the special effects department clearly spent a lot of time to create. The film's practical effects and massive sets still hold up to this day, and it's one of the reasons we agree when Laurence Fishburne's Captain Miller says, "I will take the Lewis and Clark to a safe distance, and then I will launch TAC missiles at the Event Horizon until I'm satisfied she's vaporized. F— this ship!"
---
HIS FILMS ARE LARGELY "CRITIC-PROOF"
(Photo by R.E. Aaron/©New Line Cinema courtesy Everett Collection)
The 47% Tomatometer score for Mortal Kombat is the highest of Anderson's 11 theatrically released films since 1995; none of his movies even comes close to Fresh. Writers frequently offer only the faintest of praise for his body of work, and begrudgingly at that, as they use terms like "unusual genius" or say that "there are a few, ahem, gems lying around his filmography." Nobody seems willing to admit that the laser scene in Resident Evil is meant to be funny, or that "Grid" the Xenomorph from Alien vs. Predator might be the deadliest alien in the franchise. The narrative has been set since 1995, and the reviews now write themselves, despite the fact the critics might have failed Anderson, at least according to some.
But even though the average Tomatometer score for his 11 theatrically released movies is a super Rotten 27%, there are still plenty of Fresh moments in his filmography. Even his lowest-rated film, the curious Blade Runner-sidequel Soldier (12% on the Tomatometer), features a jacked-up Kurt Russell battling Jason Scott Lee in a thrilling final fight that's so intense you almost feel the exhaustion by the end of it. Anderson also isn't without his defenders; James Cameron loves Resident Evil, Quentin Tarantino included The Three Musketeers on his Best of 2011 list, and prolific film critic Ignatiy Vishnevetsky considers Anderson to be the "world's least pretentious auteur who makes lively, unpretentious mid-budget genre movies fixated on video-gamey 'cool' and distinguished by their leanness and their inventive — and sometimes even poetic — use of space."
The success of Mortal Kombat wasn't a fluke because Anderson and his talented crew knew what they were making, and they made it earnestly. Ashby, who contributed to the script in addition to playing Johnny Cage, said, "We didn't write Hamlet or anything, but we had fun with it." That playfulness is all over the movie, and it's still refreshing today.
---
INTERNATIONAL AUDIENCES LOVE HIS MOVIES
(Photo by R.E. Aaron/©New Line Cinema courtesy Everett Collection)
In 1995, Mortal Kombat brought in $122 million at the worldwide box office. Most importantly, it made $51 million (42%) of that sum overseas. The $71 million domestic haul was impressive for the scrappy video game adaptation, but the 100+ million distinction is what gave it major credibility. This trend of solid global returns has become a staple for Anderson, who has realized for a long time that focusing on worldwide returns and thinking globally will keep him working well into the future.
In 2017, Resident Evil: The Final Chapter "rocked" China with a $93.4 million debut, which is remarkable considering China doesn't allow "ghosts and the supernatural" to be shown on screen (with some exceptions). After its worldwide theatrical run had ended, box office receipts showed that it made 91% of its money overseas, with $285 million of its $312 million worldwide haul made outside the United States. This topped the 82% of Resident Evil: Retribution and the 80% of Resident Evil: Afterlife, which also set records internationally. In other words, the Resident Evil movies were global event films; in Japan, The Final Chapter made almost as much money as Rogue One: A Star Wars Story, which was released just a week earlier. Closer to home, 2014's Pompeii managed to become the highest-grossing Canadian production of the year, despite less than explosive box office returns here in the U.S., and it became the fourth film directed by Anderson to win the Golden Screen Award.
---
Paul W.S. Anderson has been thrilling audiences around the world for 25 years, and it all began with a silly, action-packed video game adaptation that blossomed into a nostalgic fan favorite. Since then, Anderson has consistently worked with diverse casts and talented craftsmen on limited budgets to produce eye-popping, undemanding entertainment, and his filmography is littered with sleeper cult classics like Event Horizon, Alien vs. Predator, the Resident Evil franchise, and yes, Mortal Kombat. In most interviews, he seems comfortable with his career, and he should be; he knows what his fans want, and he delivers, even if he's not a critical darling. It may not be a flawless victory, but for a lot of folks, it's good enough.
---
Mortal Kombat was released on August 18, 1995.
#1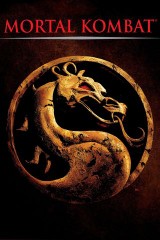 Critics Consensus:
Despite an effective otherwordly atmosphere and appropriately cheesy visuals, Mortal Kombat suffers from its poorly constructed plot, laughable dialogue, and subpar acting.
Synopsis:
Lord Rayden (Christopher Lambert) handpicks three martial artists -- federal agent Sonya Blade (Bridgette Wilson), Shaolin monk Lui Kang (Robin...
[More]
Thumbnail image by R.E. Aaron/©New Line Cinema courtesy Everett Collection