The Marvel Cinematic Universe is a wonder for many reasons, not least of which is the way it wove together an intricate continuity across all of its movies. Throughout 23 films (and counting), there are crossover characters, intersecting storylines, and resonant names, locations, and even brands. Of course, when you step back, you realize that the MCU was only doing what comic books have been doing in print for decades. Take another step back, and you'll notice that what they've done isn't all that unique to movies, either. Because Quentin Tarantino, for one, has been doing it for decades, too.
From his earliest days as a struggling screenwriter to his iconic and era-defining films, Tarantino has built his own world of interconnected characters and original brands. In honor of the 25th anniversary of his legendary opus Pulp Fiction (released October 14, 1994), let's take a look at the QTCU — the Quentin Tarantino Cinematic Universe.
---
()
A short film co-written, directed, and starring Tarantino while he was famously working at Video Archives in Manhattan Beach, California (it's no longer there, so don't plan a visit), My Best Friend's Birthday only exists in a truncated 36-minute cut because large parts of it were destroyed in a fire. Still, the seeds of the QTCU are there. For one, Quentin plays a character named Clarence who, early on, discusses his love of Rockabilly music and Elvis' acting ability. This would, of course, foreshadow Christian Slater's character in True Romance, a script written by Tarantino but directed by the late Tony Scott. In Birthday, Tarantino's Clarence hires a call girl to show his friend a good time on his special day — a sequence of events that would be flipped in True Romance, when Slater's Clarence finds himself on the receiving end of a birthday call girl surprise.
---
Tarantino's signature work, the movie that launched him as a filmmaker. In this tale of a jewel heist gone wrong, the audience is treated to flashbacks that fill in the stories of each of the movie's black clad, code-named criminals. We find out that Mr. White (Harvey Keitel) used to run with a partner named Alabama. Of course, a woman named Alabama Whitman (later, Worley) is seen getting a taste for a life of crime in True Romance, the Tony Scott film that Tarantino wrote (see below). We also learn that Mr. Blonde (Michael Madsen) is named Vic Vega, as in the brother of John Travolta's Vincent Vega in Pulp Fiction.
---
(Photo by Warner Bros. courtesy Everett Collection)
Apart from the obvious connections to earlier films — the Rockabilly-loving Clarence and call girl-turned-crook Alabama — there is a more subtle cinematic link in Tony Scott's Tarantino-penned action adventure. The movie climaxes with a drug deal in the hotel suite of big time movie producer Lee Donowitz (Saul Rubinek, channeling real life producer Joel Silver). Donowitz is a producer of war movies — fitting because his father, Donny Donowitz, fought in WWII as part of the Inglourious Basterds. You might remember him as the baseball bat-wielding avenger known as "The Bear Jew" (played by Eli Roth).
---
(Photo by Miramax Films)
Pulp Fiction, which celebrates its 25th anniversary this year, is arguably the Iron Man of the QTCU, because it's really the one that takes the threads and begins to weave them together. The film introduces us to several brand names that would become central players in Tarantino's world, starting with "that Hawaiian burger joint" Big Kahuna Burger — Samuel L. Jackson's Jules takes the world's most intimidating bite of one of these burgers and washes it down with "a tasty beverage" from the place early in the movie. Later, Bruce Willis' Butch Coolidge orders a pack of Red Apple cigarettes, a brand that shows up in just about every subsequent QT movie. Finally, Christopher Walken's Captain Koons — he of the legendary "gold watch" speech — is also a descendant of "Crazy" Craig Koons, one of Django's bounties in Django Unchained.
---
(Photo by Warner Bros. Pictures)
Although Natural Born Killers was directed by Oliver Stone, the script was pure Tarantino. We mentioned earlier the brother connection between Vic and Vincent Vega, but there is another set of brothers that was first introduced in Reservoir Dogs, too. In Dogs, Vic complains about a pain-in-the-ass parole officer named Seymour Scagnetti (we never actually see him), whose own brother, Jack, would show up in Natural Born Killers (played by Tom Sizemore).
---
In the Tarantino-written and -directed segment of this anthology film, the characters are seen smoking Red Apple cigarettes. Tarantino's character also refers to his drink as a "tasty beverage," which echoes the same colorful turn of phrase Jules used in Pulp Fiction.
---
Tarantino wrote the script for this Robert Rodriguez-directed horror film and peppered in some of his signature touches. There are Red Apple cigarettes present and accounted for, and George Clooney's Seth Gecko at one point makes a run for Big Kahuna Burgers. The movie also introduces gravelly-voiced, no-nonsense Texas Ranger Earl McGraw (played by Michael Parks), who would become a key player in the QTCU. It's also worth noting that the movie features yet another pair of brothers (Seth and his brother, Richie, played by Tarantino) who have a thing for black suits.
---
(Photo by Miramax Films)
Beware of people who claim that, because it was based on an Elmore Leonard novel and not an original Tarantino idea, there are no overt connections to the QTCU in Jackie Brown. They're just not paying attention. Midway through the film, we see Jackie in the Del Amo Mall food court, enjoying a meal from Teriyaki Donut — the same fictional fast food franchise whose food Ving Rhames' Marcellus Wallace is carrying when Butch Coolidge runs him down in Pulp Fiction. In a second food court scene not long after, we not only see Jackie indulging in Teriyaki Donut again, but her accomplice Sheronda (LisaGay Hamilton) sits down at her table with a tray full of food from Acuña Boys, which would later be referenced in Kill Bill Vol. 2 and appear a couple of times in Grindhouse.
---
(Photo by Miramax Films)
We'll treat this kung fu-inspired magnum opus as one film, with plenty of easter eggs to link it to the larger QTCU. For one, if you look at The Bride's (Uma Thurman) old gang, the Deadly Viper Assassination Squad, you'll notice that they all fit a little too easily into Mia Wallace's description of her failed TV pilot, Fox Force Five – the blonde leader, the Japanese kung fu master, the black demolition expert, the French seductress, and Mia's. character, the deadliest woman in the world with a knife (or sword?). The first cop on the scene after the Bride's wedding day massacre is, of course, Earl McGraw, and Red Apple and Big Kahuna also make appearances. And remember Acuña Boys from Jackie Brown? In Vol. 2, they happen to be the name of the gang that Michael Parks' Esteban Vihaio runs.
---
(Photo by The Weinstein Co./Dimension)
In both the Tarantino portion of this double feature homage, Death Proof, and the Rodriguez portion, Planet Terror, there are connections to the QTCU. Big Kahuna burgers are mentioned, and Red Apple cigarettes are smoked. On top of that, an ad for Acuña Boys "Authentic Tex-Mex Food" — first glimpsed in Jackie Brown — pops up during intermission, and one of Stuntman Mike's early victims, Vanessa Ferlito's Arlene, can be seen sipping from an Acuña Boys cup. Texas lawman Earl McGraw also reappears, along with his son, Ed, and we learn there is a sister named Dakota, too, who features in Planet Terror. As kind of a bonus, Rosario Dawson's Abernathy has a familiar ringtone on her phone  — it's the same melody whistled by Elle Driver (Darryl Hannah) in Kill Bill Vol. 1.
---
(Photo by Francois Duhamel/©Weinstein Company)
In addition to Donny Donowitz, Michael Fassbender's English soldier-turned-spy Archie Hicox has deep ties to the QTCU, it turns out. Late in the old west-set Hateful Eight, it is revealed that Tim Roth's Oswaldo Mobray is actually a wanted man named "English Pete" Hicox, Archie's great-great-grandfather.
---
(Photo by The Weinstein Co.)
We've already mentioned "Crazy" Craig Koons, but there is another deep cut reference to Django hidden in an earlier Tarantino movie. In Kill Bill Vol. 2, Bill's brother Budd (played by Michael Madsen – also another pair of QT brothers!) buries the Bride alive in the grave of Paula Schultz. This is the lonely final resting place for the wife of bounty hunter Dr. King Schultz (Christoph Waltz) in Django.
---
(Photo by The Weinstein Company)
In addition to the Hicox family tree, Red Apple tobacco — the early version of the soon-to-be ubiquitous (in the QTCU, anyway) cigarette brand — makes a couple of appearances here. Demián Bichir's Bob smokes a "Manzana Roja" right after the intermission, and Channing Tatum gets a custom-rolled Red Apple cigarette — his "favorite" — from Dana Gourrier's Miss Minnie.
---
(Photo by Columbia Pictures)
At one point in Kill Bill Vol. 2, The Bride drives a blue Volkswagen Karmann Ghia. That same car shows up (driven by Brad Pitt's Cliff Booth) in Hollywood. And not only do Booth and Leonardo DiCaprio's Rick Dalton smoke Red Apples (of course), but there's an end-credits scene in the movie that shows Dalton doing a TV commercial for the cigarette brand.
---
Pulp Fiction was released in theaters on October 14, 1994.
#1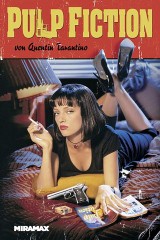 Critics Consensus:
One of the most influential films of the 1990s,
Pulp Fiction
is a delirious post-modern mix of neo-noir thrills, pitch-black humor, and pop-culture touchstones.
Synopsis:
Vincent Vega (John Travolta) and Jules Winnfield (Samuel L. Jackson) are hitmen with a penchant for philosophical discussions. In this...
[More]
---
Like this? Subscribe to our newsletter and get more features, news, and guides in your inbox every week.