This week at the movies, we've got a couple of good guys (Bad Boys for Life, starring Will Smith and Martin Lawrence) and an adventurous doctor (Dolittle, starring Robert Downey Jr. and Michael Sheen). What are the critics saying?
---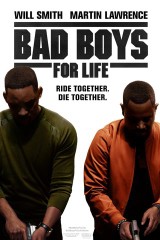 Nobody asked for another sequel to Bad Boys, the Michael Bay-directed 1995 action hit starring Will Smith and Martin Lawrence, but somebody got it in their head to do one anyway, and 17 years after the first sequel came out, here we are with another installment. Bad Boys for Life reunites Smith's suave, playboy Miami detective Mike Lowery with his family-man partner, Lawrence's Marcus Burnett, after the two have walked their own paths for some time. As they both prepare for retirement, a cartel boss with connections to their past initiates a vendetta against Mike, forcing them to work together alongside a team of younger cops to bring him down. Critics say the new film, helmed by the directorial team of Adil El Arbi and Bilall Fallah, improves on the template set by the previous two films, pulling the best elements from them and infusing the story with more heart, and the result is a surprisingly enjoyable ride. The film is somewhat tamer than Bay's typical macho posturing and wanton destruction, which is mostly a welcome development, and Smith and Lawrence sizzle on screen together like they haven't spent the last decade and a half apart. At the end of the day, Bad Boys for Life even had some critics looking forward to another installment, which says a lot for a movie hardly anyone wanted in the first place.
---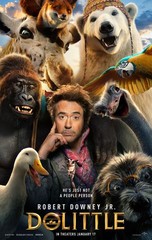 Writer Hugh Lofting's Doctor Dolittle character has already been brought to the big screen twice before, most recently by Eddie Murphy, and neither of those efforts wowed the critics; this week's Dolittle doesn't seem likely to buck that trend. In his first post-MCU role, Robert Downey Jr. stars as the titular veterinarian with the power to communicate with animals, who is grieving the loss of his explorer wife when two children pay him a visit. One (Harry Collett) wants to become his apprentice, while the other (Carmel Laniado) is a lady in waiting to the Queen who hopes to enlist his help find an antidote to the poison the Queen has ingested. Together, the three of them embark on a journey with a gaggle of animals voiced by the likes of Emma Thompson, John Cena, Selena Gomez, Rami Malek, Octavia Spencer, Ralph Fiennes, and a litany of other A-listers, while Michael Sheen, Antonio Banderas, and Jim Broadbent make up a trio of adversaries who stand in their way. Unfortunately, all that star power doesn't seem to have made a difference, as critics say Dolittle is a joyless, misguided, bizarrely directed adventure that largely wastes its talented cast and its special effects budget. It's not particularly funny or clever, its tone is unfocused, and for his part, Robert Downey Jr. seems unsure of what he's trying to accomplish with the character. All the CGI animal sidekicks may be enough to keep the youngest viewers engaged, but there may be little else to appeal to anyone older.
---
Also Opening This Week In Limited Release
---
Like this? Subscribe to our newsletter and get more features, news, and guides in your inbox every week.