As more and more people are compelled to practice social distancing and encouraged to stay home, as movie theaters temporarily shutter their doors, and as studios continue to pull their scheduled 2020 films off the release calendar, we've decided to reformat the Critics Consensus column to focus on titles that are newly available on the home entertainment market. With that in mind, our list of digital and streming new releases this week includes a fantasy adventure adaptation on Disney+, Spike Lee's latest joint on Netflix, and a Judd Apatow dramedy on VOD. See below for details.
---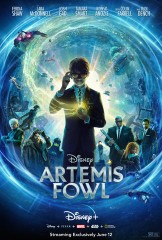 On paper, Artemis Fowl sounds like the kind of film best suited for the big screen: It's a special effects-driven fantasy spectacle based on a series of popular young adult novels populated by magical creatures, and it was helmed by a big-name director (Kenneth Branagh). And the big screen is exactly where it was headed before the coronavirus pandemic changed everything, so it was probably a bad sign when Disney decided not to reschedule its theatrical debut and delivered it straight to streaming instead. That brings us to this week, as Disney+ subscribers are now able to watch Artemis Fowl from the comfort of their couches, and critics who have seen it say that was probably a smart move by the Mouse House. Newcomer Ferdia Shaw stars as the precocious titular 12-year-old, the genius son of a criminal mastermind (Colin Farrell) who has been abducted and imprisoned by a gang of fairies for his past crimes. With the help of his servant, a dwarf informant, and a fairy police officer he has himself kidnapped, Artemis sets out to rescue his father and take hold of his destiny. This is yet another attempt to capture the Y.A.-based fantasy audience that made the Harry Potter franchise such a hit, but critics say Artemis Fowl is a poor imitation of its source material that completely misses what made it interesting in the first place and chooses the most bland route possible en route to a destination that never arrives. In other words, it feels like a half-hearted attempt to jump-start a franchise, and its lack of soul proves to be its undoing. But hey, if you want to see Dame Judi Dench as an Irish fairy, you've come to the right place.
Available now on: Disney+
---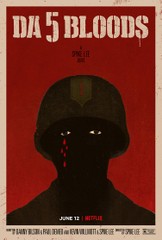 The ongoing protests in the wake of George Floyd's death echo the concerns African-Americans have been struggling with for decades, if not centuries, and if there's one modern director who has spent significant screentime examining those concerns from different angles, it's Spike Lee. With that in mind, it's exceedingly fitting that this week sees the release of his latest film, Da 5 Bloods, an action-drama that couches a heist adventure within an earnest exploration of the Black experience in America. The film stars Delroy Lindo, Clarke Peters, Norm Lewis, and Isiah Whitlock Jr. as four aging Vietnam veterans who return to the country both to retrieve the remains of their fallen squad leader (Chadwick Boseman) and to reclaim a stash of hidden gold for themselves. Their journey takes unexpected turns, of course, and the old friends are forced to reckon not only with their collective past, but also with the kinds of men America and the war has made them. Critics say Da 5 Bloods is a remarkably timely effort that makes some interesting choices and drives home the perpetual urgency of its message, but it also takes a few unexpected turns along the way. On top of all that, most agree that Lindo delivers a standout performance here, inspiring some of the first awards-season chatter of the year.
Available now on: Netflix
---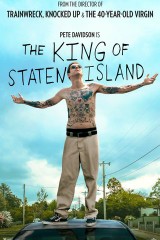 Saturday Night Live star Pete Davidson is known for often candidly referencing his own personal struggles and relationship troubles in his comedy, so it's not surprising that he mined his own life experiences to co-write The King of Staten Island with director Judd Apatow. At the same time, Apatow himself is no stranger to stories of arrested development, which makes him a great fit here. The story revolves around a 24-year-old layabout named Scott (Davidson) whose father — like Davidson's — was a firefighter who died in the line of duty during the 9/11 attacks. Suffering from the trauma of that memory, Scott still lives at home with his mother and spends most of his time getting high with his stoner buddies, but when mom starts dating another firefighter, he's suddenly forced to reckon with his past and maybe, finally, move on. Critics say The King of Staten Island is a fairly effective vehicle for Davidson, who showcases a lot of heart and emotion in a role that, for obvious reasons, comes quite naturally to him. Some feel that Apatow's more indulgent tendencies — like the film's bloated running time — only serve to undermine the story's dramatic impact, but overall, it's still generates a lot of laughs and features a stellar supporting cast that includes Marisa Tomei, Bill Burr, Steven Buscemi, Bel Powley, among others.
Available now on: FandangoNOW, Vudu, Amazon, Google Play, iTunes
---
Thumbnail image by Disney+