The world's most epic sci-fi saga comes to a thrilling conclusion this December with J.J. Abrams' The Rise of Skywalker. But when the credits roll on the concluding chapter of the Skywalker story, the journey will continue for fans – thanks to Bose.
The celebrated audio technology company is partnering with Lucasfilm to bring fans into the Skywalker story like never before. With Bose AR and the Star Wars app, fans can enter an immersive, audio-augmented reality experience that will put them right into all three Skywalker trilogies.
Activating the experience is simple: All you need is a Bose AR-enabled wearable (Bose Frames, Bose Headphones 700, or QC35 headphones II) and the Star Wars app. Once activated, you'll experience iconic scenes from the films with 360-degree, spatialized audio, following the story of Rey's lightsaber from Anakin to Luke and ultimately to the hero of the new trilogy.
You can also experience the journey at a Bose store near you.
Plus, fans can dabble in the dangerous corners of the force with an exclusive set of dark side–inspired Bose headphones. The Star Wars: The Rise of Skywalker line of QuietComfort 35 wireless headphones II has been engineered with renowned noise cancellation and "dipped in the power of the dark side" to take your immersive Star Wars experience to the next level.
---
Journey through an immersive, audio-augmented reality experience on the Star Wars app with Bose AR. © 2019 & TM Lucasfilm Ltd. 
The Rise of Skywalker is in theaters December 20. 
#1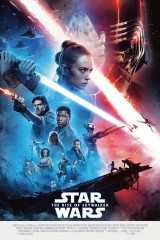 Critics Consensus:
Star Wars: The Rise of Skywalker
suffers from a frustrating lack of imagination, but concludes this beloved saga with fan-focused devotion.
Synopsis:
When it's discovered that the evil Emperor Palpatine did not die at the hands of Darth Vader, the rebels must...
[More]