---
Best-Reviewed New TV Shows 2019
If you needed to make the case that we're nearing or at the very peak of this Peak TV era, look no further than the 10 best-reviewed new TV shows of 2019. Here, you'll find an abundance of evidence that today's viewers have as rich and diverse a small-screen offering as they've ever had: landmark superhero fare (Watchmen); zeitgeist-smashing docuseries (Leaving Neverland); meticulously crafted period pieces that feel horrifically timely (Chernobyl, When They See Us); and plenty of really, really funny s— (Russian Doll, Los Espookys).
The order of the rank below reflects the Adjusted Score as of December 31, 2019. Scores might change over time.
Critics Consensus:
Bold and bristling,
Watchmen
isn't always easy viewing, but by adding new layers of cultural context and a host of complex characters it expertly builds on its source material to create an impressive identity of its own.
Synopsis:
Damon Lindelof (The Leftovers, Lost) creates a modern-day re-imagining of Alan Moore's groundbreaking graphic novel about masked vigilantes....
[More]
Critics Consensus:
Crucial and careful,
Leaving Neverland
gives empathetic breadth and depth to the complicated afterlife of child sexual abuse as experienced by adult survivors.
Synopsis:
The story of two families who allege that their boys were were sexually abused by Michael Jackson in the 1980s...
[More]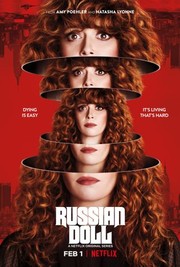 Critics Consensus:
Russian Doll
may be stuck in a time loop, but this endlessly inventive series never repeats itself as it teeters on a seesaw of shifting tones -- from fatally funny to mournfully sad -- that is balanced with exhilarating moxie by an astonishing Natasha Lyonne.
Synopsis:
Russian Doll follows a young woman named Nadia (Natasha Lyonne) on her journey as the guest of honor at a...
[More]
Critics Consensus:
A kaleidoscopic existential crisis,
Undone
bends the rules of space, time, and rotoscoping to weave a beautifully surreal tapestry that is at once fantastical and utterly relatable.
Synopsis:
From acclaimed creators Kate Purdy and Raphael Bob-Waksberg (BoJack Horseman) comes Undone, a groundbreaking and genre bending animated series about...
[More]
Critics Consensus:
Chernobyl
rivets with a creeping dread that never dissipates, dramatizing a national tragedy with sterling craft and an intelligent dissection of institutional rot.
Synopsis:
CHERNOBYL dramatizes the 1986 nuclear accident, one of the worst human-made catastrophes in history, and tells the story of the...
[More]
Critics Consensus:
Heartbreaking and powerful,
Unbelievable
transcends familiar true-crime beats by shifting its gaze to survivors of abuse, telling their stories with grace and gravity.
Synopsis:
After a teen reports being raped, then recants her story, two female detectives follow evidence that could reveal the truth....
[More]
Critics Consensus:
Ava DuVernay pulls no punches in
When They See Us
, laying out the harrowing events endured by the Central Park Five while adding a necessary layer of humanity to their story that challenges viewers to reconsider what it means to find justice in America.
Synopsis:
Five teens from Harlem become trapped in a nightmare when they're falsely accused of a brutal attack in Central Park....
[More]
Critics Consensus:
Igualmente hilarante y horripilante,
Los Espookys
is an espooky good time.
Synopsis:
From Julio Torres and Ana Fabrega, alongside Fred Armisen and Lorne Michaels of "Saturday Night Live," the primarily Spanish-language show...
[More]
Critics Consensus:
Driven by the marvelous Daisy Haggard,
Back to Life
questions what it means to be a person with humor, heart, and a genuine sense of surprise.
Synopsis:
Meet Miri Matteson, she's just arrived back in her home town - a place she no longer recognises - in...
[More]
Critics Consensus:
Powerful, beautiful, and like nothing else on TV,
David Makes Man
blends dreamy aesthetics with an empathetically crafted story to create a truly unique viewing experience.
Synopsis:
Centering on a 14-year-old prodigy from the projects who is haunted by the death of his friend and relied on...
[More]