(Photo by Axelle/Bauer-Griffin/Getty Images)
After establishing himself as a reliable presence on stage and in television, William H. Macy's star rose in earnest with his turn as down-on-his-luck car salesman Jerry Lundegaard in the Coen brothers' Oscar-winning Fargo. He earned a Best Supporting Actor nomination for that role, paving the way for appearances in films as varied as Air Force One, Boogie Nights, State and Main, The Cooler, Magnolia, and Room, just to name a few. It also led to a starring gig in Showtime's pitch-black comedy series Shameless, for which Macy earned another Emmy nomination this year.
Macy turned his attention behind the camera in 2014, making his feature directorial debut with a musical drama called Rudderless. This week, he premieres his second film, a romantic comedy called The Layover, about a pair of best friends (played by Kate Upton and Alexandra Daddario) who feud over a handsome stranger they meet on vacation. Macy recently spoke to RT about his Favorite Films and talked about the challenges of directing and his love of farcical humor.
---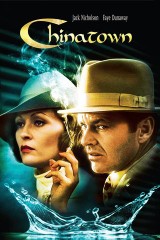 Chinatown, I just find to be so wonderfully stylish, so well thought-out. Great acting. For some reason, the scene in that that I found so wonderful is when Nicholson gets his nose sliced open, and then there's a band-aid on it, and then later, he's in the bathroom with Faye Dunaway, and she dresses the thing, and she takes the band-aid off. They were very honest and graphic about this, his nose and the stitches. And then there's romance right after that. There's a sex scene. I think it's when they finally do it. I found that to be genius. I don't know why that scene always has struck me as the most wonderful juxtaposition of beautiful and ugly. I think it speaks volumes about how to deal with violence truthfully.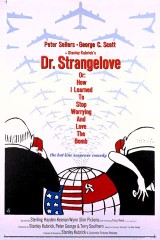 Dr. Strangelove, I got to revisit recently. My daughters, obviously, said, "Well, Pop, what film should we watch?" It's been an eye opener. You name one of your favorite films, and then you sit down and watch it with them and, "It's no good! It's really dated and slow." Oh, my God. Like, I pushed Airplane on them. I said, "Funniest movie ever made." Well, there's funny bits in it, but it's hard to sit through now.
RT: Really? You found that, upon rewatching it, it wasn't as good as you remembered?
Well, it wasn't the comic genius that it was in my memory, let's just say that. It still makes me laugh, and I still quote it and will for the rest of my days.
RT: Of course. But not so with Dr. Strangelove, then?
Oh, Dr. Strangelove is genius. It's just genius. There is a scene where Sterling Hayden is talking to Peter Sellers on a couch, and it's when they're attacking. Sterling Hayden has pulled out that big machine gun and Sellers is saying, "You said, 'Feed me, Jackie,' and I fed you. Now how about the code? Don't you think we should… " The scene has got to be four minutes. It must be an oversized mag on the camera. It goes on and on. It's two men on a couch without a cut, and it's stunning. It was only when watching it with my daughters that I went, "Holy s—, there's no cut in this." Oh, my God. You've got to see it. It is stunning.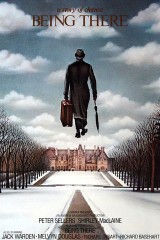 I think, since we're on Peter Sellers, Being There has always been very, very close to me. I just love that film. I love everything about it. I love what it said. I love his performance and the whole thing of doing the outtakes when Sellers was laughing.
There's a wonderful thing — terrific actor whose name I do not know, he runs the elevator in the mansion there. And at one point Sellers gets on the elevator. The first time he gets on, he says, "This is a very small room," and it makes the guy laugh. At any rate, there's one where Sellers gets on the elevator and the actor bricks; he starts laughing before anyone says anything. It's just that what they were doing was so funny, and Sellers was so funny, this actor bursts out laughing and then composes himself. It's all in character, and yet it's all completely genuinely him. It's one of my favorites.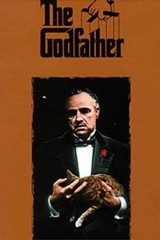 Oh, The Godfather. If it gets any better than that… I mean, it's so beautifully shot. I'm not a fan of violent movies, but that one is such an epic film. The violence is part and parcel of the story they're telling, so, it's legitimate. In a weird way, I find there's no gratuitous violence in it. Even though there's a lot of shooting in that thing, every time there's a shootout, I found it upsetting and horrifying as opposed to films which just trade on mowing human beings down. Those I find pornographic and not sad. I think it does damage to our society, personally.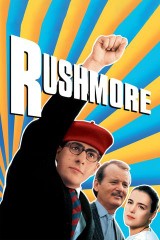 And then the last one, Rushmore. There's great performances in it, but Bill Murray, I think, just hung the moon. I just love the style of the piece. It's so beautifully shot, so funny, so unusual, loopy. I love big, loopy stories that are not neat and tidy. They really appeal to me.
---
Ryan Fujitani for Rotten Tomatoes: The Layover is your second directorial effort after Rudderless. I've wondered, with such an accomplished career in front of the camera, what was the impetus to pivot to the director's chair?
William H. Macy: You know, I've done three films now and, sitting in that director's chair, I've asked myself that same question. [laughs] "Why did I do this to myself?" Truthfully — I think I would share this with many actors — our purview is very, very small. Even though an actor is the thing that you see on the screen, and we get all the attention, and we have a huge amount of power, it is a bizarre situation because, when it really comes to making a film, the actor's job is so circumspect, so small. Our purview is really measured in seconds.
A big scene is three minutes long, and usually much shorter. That's our world, these short, short scenes. And it's not our job to make sure they're pretty, and it's not our job to make sure that they're funny or dramatic or well-written. Our job is very specific and simple. The more monomaniacal we are about doing our jobs and not worrying about the other stuff, the better actors we are, I feel. So, I think, at some point, when you've been doing it for a long time, it's very natural that you say, "Hold on. I want to tell the joke. Let me decide where the punchline comes. I want to decide whether we're going to use the red one or the green one. I want to make the decisions."
So I threw my hat in the ring. My wife, one time, said, "You're kind of in your third act of your career here. What do you want to do?" It took me about a minute and a half to start breathing again when I realized I was in my third act, which is notoriously short. That's when I thought, "Well, you know what? I really want to try to direct." Boy, it was an eye-opener. Even though I've been in this business for a long time, I was not prepared to be hit by a truck like you are when you direct.
RT: It's funny you mention that, because one of our writers here actually spoke to you early last year for Shameless, and at the time, in a response to one of his questions, you actually mentioned offhand that you had just finished filming The Layover, and you said that it had been a difficult shoot. Specifically, you said that directing was so much harder than acting. What made The Layover such a tough shoot, and more broadly, what, for you, makes directing so much more difficult? Is it the fact that you're saddled with all those decisions?
Macy: Yes. Acting involves trying to get to the core of something, trying to strip away, to figure out, "What's the core truth here? What am I really saying, and what do I feel about it?" You do your best to make your performance clear and simple and direct and full. A lot of the preparation that you have to do in order to do your job well is not to worry. Don't worry, don't pay attention to anything except that which is essential.
Directing, on the other hand, is all worry. "What am I not thinking of? What have I overlooked?" And it starts from the mundane of, "How are we going to get 10 pages of dialogue done in 12 hours? How is that humanly possible? How am I ever going to cast this role? What am I going to do now that I've lost that location? What am I going to do, because I can't afford to shoot this? I have to rethink it in a simpler manner." It's all details, unrelenting. I used to marvel when I'd go in to do ADR on a film that I had done. For me, it was in the distant past. I finished the film six, ten months ago. A year ago. I walk in and here's the director. I want to go, "You're still picking at this sore? My God, man." [laughs]
RT: And now you know what that's like.
Macy: Now I know what that's like. Especially on an independent film, man. When you look behind you, there's no one there. It's you. Especially when you work with someone like Keith Kjarval, who produced The Layover. He really lets the director make the film. He backs your play, and he has opinions, and they're really good, and I've learned I should listen to Keith, always. But he gives you your lead. So, you look behind you, there's nobody there. It's astounding how easy it is to blow it. I mean, on the day, it feels like, "This is funny. This is great," and then you get in the cutting room and you want to kill yourself. I mean, the scariest thing I've ever had to say is, "Okay, we got it. Let's move on." Because you know that's it, man. For the rest of your life, you'd better hope you got it.
That's the bad news. Here's what I loved about directing. I thought I would be bad at the prep. There's as much prep as there is shoot time, and usually more. It's all about details, and it's all about planning and organization, and that is not my strong suit, and I thought I wouldn't be good at it. As it turns out, I'm pretty good at it, but that I really enjoy it. I found it incredibly creative. It's one of the times that I found I'm best at rolling with the punches. "We can't afford this. What about that? We can't have three of them. Okay, what if we did this with two?" I love that kind of problem solving. You construct this plan, which becomes realer and realer as you go along.
It's hard to understand, but when you're writing the script and doing the prep, it's all out of your head. And then, when you start pre-production, the story has become real. It's a real story. It's not a fiction anymore. It's real. And then, once you're shooting the film, it's as if it's a real story, and it happened, and we're recreating it. I loved that process.
So, you build this great structure of a plan and then the first day of shooting comes, and it catches fire and starts burning down. And then you're running around for the next five weeks. My image is of the director on the second floor throwing bits and pieces out that he hopes to save from the original plan and producers running up with buckets of water to try to put the thing out. [laughs] If you're loose, it can be exhilarating, but I find I need to loosen up a bit.
I think I talked about this during Rudderless, but to get that view of a movie-making machine that we create to make these films, to be the director and see all of these people and all of this work and all of this planning and all of this money that's being spent, it's humbling. I fell in love with the business all over again. I just love my actors in these films. I mean, we're crazy as loons. I got that. I mean, it's laughable, but good God, they're so brave, and they're so pure, in a way, actors are. It's because their job is so circumspect, so small.
RT: Your first film, Rudderless, was a more serious drama, and now you've got The Layover. I understand that you've also got a film called Krystal coming up, and both The Layover and Krystal are comedies. I'm wondering which of those you found more difficult to direct? Drama or comedy?
Macy: Comedy. Comedy's tough. It's a very small target. I mean, a drama's up to interpretation when it's all over, but a comedy… If they laughed, you won. If they didn't laugh, well, it wasn't a comedy, was it? It's very difficult. Also, there's so many comedies. Well, they're all difficult, but I just find comedy to be a more exacting science than drama. I think that's why I really wanted to do The Layover. Believe it or not, this is my style of humor. I love farce. [laughs] I really love it. I wanted to try my hand at it, and I know I do a lot of kitchen sink kind of drama, but I thought the combination of my proclivities with farce might yield something really funny, really good. I just wanted to bring my sensibilities to it.
RT: Would you say it was more daunting to work on The Layover because of the challenges in directing a comedy, or was it more daunting to work on Rudderless just because it was your first feature?
Macy: Excellent question. I guess both experiences are kind of the same, but for the reasons that you just said. I think I had naivete on my side with Rudderless, and the result of that was I worried less and I think I kept my eye on the ball a little bit more. The Layover was a bigger budget. It's a bigger film. It attempted more. It's a road movie, so we had a lot of shooting and a lot of different locations. That's daunting on a slim budget.
RT: have you personally ever had to deal with an unexpected and extended layover, and if so where was it and what did you do with your time?
Macy: The closest thing that I had was, I was shooting a film in San Francisco one time, and there were exterior scenes. I lived in New York, and it rained. It started raining, and it rained for four days in a row. I was so bored I almost got a tattoo, but luckily the sun came out and I got away with it. It's sort of the same thing when you just find yourself stuck in some strange city.
---
The Layover opens in limited release this Friday, September 1.