Pennywise is back, folks, and you know what that means: So is the Losers Club. This time around, some 27 years after the events of director Andy Muschietti's It, the members of Derry's least illustrious club are a little bit older, a lot scruffier, but not much wiser. Ahead of the release of the feverishly anticipated horror sequel, It: Chapter Two, Rotten Tomatoes editor Jacqueline Coley sat down with the Losers club, both young and old(er): Jessica Chastain, Bill Hader, Jay Ryan, Isaiah Mustafa, James Ransone, Andy Bean, Jaeden Martell, Wyatt Oleff, Jack Dylan Grazer, Sophia Lillis, Finn Wolfhard, Chosen Jacobs, and Jeremy Ray Taylor. We asked them to tell us about the It scenes that scare them most, what it was like swimming in a room full of blood, and whether the young cast got the cars they were promised after the first film became a mega hit. Plus, Bill Hader revealed – unsurprisingly – that his Jabba the Hutt and Andre the Giant impersonations were not in the original script and Andy Muschietti talks about the challenge of concluding Stephen King's epic story.
It: Chapter Two is in theaters Sept. 6. 
---
Like this? Subscribe to our newsletter and get more features, news, and guides in your inbox every week.
#1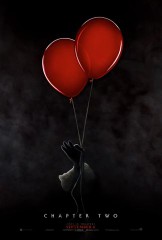 Critics Consensus:
It: Chapter Two
proves bigger doesn't always mean scarier for horror sequels, but a fine cast and faithful approach to the source material keep this follow-up afloat.
Synopsis:
Defeated by members of the Losers' Club, the evil clown Pennywise returns 27 years later to terrorize the town of...
[More]