Join us weekly as Rotten Tomatoes reports on what's opening, expanding, and coming to the specialty box office. From promising releases from new voices to experimental efforts from storied filmmakers – or perhaps the next indie darling to go the distance for end-of-year accolades – we will break it all down for you here each week in Fresh Indie Finds. 
---
This week at the specialty box office, we have the re-release of a Japanese cult-classic animation, a compelling tale about two women's journeys to terminate an unwanted pregnancy, and a comedy about arrested development from SNL star Pete Davidson. In our re-vamped Spotlight Section, we again have director Kelly Reichardt's latest Pacific Northwest tale, featuring an interview with star John Magaro, and in the Indie Trailer section, we have new clips from Taika Waititi and The Act star Joey King.
---
Opening This Weekend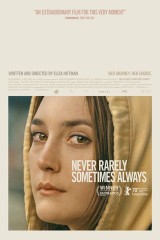 Eliza Hittman has premiered each of her first three features at the Sundance Film Festival, including her second film, the Sundance prize-winner Beach Rats. This year, Hittman returned to the Park City festival with her powerful new drama Never Rarely Sometimes Always, which hits theaters this weekend. It's an intimate portrayal of two teenage girls who journey to terminate an unintended pregnancy; with little support and facing harrowing obstacles along the way, the young girls band together to defeat the odds stacked against them. Peter Travers of Rolling Stone wrote, "Eliza Hitmann's devastating abortion drama, starring a wonder of an actress named Sidney Flanigan, is an emotional wipeout that's impossible to forget."
---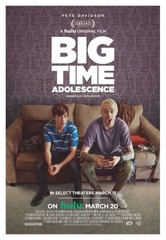 If you're thinking an aggressively unmotivated college dropout whose sole interests are partying, sleeping, and chasing girls sounds like a role tailor-made for SNL star Pete Davidson, then you would be right. In truth, Davidson gives a powerful performance as a drug-addled man-child named Zeke who befriends the only person who still thinks he's cool, his ex-girlfriend's teenage brother. Since its Sundance debut in 2019, critics have lauded Davidson and his co-star Griffin Gluck's screen work. "The two central performances from Pete Davidson and Griffin Gluck are outstanding, but it's Jon Cryer who is allowed to deliver a devastating scene expressing his blindness to whatever Moe sees in this sad excuse for a friend," writes Jason Orley of Flickering Myth. 

Playing New York & Los Angeles, available to stream on Hulu March 20th.
---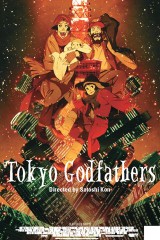 Tokyo Godfathers, Satoshi Kon's seminal albeit unconventional Japanese Christmas animation, was a critical hit when it was released in 2003. Three homeless people in Tokyo find a baby girl at a garbage dump on Christmas Eve and are profoundly changed by it. This week, a newly remastered version with an all English dub hits theaters. Marrit Ingman of the Austin Chronicle called the Japanese original "the kind of old-fashioned, all-ages entertainment Hollywood used to churn out in live-action form before the era of niche marketing when a good story sold a film".
---
Fresh and Still in Theaters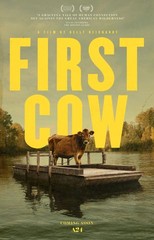 Spotlight Pick

On only four screens, Kelly Reichardt earned a $25,000 per-screen average and $96,000 box office haul, which marked a career high for the indie filmmaker. Reichardt was awarded the Bonnie Award at this year's Independent Spirit Awards, and the film that earned her the honor is currently playing in select theaters. First Cow is a quiet tale about two men who form a friendship around their theft of milk from the first cow to arrive in a rural settlement in the Pacific Northwest of the 1800s. John Magaro and Orion Lee's delicate dance of performances anchors this slice-of-life period piece. Utilizing her distinctive filmmaking style and aesthetic, "Reichardt, America's foremost chronicler of small stories rooted in meticulously-crafted geographical expanses, has delivered another slow-burn heartbreaker," writes Sophie Monks Kaufman of Little White Lies. We spoke with star John Magaro ahead of the film's release, and he detailed why working with Reichardt was tremendously freeing and gave us some of his favorite new indies. 

Jacqueline Coley for Rotten Tomatoes: Talk about working with Kelly; she is a director with a very particular style of filmmaking. 

John Magaro: Kelly is actually a very direct filmmaker. There is an economy of action and language in the story. It can be a scary thing for an actor, as there is no safety net. But, it is also tremendously freeing. You get to focus on the situation and live in an extremely honest way. She just lets the camera roll.

RT: How did you and your co-star Orion Lee develop the feel of two instant friends who form an intimate bond? 

Magaro: It is a strange thing we do as actors. We meet someone and have to figure out a relationship somehow almost immediately. Fortunately, in this case, we had a few days of camping in the woods of Oregon. Orion and I had a guide who helped us learn some necessary skills we may have had as settlers in 1820. It also gave us a sense of each other's rhythm and style.

RT: Any memorable moments from the Telluride premiere? 

Magaro: Telluride is one of my favorite festivals. It is a schlep to get to, but because of that isolation, it feels true about [the] film. It gave me a chance to see a lot of great films from the past year before they came out in theaters, including Two Popes, Uncut Gems, Linda Ronstadt: The Sound of My Voice, and a few more. Also, it was a little reunion for our First Cow team.

RT: What's on your personal "Fresh" list?

Magaro: Going back to something I saw at Telluride, the film The Climb from Michael Angelo Covino is about to come out and is a must-see. It is boldly shot and has a ton of humanity and honesty.
---
Along with…
---
New Indie Trailers
Radium Girls (2018) 79%
The Act's Joey King stars in this narrative take on the real-life "radium girls" of the early 1900s who suffered unspeakable medical conditions and death due to their work making radium dials for WWI.
---
Seven Stages to Achieve Eternal Bliss by Passing Through the Gateway Chosen by the Holy Storsh (2018) 65%
Kate Micucci, Sam Huntington, and Taika Waititi star in this sci-fi horror-comedy about a cult leader whose ritual suicide inspires his followers to break into a young couple's new home, where he killed himself in the bathtub, in order to copy the act.
---
Thumbnail images by Focus Features, Hulu, GKIDS