Join us weekly as Rotten Tomatoes reports on what's opening, expanding, and coming to the specialty box office. From promising releases from new voices to experimental efforts from storied filmmakers – or perhaps the next indie darling to go the distance for end-of-year accolades – we will break it all down for you here each week in Fresh Indie Finds. 
---
This week at the specialty box office, we have a pair of socially conscious features, one dramatic and the other thrilling, and a horror rom-com starring Will Forte. In our re-vamped Spotlight Section, we have Certain Women director Kelly Reichardt's latest Pacific Northwest tale, featuring an interview with star John Magaro, and the new version of Jane Austen's match-making comedy Emma, starring Anna Taylor-Joy in the titular role. In the Indie Trailer section, we have new clips from Ethan Hawke, Shameik Moore, Teyonah Parris, and Stranger Things star Natalia Dyer.
---
Opening This Weekend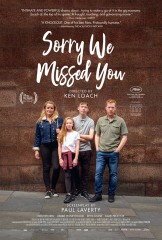 Ken Loach is a filmmaker who has become synonymous with socially conscious dramas, like his Palme d'Or winner I, Daniel Blake. In Sorry We Missed You, Loach examines the pitfalls and tragic consequences of the gig economy. The two parents of a working-class family opt for careers as independent contractors in hopes of clawing their way out of debt and their lower middle-class income, but the results are devastating. Achingly authentic and shockingly accurate Loach's script is littered with real-life anecdotes he gleaned from interviews with various gig workers. "Loach in this mode is frankly a 'message' director and there are all the usual things to be said against such an approach: that his characters are counters first and people second, and that he rigs the game. But he does all this on a high level," writes Jake Wilson of The Age.

Playing New York  & Los Angeles this weekend; expanding to San Francisco on March 23.
---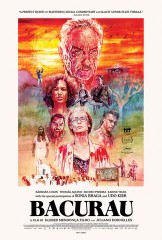 Powerhouse Brazillian Director Kleber Mendonça Filho returns to theaters this week with Bacurau, a gory The Raid–meets-Seven Samurai mashup that dazzled audiences at the Cannes Film Festival in 2019. Working alongside co-writer and co-director Juliano Dornelles for the first time, the modern western throws social commentary and deadpan humor into a no-holds-barred action blender and turns everything up to full-blast. A film built for midnight drive-ins, it has the chops to be a Train To Busan–style cult hit. "Filho and Dornelles co-opt the trappings of genres often considered quintessentially American, especially the western, and turn them against their imperialist origins," writes Dan Schindel of Hyperallergic.

Playing New York this weekend; expanding to Los Angeles, Seattle, and Miami on March 13.

---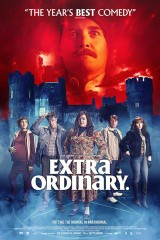 Will Forte, in his first feature film lead role since the cult classic MacGruber, stars in Extra Ordinary, a clever horror rom-com about a nervous widower and the driving instructor he encounters with supernatural "talents." Throughout the narrative, the couple battles the spirit world and maybe falls in love. With its bizarre cast of characters, botched exorcisms, Satan worship, and truly cringe-worthy comedic moments that will leave you in stitches, the film is a hit with critics so far. "A defiantly odd piece of work, one that comes from a very unique sense of humor that works for most of its running time, even if this is the kind of thing that likely connects with the funny bone more on late-night cable than it does in the theater," writes Brian Tallerico of Roger Ebert.com.

Playing New York & Los Angeles, Phoenix, San Fransisco, Denver, Kansas City, Minneapolis-St Paul, Dallas, Houston, El Paso, Houston, Lubbock, Washington DC, Omaha, Raleig; expanding to more screens on March 13.
---
Fresh and Still in Theaters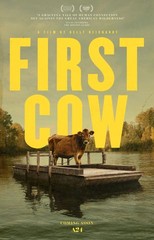 Spotlight Pick

Kelly Reichardt was awarded the Bonnie Award at this year's Independent Spirit Awards, and the film that earned her the honor hits theaters this weekend. First Cow is a quiet tale about two men who form a friendship around their theft of milk from the first cow to arrive in a rural settlement in the Pacific Northwest of the 1800s. John Magaro and Orion Lee's delicate dance of performances anchors this slice-of-life period piece. Utilizing her distinctive filmmaking style and aesthetic, "Reichardt, America's foremost chronicler of small stories rooted in meticulously-crafted geographical expanses, has delivered another slow-burn heartbreaker," writes Sophie Monks Kaufman of Little White Lies. We spoke with star John Magaro ahead of the film's release this weekend, and he detailed why working with Reichardt was tremendously freeing and gave us some of his favorite new indies. 

Jacqueline Coley for Rotten Tomatoes: Talk about working with Kelly; she is a director with a very particular style of filmmaking. 

John Magaro: Kelly is actually a very direct filmmaker. There is an economy of action and language in the story. It can be a scary thing for an actor, as there is no safety net. But, it is also tremendously freeing. You get to focus on the situation and live in an extremely honest way. She just lets the camera roll.

RT: How did you and your co-star Orion Lee develop the feel of two instant friends who form an intimate bond? 

Magaro: It is a strange thing we do as actors. We meet someone and have to somehow figure out a relationship almost immediately. Fortunately, in this case, we had a few days of camping in the woods of Oregon. Orion and I had a guide who helped us learn some basic skills we may have had as settlers in 1820. It also gave us a sense of each other's rhythm and style.

RT: Any memorable moments from the Telluride premiere? 

Magaro: Telluride is one of my favorite festivals. It is a schlep to get to, but because of that isolation, it feels true about [the] film. It gave me a chance to see a lot of great films from the past year before they came out in theaters, including Two Popes, Uncut Gems, Linda Ronstadt: The Sound of My Voice, and a few more. Also, it was a little reunion for our First Cow team.

RT: What's on your personal "Fresh" list?

Magaro: Going back to something I saw at Telluride, the film The Climb from Michael Angelo Covino is about to come out and is a must-see. It is boldly shot and has a ton of humanity and honesty.

Playing New York & Los Angeles March 6; expanding to select theaters on March 13.
---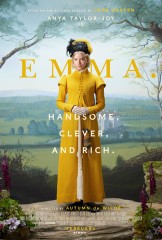 Last week at the specialty box office, the lastest film adaption of Emma added 85 theaters and boosted its tally to $12 million at the box office, making it a solid hit for Focus Features. Jane Austen's classic novel about a privileged heiress who takes it upon herself to play matchmaker is headed back to the theaters, this time led by Split star Anya Taylor-Joy. A colorful and comedic take on the beloved novel, Autumn de Wilde's new version is more akin to Sofia Coppola's Marie Antoinette than the traditionally reserved Austen adaptations, and Taylor-Joy shines as our heroine alongside a stellar cast that includes Bill Nighy, Johnny Flynn, and The Crown star Josh O'Connor. "A great cast of young British talent, jaw-droppingly stunning costumes and an enjoyable interplay of music and comedy – this is a land that you will want to escape to, again and again," writes Fiona Underhill of JumpCut Online.
---
Along with…
---
New Indie Trailers
Cut Throat City (2020) 70%
Wu-Tang founding member RZA returns to theaters with his third directorial feature, starring Ethan Hawke, Shameik Moore, Eiza González, Terrence Howard, and Wesley Snipes.
---
Charm City Kings (2020) 79%
A dramatic story about the Midnight Clique, a famed Baltimore dirt-bike crew, starring Teyonah Parris and rapper Meek Mill in his feature debut.
---
Tuscaloosa (2019) 55%
Stranger Things star Natalia Dyer stars a patient at a mental institution who falls for a privileged young man against the backdrop of the early days of the Civil Rights movement.
---
Thumbnail images by Kino Lorber & Cranked Up Films.