It's been five years since moviegoers were gifted – and utterly befuddled by – a new Charlie Kaufman movie. In September, the mind behind Being John Malkovich, Anomalisa, and Eternal Sunshine of the Spotless Mind releases his newest film as director and writer, I'm Thinking of Ending Things, on Netflix. The adaptation of Iain Reed's celebrated novel stars Jessie Buckley and Jesse Plemons as a young couple driving through a snowstorm to meet Plemons' character's parents, and Toni Collette and David Thewlis as the bizarre mom and dad they eventually encounter. As usual, nothing – time, space, memory, even the rooms – is what it seems. Ahead of the movie's release, Rotten Tomatoes Editor-in-Chief Joel Meares jumped on a Zoom call with Kaufman, Buckley, Plemons, and Collette to talk through the challenge of bringing this dense, smart, and very Kaufman project to the screen.
I'm Thinking of Ending Things premieres on Netflix on September 4. 
#1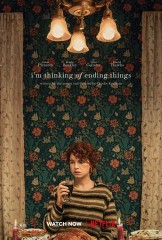 Critics Consensus:
Aided by stellar performances from Jessie Buckley and Jesse Plemons,
I'm Thinking of Ending Things
finds writer-director Charlie Kaufman grappling with the human condition as only he can.
Synopsis:
Full of misgivings, a young woman travels with her new boyfriend to his parents' secluded farm....
[More]