This week at the movies, we've got a saga finale (Star Wars: The Rise of Skywalker, starring Daisy Ridley and Adam Driver), a musical adaptation (Cats, starring Jennifer Hudson and James Corden), and a real-life scandal (Bombshell, starring Charlize Theron and Nicole Kidman). What are the critics saying?
---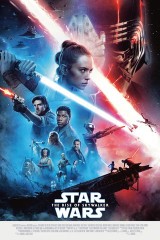 When you're tasked with wrapping up a widely beloved film franchise that spans almost half a century and has inspired a uniquely passionate fanbase unrivaled by any other, you kind of have to accept the fact that you are likely not going to please everyone with the final result. In other words, Star Wars: The Rise of Skywalker was almost guaranteed to be divisive, even with J.J. Abrams back in the director's chair. The story here picks up some time after the events of The Last Jedi, as Poe (Oscar Isaac), Finn (John Boyega), and the rest of the Resistance rally to take out the remnants of the First Order. Meanwhile, Rey (Daisy Ridley) has been training in the ways of the Jedi, but finds that her fate is intertwined with that of Kylo Ren (Adam Driver), and the pair must figure out what that means for them and for the future of the galaxy. Critics say that The Rise of Skywalker is an earnest effort to tie up loose ends and close the book on the Skywalker Saga, but its plotting is somewhat basic and uninspired, and at times, it feels as though the film is going out of its way to undo any perceived wrongs committed by its predecessor. That said, it's still a briskly paced adventure that smartly relies on the talents of Daisy Ridley and Adam Driver, introduces some fun new characters, and offers enough fan service to tickle most fans' nostalgia bones. There's no guarantee that you'll love this or hate this if you're a Star Wars fan, but taken on its own merits, it's still a reasonably entertaining spectacle.
---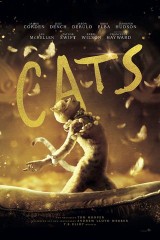 And speaking of reasonably entertaining spectacles, that's pretty much been the one-line assessment of the stage musical Cats for almost 40 years (it's one of the longest-running Broadway shows ever). Devoid of any real plot, the episodic story ostensibly centers on a tribe of cats who gather for a sacrificial ceremony, culminating in the show-stopping number "Memory." This week's new film adaptation of the musical, directed and co-written by Tom Hooper (The King's Speech, Les Misérables), essentially follows the same template, with the likes of James Corden, Taylor Swift, Jennifer Hudson, Idris Elba, Judi Dench, Rebel Wilson, and Ian McKellen filling various feline roles. The final result, unfortunately (or fortunately, depending on your specific proclivities), has become the latest film to inspire critics to whip out their most scathing zingers and metaphors. Thanks to a number of bizarre storytelling choices, a hodgepodge of cut-rate CGI, and a fatal lack of imagination, Cats is being savaged by the critics. This isn't to say the film is completely without merit — some are quick to point to the catchy songs and impressive dancing as positives — but most everyone seems baffled by the film, more than anything else. In other words, enter at your own risk.
---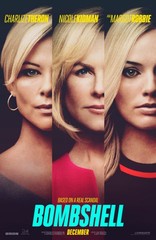 Director Jay Roach is nothing if not experienced in relaying timely stories about hot-button topics to the general moviegoing public, having helmed films like Recount and Game Change, so this week's Bombshell thus falls squarely within his wheelhouse. He's also got a ridiculously talented roster of actors at his disposal for the film, from stars Charlize Theron, Nicole Kidman, and Margot Robbie to supporting characters played by the likes of John Lithgow, Kate McKinnon, and Allison Janney, as well as a script by The Big Short screenwriter Charles Randolph, so it's slightly disappointing that the film isn't doing better with critics. The ripped-from-the-headlines story retraces the scandal that brought down Fox News chief Roger Ailes (Lithgow), who was accused by Megyn Kelly (Theron), Gretchen Carlson (Kidman), and other women (represented by Robbie, playing a composite character) of sexual harassment. Reviews have been quick to sing the praises of the three luminous women in the lead roles — all of whom have secured SAG Award nominations — and most critics have been satisfied by the film's entertaining treatment of the subject matter, though some lament its reluctance to delve deeper into the culture at large surrounding the scandal. It's not quite a scathing indictment, and those familiar with the story won't necessarily learn anything new, but it's presented entertainingly enough to warrant a watch. [Note: This film opened in limited release last week, but expands into wide release this week.]
---
Also Opening This Week In Limited Release
Invisible Life

(2019)

, a period drama about two sisters in 1950s Brazil who are separated by their father and grow up trying to reconnect with each other, is at 89%.
The Europeans

(1979)

, a re-release of the 1979 Merchant Ivory adaptation of the eponymous Henry James novel about two expatriate siblings who return to 19th century New England in hopes of marrying into a wealthy family, is at 75%.
She's Missing

(2019)

, about a young woman tho sets out to discover what happened to her best friend, who disappeared in the desert, is at 56%.
---
Like this? Subscribe to our newsletter and get more features, news, and guides in your inbox every week.