This week, Christy lets us know whether or not taking your kids to see the latest faith-based drama is a good idea, then gives us the lowdown on an adrenaline-fueled remake of a classic actioner and a sober drama based on true events. Read on for details.
---
NEW IN THEATERS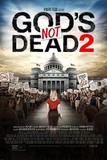 Rating: PG, for thematic elements.
God is still not dead in this sequel to the 2014 faith-based hit. This time, a history teacher with the subtle name of Grace (Melissa Joan Hart) finds herself persecuted when she tries to teach about Jesus in a public high school. Parents complain, she refuses to apologize, and the whole conflict erupts in a court of law. Along the way, various supporting characters find their faith tested and — spoiler! — ultimately validated. This is a PG-rated Christian movie, so nothing even remotely inappropriate happens. But some of the discussions and courtroom arguments can get pretty intense, which might be too much for younger viewers to comprehend. The running time of two solid hours also might make this a squirmy sit for littler kids. Probably OK for viewers around age 8 or 9 and up.

---
NEW ON DVD
Rating: PG-13, for violence, thematic material involving perilous activity, some sexuality, language, and drug material.
This remake of the classic '90s action flick actually manages to amp up the testosterone-fueled adventures while dumbing down the dialogue. Like the original, it's about extreme sports enthusiasts who are secretly criminals. Or maybe it's the other way around. Their leader, Bodhi (Edgar Ramirez in the Patrick Swayze role), is dedicated to completing a seemingly impossible series of tasks called the "Osaki 8." They jump off things, fly through things, and basically push their bodies (and the laws of physics) to the limits. But they also find time to throw raging parties all over the world with beautiful women. And only intrepid FBI agent Johnny Utah (Luke Bracey, stepping in for Keanu Reeves) can stop them — if he can keep himself from being sucked into their seductive lifestyle. The film is filled with incredibly dangerous stunts that your kids should not try at home. Expect fights, chases, and shootings. There's also a lot of language, partying, and a brief sex scene. And a character dies during a dirt bike accident at the beginning, but you don't really see it. OK for tweens and older — but I'd show them the Kathryn Bigelow original first.
---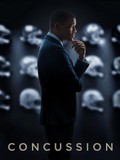 Rating: PG-13, for thematic material including some disturbing images, and language.
Will Smith stars in this drama based on the real-life events that led to the National Football League taking the threat of head trauma to its players more seriously. Smith plays Dr. Bennet Omalu, the Nigeria-born, Pittsburgh-based pathologist who noticed severe damage in the brain tissue of several former NFL players who died young and often of suicide. There's some language here, mainly from Omalu's boss, the coroner (Albert Brooks). But there's also the frequently disturbing sight of these men who've grown so disheveled and mentally debilitated, they're a menace to themselves and others. It's also probably a topic that's too complicated for older kids. Additionally, Omalu and his pregnant wife (Gugu Mbatha-Raw) suffer the devastating loss of a child. This is probably fine for older, mature tweens and up.