With a total of seven new films either opening in wide release or expanding from limited this weekend, it's no surprise that at least three of them will be competing to draw in younger viewers. Of those three, two are rated PG-13, namely the latest entry in the DC Extended Universe and a prequel to the Transformers franchise. Both have gotten solid reviews, but exactly how much do each of them lean into that PG-13 rating? Christy Lemire offers the parental perspective on both, in case you're in the mood to treat the family to a pre-Christmas big screen adventure.
---
NOW IN THEATERS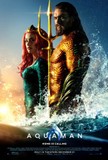 Rating: PG-13, for sequences of sci-fi violence and action, and for some language.
Over-the-top, underwater adventures abound in this insane DC Comics prequel from Furious 7 director James Wan. Jason Momoa stars as the titular superhero, a half-human, half-Atlantean living on the land who reluctantly accepts that he must take his place as heir to the throne of Atlantis in the sea. A multitude of obstacles lie in his path, including entire armies of men, sea creatures, and men riding on sea creatures. It's knowingly silly and outlandish, but it can also be extremely violent. The hulking Momoa's Arthur Curry takes on countless foes with his bare hands, flattening and flinging people across the room with ease. One scene finds Arthur and the Atlantean princess Mera (Amber Heard) fighting off a terrifying swarm of ravenous, sharp-toothed monsters. We also see several perilous chases, stabbings and a ton of gunfire from a variety of weapons. The script includes quite a bit of language, as well as some romantic tension and kissing between Arthur and Mera. It's all the usual comic book movie stuff, but even more so – and that includes a running time that pushes 2 ½ hours. I'd say this is suitable for viewers around 10 and older, especially if they've seen other blockbusters like this before.

---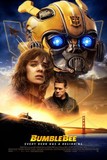 Rating: PG-13, for sequences of sci-fi action violence.
This is a shockingly good Transformers movie. It's also the only good Transformers movie, but its joys aren't merely relative. Director Travis Knight (Kubo and the Two Strings) has managed to find actual humanity within one of these behemoth action spectacles about robots in disguise, so much so that Bumblebee might even bring a tear or two to your eye. Set in 1987, the movie serves as an origin story for the good-natured, yellow Autobot who communicates through songs on the radio. The tomboyish, teenage Charlie (a charismatic Hailee Steinfeld) finds him as a beat-up Volkswagen Bug, brings him home and fixes him up. Once he reveals his true self, the two become fast friends (no pun intended). But Charlie and her smitten neighbor, Memo (Jorge Lendeborg Jr.), soon get sucked into the intergalactic battle between the Autobots and the Decepticons. There's quite a bit of rock 'em, sock 'em robot action here — giant, noisy, punishing brawls resulting in mass injury and destruction — but not as much as you'd ordinarily see in a Transformers movie. In a lot of ways, Bumblebee actually has more in common with E.T. – The Extra-Terrestrial, especially as Charlie copes with the absence of her father by befriending a sweet alien being. I brought my 9-year-old son with me to a screening and we both loved it. I'd say this is fine for viewers around 8 or 9 and older; this is one of the rare occasions in which a PG-13 rating seems too harsh.