This week at the movies, we've got elf bros looking for half a dad (Onward, featuring the voices of Tom Holland and Chris Pratt) and an alcoholic looking for redemption (The Way Back, starring Ben Affleck and Michaela Watkins). What are the critics saying?
---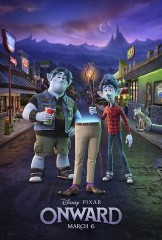 It's no secret that Pixar has a pretty stellar track record, both critically and commercially, and if there's any drawback to that kind of success, it's that it sets high expectations for its future productions to meet. Thankfully, critics say the animation studio's latest, Onward, is another winner, even if it doesn't reach the upper echelons of Pixar's library. MCU stars Tom Holland (Spider-Man) and Chris Pratt (Star-Lord) voice Ian and Barley Lightfoot, a pair of elf brothers living in a suburbanized fantasy world where magic has been rendered obsolete by technology. When Ian is gifted the means to resurrect his dead father for 24 hours on his 16th birthday, he inadvertently only summons the bottom half, so he and Barley set out on a road trip to rediscover the magic they'll need to bring back the rest of their dad before time runs out. Critics say Onward probably won't be considered a Pixar classic, but it's still a cut above most of the studio's competitors, and Holland and Pratt deliver commendably heartfelt performances as the film's true themes begin to emerge. The film is partly inspired by director/co-writer Dan Scanlon's own relationship with his brother when their father passed away, and the personal angle goes a long way towards communicating the story's core messages. In other words, bring some tissues.
---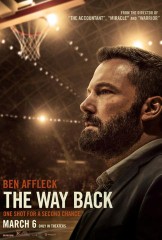 Underdog sports stories have been a reliable staple of the movie industry for a long time, so much so that they've been molded and refined to fit into a fairly predictable formula. With that in mind, it usually takes something extra to make one stand out, and critics say this week's The Way Back has that in an outstanding performance from Ben Affleck. Affleck stars as Jack Cunningham, a construction worker who was once an elite high school basketball player but now spends his days — and nights — binge-drinking. When he gets an unexpected call from his alma mater to coach their hoops team, he reluctantly takes them up on the offer and begins a slow healing process as he attempts to shepherd his kids to a few meaningful wins. Critics say what makes The Way Back effective is that it's not merely an inspirational sports story, nor is it merely one about addiction, but a carefully crafted hybrid that doesn't provide easy answers or overly sentimental triumphant moments. It's also notable that, prior to filming the movie, Affleck himself endured some very public battles with addiction, and as a result, he brings a personal gravity to his role that leaps off the screen. Audiences will no doubt come to The Way Back with certain expectations, simply based on the fact that it's a story about a troubled new coach learning to bond with his team, but if this doesn't hit all of those familiar beats in a predictable way, it still offers a worthwhile character study that might surprise a few moviegoers with its depth.
---
Also Opening This Week In Limited Release
---
Thumbnail image by Disney/Pixar