Watch: Patty Jenkins on the making of Wonder Woman above.
In 2019, Rotten Tomatoes turns 21, and to mark the occasion, we're celebrating the 21 Most Memorable Moments from the movies over the last 21 years. In this special video series, we speak to the actors and filmmakers who made those moments happen, revealing behind-the-scenes details of how they came to be and diving deep into why they've stuck with us for so long. Once we've announced all 21, it will be up to you, the fans, to vote for which is the most memorable moment of all. In this episode of our '21 Most Memorable Moments' series, director Patty Jenkins takes us behind the scenes of the "No Man's Land" sequence from 2017's Wonder Woman.
VOTE FOR THIS MOMENT IN OUR 21 MOST MEMORABLE MOVIE MOMENTS POLL
---
Wonder Woman arrived in theaters with so much weight on its shoulders that it was going to take a superhero-level effort for it to really soar. The film was the first major female-led superhero movie since 2005's Elektra, which hadn't landed too well with critics and audiences. The new Warner Bros. film was also one of the rare big-budget superhero films with a female director – one whose background was mostly in indies (albeit one, Monster, that earned over four times its production budget at the box office and its lead actress an Oscar).
The DC Extended Universe was doing big numbers at the box office, but Warner Bros. had yet to have a critical win with its answer to the MCU (the first three films of the DCEU had all been Rotten on the Tomatometer). And it was coming out during a summer when "superhero fatigue" was a buzzword. And yet. Director Patty Jenkins, star Gal Gadot, and the rest of the Wonder Woman team pulled it off – and then some. The movie was huge, becoming the third biggest movie of 2017 and the biggest earner so far in the DCEU at the domestic box office. On top of that, it was Certified Fresh at 93% on the Tomatometer and would be the best-reviewed comic-book movie of the year (a year that included Logan). Then there was the way it infiltrated the popular culture, a phenomenon captured in photos of young children wielding their shields and lassos and finding, in Diana from Themyscira, someone they believed in and wanted to be. Jenkins tells Rotten Tomatoes she felt the pressure to deliver – for herself as much as anyone.
(Photo by Clay Enos/©Warner Bros./courtesy Everett Collection)
"The fan who's like, 'They better do a good job at that movie' – I was that fan as much as anyone."
"I felt a huge amount of pressure [making Wonder Woman]. For the 10 years that I was talking about it, I knew that it would be a huge amount of pressure, but… I cared as much as anybody. Like, literally, the fan who's like, 'They better do a good job at that movie' – I was that fan as much as anyone! There was nothing I could do about it but try. In a weird way you feel the pressure and you almost don't think about it because I'm now moving on to being that same audience member saying, 'This better be as great as it could be' every day to myself. I've never done anything with a light attitude and therefore any additional pressure is just like, 'What are you gonna do?' It doesn't help and it doesn't hurt and it doesn't really change anything. So you just don't think about it too much."
---
THE MOMENT: "No Man's Land"
If there was one defining moment of Wonder Woman it was the scene in which Diana, having found her way to the front lines during WWI, steps up out of the trench and into No Man's Land. It was her first big Wonder Woman reveal – that slow-motion shot of her shedding her hood and climbing the ladder still gives us chills – and a perfect distillation of Jenkins' and the other filmmakers' vision for a Diana, one that spoke to a 21st-century audience as she entered one of the most harrowing scenes of the 20th. The naïvety was gone and a hero was born.
"[It was like] Superman pulling his shirt open the first time and revealing the 'S'."
"I think that the biggest reason I was obsessed with [the scene] was really from a character place. From Diana's point of view, it is: What is the birth of a superhero? Just like Superman pulling his shirt open the first time and revealing the 'S,' these are definitive, incredible moments, and so I knew that Wonder Woman needed an incredible moment and because we were doing her origin story, it really needed to be the moment that she made the decision to go from being a younger person who was hopeful and idealistic to one who decides to be a hero despite knowing more. And so in this story, that was what I cared about."
(Photo by @ Warner Bros. Pictures)
"What it is to be a hero does not become clear to her until No Man's Land."
"For me, what was important was that Diana wants to be a hero from day one, but what it is to be a hero does not become clear to her until No Man's Land. Not until No Man's Land does it become: No, it's messy, the world is crazy, it's confusing, it's conflicted, and doing the right thing is incredibly hard and no one will come with you. And her saying, 'That's what I'm going to do,' and stepping up over the edge is despite the fact that you can't or you shouldn't and no one will support you. That was such a powerful way for her to step into being like Wonder Woman."
"The shooting of it was brutal."
"On our original plans, there were definitely arguments about [whether we were] really going to put Diana in a Wonder Woman costume out in the freezing cold in the winter [to shoot the No Man's Land scene], and it's not safe, and we shouldn't do it and whatever. We had to do it — it's the only way to do it. You have to build No Man's Land. It had to be real. It was unfortunate that it also happened in the winter, but it needed to happen in the winter or it might not have looked right. The shooting of it was brutal, and it never looked or felt in the moment like what, of course, it ends up being, because it's just an awful moment [on set] with loud noises and someone standing in the wind and cold. And so in great part it was an act of faith, as I'm doing every day here [shooting Wonder Woman 1984]."
"I kept using the old Columbia Pictures beginning as a reference."
"I kept using the old Columbia Pictures beginning – that opening title card of the woman standing with the clouds behind her – as a reference when I was making Wonder Woman. I wanted it to have this classic grandeur, and so when she came up over No Man's Land, I actually added a touch of that and that painterly grain quality in the clouds and we tinted the smoke – the smoke bombs that were going off and the explosions – so that they would have a kind of beautiful color."
(Photo by Courtesy Everett Collection)
"I literally got them to bring all the musicians back into the studio."
"We had finished the whole movie and we had scored it, and I got on the phone with everybody at the studio and all of the producers and said, 'I need you to give me one more crack at No Man's Land please.' And I literally got them to bring all the musicians back into the studio – which is a very expensive and laborious thing to do – and I had our great composer, Rupert Gregson-Williams, write an entirely new piece for it based on a sort of hunch that I had that there was one step further [we could go]. And he actually ended up composing a whole new piece of music that we scored after we had locked everything, which is the score that went in right at the last minute. Everything in my gut told me that song was the right song, but then it was over, it was done, it was out of my hands and the movie was complete – so I really never got a chance to see [the No Man's Land scene] and know it with an audience until very close to the premiere, when finally it was like, 'Oh, that's it. That is the scene. That's as far as we got it. We can't do better. We tried everything that we could to do better and there it is.' And it was pretty incredible, honestly, the night of the premiere when people reacted the way that we did."
---
THE IMPACT: A Hero Is Born 
The countdown to Wonder Woman 1984, scheduled for release June 5, 2020, feels different to the time, four or so years ago, when we were anticipating the first film. Back then there was excitement, but there was also weight and there was pressure; today there is only breathless anticipation. We know Jenkins, Gadot, and the team can deliver; we now just want to see how they can top themselves (and what fabulous '80s flair they will bring). We also know that they changed the way audiences, and studio decision-makers, think about blockbusters. More women – from Cathy Yan (Birds of Prey) to Chloe Zhao (The Eternals) – are stepping up to helm major comic-book–based movies, and more female superheroes are hitting the big screen (Captain Marvel opens today; Birds of Prey, Black Widow, and more are on the way). Yet, again, the fullest picture of the power of Wonder Woman might be best grasped not on the big screen, but in the people sitting in front of it.
---
"Watching people come up to Gal is enough to bring tears to your eyes."
"I spend a lot of time with Gal [Gadot] because she's my best friend in the world. Watching people come up to her is enough to bring tears to your eyes – like when you watch what effect she has on little kids when they come up and they look at her and they're so struck and inspired by her. That's really one of the most incredible things to see and that makes it all worth it."
"When he saw Diana step over the edge in No Man's Land, willing to brave the world, just like that, it was him."
"There's this one fan interaction that really sticks out in my mind. I was at a screening at the Directors Guild of America Theater and a man was there in a wheelchair and he was sitting in the front row and wanted to talk to me after the screening. He reached out and he held my hand and he told me that so many times in the hospital he'd had to have help on crutches and he would have no clothing on and he would have to stand up and be helped out of his wheelchair. It took all the bravery that he had in the world, and when he saw Diana step over the edge in No Man's Land in just her Wonder Woman outfit, willing to brave the world, just like that, it was him. It felt like him and it made him cry and he got emotional as he was telling me. The fact that her decision to stand up and move forward, because she's an unlikely hero as a woman and as a vulnerable person, was striking that chord in other people."
"She's almost become a religion in my world."
"To me, she has expanded in what she even meant to me originally. She's almost become a religion in my world because she's a better version of me and all of us, who really inspires me to be a better person and believe in the better of mankind, that mankind can be better than this. You know? I think that's what she stands for to me."
---
Wonder Woman was released on June 2, 2017. Buy it at FandangoNOW.
#1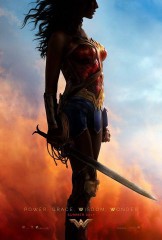 Critics Consensus:
Thrilling, earnest, and buoyed by Gal Gadot's charismatic performance, Wonder Woman succeeds in spectacular fashion.
Synopsis:
Before she was Wonder Woman (Gal Gadot), she was Diana, princess of the Amazons, trained to be an unconquerable warrior....
[More]
---
Like this? Subscribe to our newsletter and get more features, news, and guides in your inbox every week.