The latest episode of Couch Tomatoes will be available November 20. 
Ever since the announcement of Jon Favreau's Disney+ series The Mandalorian, Star Wars fans have been champing at the bit for tough, gritty, and action-packed space western – and when the series debuted this month, it certainly delivered that. But it also delivered something completely unexpected: Cuteness overload and one of the most intriguing odd couples to ever hit streaming or TV.
Stop reading right about now if you haven't seen the first two episodes of The Mandolorian. 
That big dose of the unexpected arrived at the end of episode 1, and continued into episode 2, with the revelation that the Mandalorian's (Pedro Pascal) mysterious target was a little green "infant" creature that appears to be the same species as Yoda. "Baby Yoda," as the Internet has dubbed him, has not only charmed the world since he showed up, but kicked off some serious theorizing about the creature's origins and what it could mean for the future of the Star Wars franchise.
In this special edition of Couch Tomatoes, host Naz Perez is joined by Star Wars expert Ken Napzok, Collider's Perri Nemiroff and Fandango's Nikki Novak to talk everything The Mandalorian. Is "Baby Yoda" a new character, Yoda himself, or some sort of clone? Could that actually be Boba under the Mando's armor? Does live-action Star Wars work even better on the small screen? And could this new series tie into The Rise of Skywalker?
With each episode of Couch Tomatoes, we dig into a major series or event and provide Fresh picks of great shows to help you cut through the clutter and only binge the best.
The Mandalorian is available on Disney+. 
---
Like this? Subscribe to our newsletter and get more features, news, and guides in your inbox every week.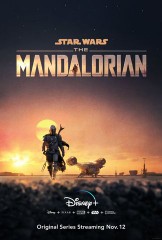 Critics Consensus:
Action-packed and expertly-crafted -- if at times a bit too withholding --
The Mandalorian
is a welcome addition to the
Star Wars
universe that benefits greatly from the cuteness of its cargo.