This weekend at the movies, we've got a singalong sequel (Mamma Mia! Here We Go Again, starring Amanda Seyfried and Lily James), a lethal Lyft driver (The Equalizer 2, starring Denzel Washington and Pedro Pascal), and a deadly series of tubes (Unfriended: Dark Web, starring Colin Wooddell and Betty Gabriel). What are the critics saying?
---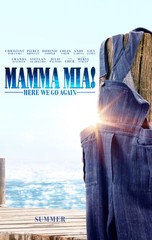 Even if you aren't a fan of their music, it's hard not to hand it to ABBA — after selling millions of albums, they helped turn their lengthy list of pop hits into the long-running jukebox musical Mamma Mia!, which spun off a global box office smash hit film adaptation in 2008. A decade later, demand for the Swedish songsmiths' catalog remains strong: Mamma Mia! Here We Go Again reunites members of the original cast and mixes in some new additions for another love story laced with musical numbers, some of which were also used in the first film. It's an unlikely sequel that looks like it shouldn't work on paper, in other words, but there's evidently still no denying that old ABBA magic — in fact, critics are decidedly more enthusiastic about Here We Go Again, which has won over a slew of pundits in spite of (and/or because of) its over-the-top, carefree ridiculousness. Whether you're a fan of the group, saw the show, loved the first film, or are just in need of some good-natured escapism this weekend, this is one wide release that's ready to deliver.
---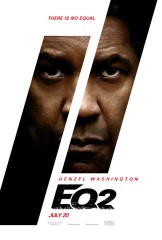 As he's demonstrated repeatedly throughout his remarkable career, when it comes to acting, Denzel Washington can do pretty much whatever he wants — and he's just about done it all, with the exception of leading a franchise. That all changes with the arrival of The Equalizer 2, which reunites Washington with his Equalizer director (and frequent collaborator) Antoine Fuqua for a new chapter in the story of CIA vet-turned-reluctant vigilante Robert McCall. This time out, it's personal: after an old friend is killed, McCall finds himself back on the warpath, dispensing vengeance along the way. It's just the sort of setup that's led to plenty of satisfying action thrillers, and critics say Washington is just as magnetic as ever; unfortunately, the movie around him never really lives up to its leading man. Reviews describe a fairly watchable film that might even be an improvement over its predecessor in some respects, but still disappoints by neglecting to do anything truly compelling with its overly familiar ingredients. If you enjoyed the first Equalizer, you may very well enjoy its sequel — but you may also want to wait until it makes its way to home video.
---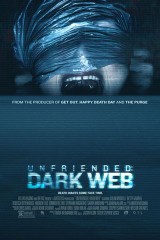 Great horror works on an elemental level, and every time filmmakers try to tinker with that basic formula, they risk diluting the genre's visceral impact. But there are always exceptions, like 2015's Unfriended, in which a group of teens are preyed upon by an unseen killer out for revenge. Using a technique dubbed "screenlife" by producer Timur Bekmambetov, the movie's action unfolds on computer screens; the end result proved an unlikely minor hit with critics on its way to a wildly profitable theatrical run, and now we've got a sequel in this weekend's Unfriended: Dark Web. It's exactly the type of gimmick you wouldn't expect to impress critics a single time, let alone more than once — but the Unfriended follow-up, which finds a different group of young people dealing with a new tech-fueled threat, is doing just about as well with the pundits as its predecessor. Reviews describe a slickly engaging horror outing that gets by on a strong sense of atmosphere and timely themes, even if it doesn't stand quite as tall as some of the more broadly acclaimed recent entries in the genre. A lot of us are a little scared of our computers these days, and Unfriended: Dark Web looks like it takes advantage of that uneasiness just well enough to recommend.
---
Also Opening This Week In Limited Release