Jumanji: The Next Level arrives on Blu-ray and DVD on March 17 after tearing up the global box office this winter, giving those who missed the movie in theaters a chance to spend a night at home with one of the best buddy-comedy duos in the business, Kevin Hart and Dwayne Johnson. (Those who did see it on the big screen can now go back for seconds.) To celebrate the reuniting of Hart and Johnson, and to pay tribute to an epic and jibe-filled bromance that has leapt from the big screen to Instagram and beyond, we devoted this episode of "Vs." to the co-stars of Central Intelligence, Jumanji: Welcome to the Jungle, and – small spoiler alert – Fast & Furious Presents: Hobbs & Shaw. Who will come out on top when we pit mammoth dose of "franchise Viagra" Dwayne Johnson against the motor-mouthed pocket rocket Kevin Hart? Find out as host Mark "French Tuck" Ellis breaks down the battle by Tomatometer, box office, acting versatility, and a special wildcard category. And as always, if you disagree with the ref's call, have at us in the comments.
---
Jumanji: The Next Level is available on digital now and on Blu-ray and DVD March 17, 2020. 
#1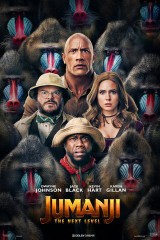 Critics Consensus:
Like many classic games,
Jumanji: The Next Level
retains core components of what came before while adding enough fresh bits to keep things playable.
Synopsis:
When Spencer goes back into the fantastical world of Jumanji, pals Martha, Fridge and Bethany re-enter the game to bring...
[More]