"Yes, please!" is Toy Story 4 director Josh Cooley's response when asked if he wants to talk about Keanu Reeves.
We're at a press summit with the filmmakers for Woody's latest and possibly final big-screen adventure – a story that will take the diligent cowboy and his friends on a road trip, where they'll encounter a variety pack of characters, from a murderous 1950s doll to a spork with existential questions, to a dim but enthusiastic stuntman. Duke Caboom is the motorcycle-ridin', pose-slapping stunt toy, and he's voiced by Keanu Reeves, who's currently riding another crest of global goodwill for John Wick: Chapter 3 – Parabellum (absolutely, a movie where you hand-murder dudes by the dozens makes you more loved in the world) and viral acts of mundane kindness.
"We went after Canadian actors," Cooley says of the process of finding the right person for Duke Caboom. "He was the first one on our list, and I'm so thrilled that he said yes."
Even before signing on, Reeves visited the Pixar campus in Emeryville, California, and brought the same open-road philosophical inquiries he's associated with and loved for all over.
"What do you think he sounds like?" Reeves asked. "What do you think drives him?"
But for a character whose entire existence is pixels and voice, Reeves managed to demonstrate a human physicality to the Duke that made him the first-and-only choice.
"At one point, he just got up on the table," Cooley says. "Imagine you're just sitting down there eating lunch. 'Hoo! Hah! Huh!' He's just doing these poses. I'm like, 'This is it. This is incredible.'"
(Photo by Disney/Pixar)
Though getting Reeves for Toy Story 4 was a dream casting coup, he seemed to get just as much as out of it as the Pixar filmmakers, with Reeves' enthusiasm carrying over into the recording booth.
"Every time we recorded with him, he just had the biggest smile on his face," Cooley continues. "Just so much fun. I can't speak enough about how awesome he is."
But Reeves isn't the only new celebrity voice joining Toy Story 4. He'll be joined by the likes of Christina Hendricks as Gabby Gabby, the doll who wants to rip Woody's voice box out of him; Keegan-Michael Key and Jordan Peele, the reuniting comedy duo who voice two sarcastic and boisterous carnival plush prizes stapled to a wall; and Tony Hale as Forky, the cobbled-together piece of trash given life by a little girl's imagination.
And Annie Potts is returning to the series some 20 (!) years since Toy Story 2 as Bo, who's lived a big and adventurous life beyond suburbia. With her taking a co-star role among Woody and Buzz, and Gabby Gabby as the first female villain of the franchise, women are driving the plot in Toy Story 4. It all adds to the unexpected turns Pixar hopes to enthrall a new generation – and the ones who've been around since 1995 – of audiences.
If all else fails, just picture Keanu Reeves chopping the air for your pleasure as you munch on the popcorn.
Toy Story 4 is in theaters June 21.
---
Like this? Subscribe to our newsletter and get more features, news, and guides in your inbox every week.
#1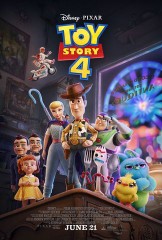 Critics Consensus:
Heartwarming, funny, and beautifully animated,
Toy Story 4
manages the unlikely feat of extending -- and perhaps concluding -- a practically perfect animated saga.
Synopsis:
Woody, Buzz Lightyear and the rest of the gang embark on a road trip with Bonnie and a new toy...
[More]