It: Chapter Two is one of the most anticipated horror movies ever, but does it meet expectations? That's biggest topic on the as agenda Mark Ellis hosts Dread Central's Jonathan Barkan and Rotten Tomatoes' Joel Meares and Jacqueline Coley for a deep dive into the horror sequel. Does the movie's runtime of almost three hours make it drag? Who stands out among the cast members playing the adult Losers Club? Is Pennywise still scary? And do we really think the story of It will end with Chapter Two? We're digging into all the big questions and we want to know what you think, too. So let us know what you thought of It: Chapter Two, and the conversation above, in the comments below.
It: Chapter Two is in theaters now.
---
Like this? Subscribe to our newsletter and get more features, news, and guides in your inbox every week.
#1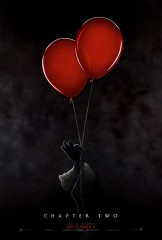 Critics Consensus:
It: Chapter Two
proves bigger doesn't always mean scarier for horror sequels, but a fine cast and faithful approach to the source material keep this follow-up afloat.
Synopsis:
Defeated by members of the Losers' Club, the evil clown Pennywise returns 27 years later to terrorize the town of...
[More]