Couch Tomatoes is back: Rotten Tomatoes' brand-new TV- and streaming-focused show has returned with its second episode. And since it's October, we're focusing on all things spooky. Rotten Tomatoes host Naz Perez sits down with a trio of horror experts — Collider's Perri Nemiroff and BuzzFeed Unsolved hosts Ryan Bergara and Shane Madej — to discuss the biggest breaking TV news and chat about the latest season of American Horror Story: the slasher-movie homage 1984.
Who's the season's real villain? Will Coven's witches return? And is there a time travel twist? Watch our panel discuss these questions and more, plus share their current TV recommendations, from streaming horror anthologies to delightfully bingeable Japanese reality shows.
With each episode of Couch Tomatoes, we tackle the hottest trending topics and biggest TV and streaming news and moments, dive deep into a major series or event, and provide Fresh picks of great shows to help you cut through the clutter and only binge the best.
American Horror Story: 1984 airs Wednesdays at 10 p.m. on FX.
---
Like this? Subscribe to our newsletter and get more features, news, and guides in your inbox every week.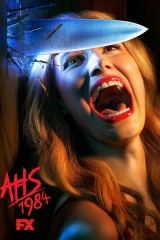 Critics Consensus:
A near-perfect blend of slasher tropes and
American Horror Story
's trademark twists,
1984
is a bloody good time.