This weekend at the movies, we have another round of paranormal scares for Elise Rainier (Insidious: The Last Key, starring Lin Shaye and Angus Sampson) and a fact-based legal drama (Molly's Game, starring Jessica Chastain and Idris Elba). What are the critics saying?
---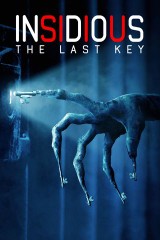 Insidious
 was a wildly profitable success during its 2011 theatrical run, but one that reached its closing credits with a major problem: in killing off Lin Shaye's Elise Rainier, it deprived the inevitable franchise of one of its most compelling characters.
Insidious: Chapter 2
 tried working its way out of that corner by incorporating Elise as a spirit, then took a more pronounced pivot with
Chapter 3
, which traveled back in time to tell a prequel story featuring her as a main character. Based on the healthy box office returns, fans were eager for more of the parapsychologist's scary adventures — and thanks largely to Shaye's performance, that installment marked a critical rebound for the series, all but ensuring a fourth chapter. Shaye is back for this weekend's
Insidious: The Last Key
, which follows the events of
Chapter 3
; unfortunately, critics say that despite her reliably solid work, the end result is a disappointing regression that falls back on cheap jump scares in a futile attempt to cover for its jumbled plot. It'll more than likely still end up turning a profit, but this is one horror franchise that may have run its course with four films — and will hopefully lead to more leading roles for its tremendously talented star.
---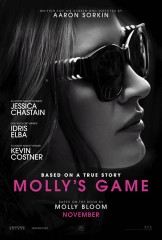 Molly Bloom was a nationally ranked skier whose exit from the sport led to a stranger-than-fiction rise and fall that saw her running a high-stakes poker game trafficked by superstars — and, ultimately, taken down in an FBI sting that led to an array of criminal charges for more than 30 people. Naturally, Bloom's story led to a book deal, and it's been begging for the big-screen treatment — which it's now been given courtesy of
Molly's Game
, starring Jessica Chastain as Bloom and Idris Elba as her lawyer, with acclaimed screenwriter
Aaron Sorkin
penning the script (and making his feature directorial debut). With ingredients like these, it'd be awfully hard to miss; happily, critics say Sorkin has more or less stuck the landing here, delivering a drama that lives up to its outlandishly entertaining premise while making plenty of room for all the barbed rapid-fire dialogue his previous projects have been known for. On top of all that, you've got the ever-reliable Elba and a Chastain performance that some scribes are calling a career best. If any of this sounds appealing to you, don't delay — sign up for
Molly's Game
at a theater near you.
---
Also Opening This Week In Limited Release