Since its October 11, 1975 pilot with host George Carlin, Lorne Michaels' beloved brainchild, Saturday Night Live, has been instigating laughter across the nation and shooting its ensemble cast to Hollywood stardom. As SNL celebrates its big 4-0 this Sunday, we take a look at one special cast in particular, season 31's troupe of funny players, who have since become TV comedy's elite. Featuring such talents as Kristen Wiig, Fred Armisen, Jason Sudeikis, Amy Poehler, and Tina Fey (not to mention Seth Meyers, who was a writer on SNL that year), the 2005-2006 season created some of TV's biggest stars of the small screen.
---
SNL Tenure: 1997 to 2006
Shining SNL Moments: You can't talk Tina Fey's SNL legacy without mention of 2008 Vice Presidential candidate Sarah Palin. Such a conversation will also lead to at least one person quipping, "I can see Russia from my house!" With her Palin impersonation, Fey — by that time a practiced Weekend Update anchor and tenured presence in the writers' room — arguably had as much an impact from a PR standpoint on the 2008 election as Katie Couric did with her historic, Walter Cronkite Award-winning interview.
Post-SNL TV Domination: Fey's most recent contribution to the small screen, Unbreakable Kimmy Schmitt starring Ellie Kemper, drops on Netflix Friday, Mar. 6. And then, of course, there's 30 Rock. The decorated series never saw the ratings it deserved, but this Fey and Alec Baldwin-starrer goes down in history as one of the smartest, most meta jokes-by-the-second series this side of the millennium.
---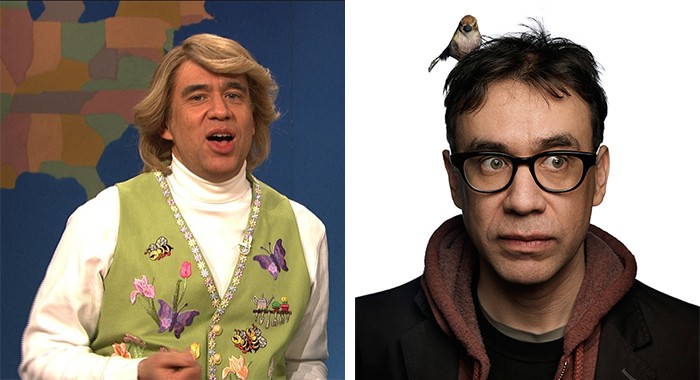 SNL Tenure: 2002 to 2013
Shining SNL Moments: Sure, he did an impeccable Barack Obama and a hilarious Prince, but Armisen's strongest suit was turning his quirk dial to 11. His unadulterated commitment to absurdity shone brightest with "Garth and Kat" alongside Kristen Wiig. Together, they would improvise holiday-themed songs on Weekend Update, inevitably losing each other along the way and often breaking down in laughter by skit's end. This ill-prepared but gratingly chipper singer-songwriter duo made for one of the segment's more memorable guests.
Post-SNL TV Domination: Armisen's absurdist tendencies eventually led him to co-creating cultish comedy series Portlandia with Carrie Brownstein. IFC's sketch show, recently renewed for two more seasons, features the two comics portraying various Portland, OR dwellers in all their granola hipster glory. Armisen's had equally silly guest spots on Broad City, Modern Family, Brooklyn Nine-Nine, and nearly a dozen others.
---
SNL Tenure: 1998 to 2006
Shining SNL Moments: His weirdo characters were plenty (Merv "The Perv" Watson!), but Chris Parnell will be best remembered for his stand-out impressions of many celebrities including Eminem, Tom Brokaw, Charles Gibson, George W. Bush, Lance Bass, Simon Cowell, and Wolf Blitzer.
Post-SNL TV Domination: You can't walk into a TV without hitting smack into Chris Parnell, who has made a career as one of comedy's most prolific character actors since leaving SNL in 2006. With guest spots on Curb Your Enthusiasm, Brooklyn Nine-Nine, Glee, and Garfunkel and Oates — never mind recurring roles on Archer, Suburgatory, and Drunk History — Chris Parnell is pretty much everywhere on the small screen.
---
SNL Tenure: 2005 to 2014
Shining SNL Moments: Recurring characters don't get much better than Weekend Update's New York correspondent, Stefon. With an encyclopedic knowledge of the latest and greatest in Manhattan nightlife, Hader's Stefon is the go-to millennial for a night on the town. Chatting about turn-ups by promoters like Nick Nolte & Gabbana and Tranderson Cooper, he promises a night you won't soon forget…if it weren't for the Ketamine-induced grogginess.
Post-SNL TV Domination: Hader's been making a name for himself outside SNL for years as an honorary member of the Judd Apatow comedy club — Superbad, Pineapple Express, et al. — and he turned in a touching performance in last year's The Skeleton Twins, but he's also been flying under the radar on TV, providing his dynamic vocal talents to series like South Park, Bob's Burgers, The Awesomes, and The Venture Bros. (Many people have no idea that Hader was a writer on 27 episodes of South Park). He also recently made an almost-unrecognizable cameo as Hitler in FXX's new Certified Fresh comedy Man Seeking Woman.
---
SNL Tenure: 2001 to 2010
Shining SNL Moments: Poehler is cited today as the first SNL cast member to be nominated for Outstanding Supporting Actress in a Comedy Series at the 2008 Emmys. She lost to Samantha Who?'s Jean Smart. She lost again in 2009 to Pushing Daisies' Kristin Chenoweth, but being the first of her kind is no small feat! The nomination came largely due to her work as Weekend Update co-anchor, first with Tina Fey through 2006, then with Seth Meyers. But the character she's perhaps most remembered for is her crotchety version of Hilary Clinton.
Post-SNL TV Domination: Oh, Parks and Recreation: how we love thee. The Office-style NBC comedy from Greg Daniels and Michael Schur has only gotten better with age, and its ensemble cast of Poehler, Aziz Ansari, Nick Offerman, and more is a complete knockout. Poehler took home the Golden Globe in 2014 — while hosting the awards show with Tina Fey, mind you — for her portrayal of Pawnee-lover and dedicated public official Leslie Knope. She's also currently executive producer of Comedy Central's Certified Fresh series Broad City.
---
SNL Tenure: 2002 to 2010
Shining SNL Moments: Will Forte brought a unique brand of funny weirdness to SNL with characters Jon Bovi and The Falconer. And how can you talk about this era of SNL without mentioning MacGruber, the MacGyver-like character who went on to star in his own cult hit comedy film?
Post-SNL TV Domination: With dozen of guest spots since leaving SNL in 2010, most notably on Conan and 30 Rock, Forte has finally landed a leading role, starring in the upcoming The Last Man on Earth, Fox's new futuristic comedy premiering March 1.
---
SNL Tenure: 2000 to 2007
Shining SNL Moments: Another comic with a knack for impersonations, Samberg's Nicolas Cage and Rick Santorum always brought the laughs. But it was his SNL shorts with The Lonely Island — most all of which went viral on arrival — that he's remembered for today. To quote Kanye West here, his Justin Timberlake collab, "Dick in a Box," is one of the best videos of all time!
Post-SNL TV Domination: Samberg's work on Fox's Brooklyn Nine-Nine, an action comedy series set in a Brooklyn precinct, scored him a Golden Globe win in 2014 for best actor in a television series musical or comedy — and it was Certified Fresh!
---
SNL Tenure: 2005 to 2013
Shining SNL Moments: Besides being his run's token hottie (sorry, Fred Armisen), Sudeikis also laid the laughs on thick. A fan-favorite is his take on Vice President Joe Biden. The VP himself has approved the actor's impersonation as "Big Daddy Joe" — a raucous, aloof man's man who is "monkey strong, brother!" His 2012 Vice Presidential debate with Taran Killam's Paul Ryan is pure gold.
Post-SNL TV Domination: Like many of these talents, Sudeikis has found sizeable success both on the silver and small screens with Fox's The Cleveland Show, HBO's Eastbound and Down, and feature films like We're the Millers and the Horrible Bosses franchise.
---
SNL Tenure: 2005 to 2013
Shining SNL Moments: It was a sad day when Wiig left SNL for a bigger Hollywood pond. Her eight years on the series showcased her as one of the best silly women working today. Her ability to improv and impersonate is the SNL gold standard. A particular standout is her drunken take on the wine-guzzling Kathy Lee Gifford. As far as SNL originals, look no further than her spotlight-hungry "don?t-make-me-sing" party host or her deformed Maharelle sister of Lawrence Welk Show fame.
Post-SNL TV Domination: Wiig knows a good thing when she sees it. Since SNL, she joined Michael Bluth and co. for Arrested Development's fourth installment as a young Lucille. She also starred alongside Tobey Maguire and Will Ferrell in 2014's Certified Fresh miniseries, The Spoils of Babylon.
---