Both of the movies Christy covers in this week's Parental Guidance are animated features, but while one of them is a zippy kid's movie with familiar touches, the other is an Oscar-nominated stop-motion film that might be a little too mature for younger audiences. Read on for details on both.
---
NOW IN THEATERS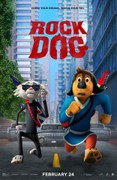 Rating: PG, for action and language.
Children of all ages should be fine watching this animated comedy about a dog (voiced by Luke Wilson) who dreams of being a rock star. Adults, meanwhile, will find it vaguely more than tolerable – although the soundtrack featuring songs from Radiohead, Beck, and the Foo Fighters is solid. Wilson lends his voice to a Tibetan Mastiff named Bodi, who's forced to follow in the footsteps of his father (J.K. Simmons) in protecting Snow Mountain – with its wool-making sheep — from the threat of wolves who'd like to devour them all. But Bodi has dreams of musical greatness, which he pursues when he visits the big city to track down Angus Scattergood (Eddie Izzard), an egotistical cat who's a reclusive rock legend. The wolves are predatory but bumbling, and the possibility of real danger is brief and played for laughs. There's a slight bit of mild language from Angus, a saucy British cat. (Izzard's performance is the best part of the whole movie.) But the idea of being true to yourself and following your dreams – while trite – is worthwhile. Fine for the whole family.

---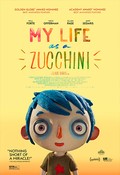 Rating: PG-13, for thematic elements and suggestive material.
This incredibly beautiful, deeply moving film is nominated for the Academy Award for best animated feature. But despite the cute title and the pleasingly colorful, rough-hewn look of the characters, My Life as a Zucchini really isn't for little kids. It's about children who've suffered greatly in their young lives, with parents who've died or are incapable of caring for them because they're in prison or addicted to drugs. But it's also about these kids' resiliency, the sweet way they look out for each other and the possibility of finding new families. I saw the original version of Swiss director Claude Barras' stop-motion animation film in French with subtitles, but a dubbed, English-language version starring Nick Offerman, Ellen Page, and Will Forte is in theaters this weekend. A 9-year-old boy who goes by the nickname Zucchini ends up at a foster home after his mother's death, for which he blames himself. He meets and befriends other kids who are there for a variety of reasons, but he also must endure the cruelty of a bully. There's some language and adolescent sexual humor. But overall, the thematic sadness might be too much for some young kids to handle. Still, it's an inspired film with a message that's ultimately hopeful. Fine for kids around 9 and older.