Of all the movies opening or expanding in wide release this week, only two are suitable for chidren: one is an animated film about a ballerina, and the other is an inspirational story based on true events. In other words, you're probably pretty safe taking your kids to either one, even if one is likely to be more enjoyable for you. Read on for Christy's take on both.
---
NOW IN THEATERS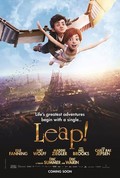 Rating: PG, for some impolite humor, and action.
A French orphan dreams of being a ballerina in this family-friendly – if mediocre  — animated adventure. Elle Fanning provides the voice of Felicie, a plucky 11-year-old who escapes her dreary, rural trappings in the late 1800s and makes her way to Paris to study dance. Along for the ride is her best friend, a wannabe inventor named Victor (Nat Wolff), who's secretly in love with her. Both find themselves in marginal danger as they scamper about the city streets. Felicie lies about her identity, pretending she's a mean rich girl to sneak into the prestigious Opera Ballet School. And the girl's mom (voiced by Kate McKinnon) is an over-the-top villainess who'll stop at nothing to destroy Felicie, including chasing her at perilous heights across Paris. There's nothing really harmful here, and I guess the themes of being true to yourself, chasing your dreams, and persevering are worthwhile. But there's very little in Leap! that truly soars.

---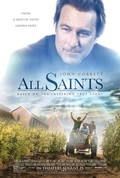 Rating: PG, for thematic elements.
This faith-based film is inspired by the true story of a group of refugees from war-torn Myanmar who helped revive a bankrupt church in rural Tennessee. That's a mouthful, and it may sound like there's a lot going on here. But much of what makes director Steve Gomer's film work is the understated way he approaches dramatic and potentially devastating situations. John Corbett stars as the pastor sent to All Saints Episcopal Church in Smyrna, Tennessee, on a temporary assignment to oversee its sale. A big-box store is set to take over the land. But with the arrival of dozens of Karen farmers, who have no money and no place to go, the pastor sees an opportunity to turn the land into crops, give these folks a job and a home, and save the church. It's an inspiring story of community and perseverance. And while All Saints is unmistakably a movie about faith, prayer, and signs from God, its religious element isn't heavy-handed, which might make it more accessible for people of all beliefs (or lack thereof). The church members are tested both physically and spiritually. There's discussion of the atrocities the refugees suffered before fleeing for the United States. And in one scene, the newcomers clash with police over a misunderstanding and a language barrier, but it's quickly resolved. I'd say this is a fine and even worthwhile film for viewers around age 8 and older.

---
NEW ON DVD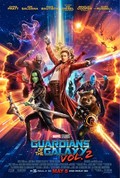 Rating: PG-13, for sequences of sci-fi action and violence, language, and brief suggestive content.
You probably saw the sequel to the 2014 surprise smash this summer – after all, it's made nearly $863 million worldwide, making it the fourth-highest grossing film of the year so far. In case you haven't, though, and you'd like to check it out, I'd say it's suitable for viewers around 10 and older. Once again, the Guardians get caught up in another galactic adventure – and bicker with each other, of course. Along the way to saving the day, Peter Quill (Chris Pratt) – or Star-Lord, as he prefers to be called – learns the true identity of his long-lost father. Gamora (Zoe Saldana), Drax (Dave Bautista) and Rocket (voiced by Bradley Cooper) are along for the ride, as well as the tiny Baby Groot (voiced by Vin Diesel). And similar to Diesel's Fast and Furious franchise, the Guardians sequel is all about #family. There's a ton of big, shiny, comic book-movie violence and action here: fights, chases, swordplay and gunfire of the outer-space variety. There's also a lot of language – mainly from the saucy Rocket. Star-Lord and Gamora enjoy some more romantic tension. And there's some grown-up humor that'll probably go over kids' heads. I brought my son with me to a screening and he did fine – but he's also seen a lot of Marvel movies in his 7½ years. The themes of loyalty, perseverance, and creating your own family are valuable. And kids will love the insanely adorable Baby Groot. You will too, actually.