(Photo by Warner Bros. courtesy Everett Collection)
On one fateful day in 1998, John Travolta received a call from Franchise Pictures owner Elie Samaha, who gave him some very good news. Samaha was looking to make a splash in Hollywood and told Travolta that he wanted to finance the latter's passion project, an adaptation of L. Ron Hubbard's 1,050-page science fiction epic Battlefield Earth. Travolta had been trying to get this project off the ground for 15 years without success, even after becoming a cash machine with Pulp Fiction, Broken Arrow, Michael, The General's Daughter, and Face/Off. Studios wanted nothing to do with a story about "man-animals" using 1,000-year-old airplanes to battle the "kerbango"-loving "Psychlos" who took over their planet and turned them into slaves. But by sheer force of will, Samaha was able to raise the money (more on that later), defer Travolta's normal $20 million paycheck, and secure the assistance of Warner Bros. to distribute the film.
Two years later, on May 12th, 2000, Travolta's $65-75 million budgeted (again, more on that later) Battlefield Earth opened in theaters and quickly disappeared as movies like Gladiator, Shanghai Noon, Mission: Impossible 2, and Road Trip took over screens. Two decades later, the legacy of Battlefield Earth is defined by cast and crew apologies, critical reviews that feature olympic-level insults, and a 3% Tomatometer score.
With all of that said, on the 20th anniversary of the film's release, we look back and provide some insight into how Battlefield Earth came to be, and why it's almost charming in its scrappiness. You may have chosen to avoid the movie all these years because of its reputation, and while it would be a stretch to call it any good, it's definitely more fun than you might have been led to believe.
---
IT WAS PRODUCED BY FRANCHISE PICTURES, THE COMPANY RESPONSIBLE FOR A SLEW OF ROTTEN MOVIES IN THE 2000s
(Photo by Ken Hively/Getty Images)
Between 1999 and 2007, Elie Samaha's Franchise Pictures released a plethora of epically Rotten films that starred A-listers like John Travolta, Antonio Banderas, Sylvester Stallone, Jennifer Lopez, Kevin Coster, Kurt Russell, Lucy Liu, Wesley Snipes, and Bruce Willis. These movies include Battlefield Earth (3%), Ballistic: Ecks vs. Sever (0%), Driven (14%), 3000 Miles to Graceland (14%), Get Carter (12%), and A Sound of Thunder (6%), which put the final nail in Franchise's movie-producing coffin. The average Tomatometer score for the company's 19 films that received a wide theatrical release (600+ screens) was 25% — Ballistic: Ecks vs. Sever happens to be the worst-reviewed film on Rotten Tomatoes — and they only made an average of $28 million at the worldwide box office on $42 million budgets.
Samaha was known for indulging big stars and directors by financing the passion projects that no other studio would make (e.g. Battlefield Earth for Travolta). In an educational 2000 profile by the New York Times, Samaha admitted that he would "scavenge and dig and find the script or project that a star most wants to make; finance it overseas based on the A-list clout; then shoot it in Canada to save money." He grabbed movies in turnaround, when movie studios no longer wanted to develop them, and sometimes was lucky enough to have the stars themselves invest their own money into the project (Travolta himself reportedly spent $5 million when Battlefield Earth ran into financial issues). Actors and acclaimed directors were attracted because they were given complete creative control, albeit on a budget. The end results were rarely Fresh, with the exception of the Jack Nicholson vehicle The Pledge and the David Mamet-directed films Spartan and Heist.
---
IT WASN'T REALLY A "BIG BUDGET BOMB"
(Photo by Warner Bros. courtesy Everett Collection)
"There are several ways to finance a movie. There are split-rights pacts, equity deals, tax incentives and pre-sales. And then there's Elie Samaha's way, which nobody understands."
– Variety, 2003
While it's easy to look at the $65-75 million budget and the subsequent $30 million worldwide box office and assume Battlefield Earth was a box office flop, it's a little more complicated than that. Director Roger Christian, who won a Best Art Direction Academy Award for his work on Star Wars: Episode IV – A New Hope, wrote an open letter correcting many of the critics who called his "independent little film" a "big budget failure." In reality, the production budget was somewhere around $14 million, and the special effects budget was ~$9 million. The initial reports about it being a $77 million-budgeted movie came about because Samaha and Franchise Pictures inflated the numbers to scam German-based Intertainment AG, the group responsible for coming up with 47% of the film's budget. During the ensuing lawsuit, in which Franchise was ordered to pay Intertainment $121 million, it was revealed that the budget was an estimated $44 million (with Travolta receiving $12 million of that).
Cinematographer Giles Nuttgens has said that "Battlefield Earth had the smallest lighting budget on any film I've ever done," and it's rumored that Travolta had his personal chef cook for the crew because the food was so bad. Screenwriter Corey Mandell also went on record to say the movie had a "miniscule special effects budget." In other words, while Battlefield Earth certainly wasn't successful at the box office, it wasn't the absolute blockbuster bomb it was made out to be, either.
---
JOHN TRAVOLTA'S PERFORMANCE IS SO COMMITTED, IT'S ADMIRABLE
(Photo by Warner Bros. Pictures)
"My whole career has been based on trying something new. If I don't try something new, I worry."
– John Travolta, 2000
It's been 20 years since Battlefield Earth's release, and John Travolta's performance remains as weird and boisterous as it was in 2000 (and if Psychlos watch it in 3000, they will likely feel the same way). Originally, Travolta wanted to play the role of Jonnie Goodboy Tyler, the leader of the human resistance against the power-hungry Psychlos. However, as the years passed and studios declined the project, Travolta got older, so the role went to Barry Pepper, who, while less ridiculous, is just as committed.
Travolta instead took the role of Terl, a 10-foot-tall Pyschlo who wants to leave Earth because he's destined for greater things than drinking kerbango and policing "dumb man-animals." Travolta has said "there is no better villain than Terl," and his dedication to the role is on full display as he makes a meal out of every word, relishes every line ("Do you want lunch?!"), and seems incredibly pleased with himself (check out the laughing supercut). While his performance won multiple Razzie awards, it's impressively committed and serves as a perfect example of what happens when an A-list talent delivers an overconfident performance with zero checks and balances.
Prior to the film's release, Travolta was the film's biggest cheerleader, boldly stating that it was "like Star Wars: Episode IV – A New Hope (1977), but better" and "the Schindler's List (1993) of science-fiction films." In an interview with The Daily Beast in 2014, he continued to defend the film and said he would do it all over again. His love stemmed from the fact that "I had the power to do whatever I wanted, and I chose to do a book that I thought was worthy of making into a movie. It's a beautiful film. It's a good movie." Travolta's longstanding defense of the film is admirable, and you can tell he loved every second he spent as a "Rastafarian werewolf" on four-foot-tall stilts.
---
DESPITE ITS FLAWS, THE MOVIE HAS A LOT OF PERSONALITY
(Photo by Warner Bros. Pictures)
In 2010, co-writer J.D. Shapiro published an article titled "I penned the suckiest movie ever – sorry!" for the New York Post. It's a cheeky piece of writing that finishes with him saying, "Now, looking back at the movie with fresh eyes, I can't help but be strangely proud of it. Because out of all the sucky movies, mine is the suckiest." Shapiro was onto something, because part of Battlefield Earth's charm is how odd it is.
The film has an oppressive blue hue, the CGI makes Megashark vs. Giant Octopus look good, and the Psychlos move comically slow during the battle scenes (because the poor stunt actors could only move so fast on their giant stilts). The unnecessarily long 118-minute runtime tarnishes the experience, but John Travolta's non-reaction to losing his arm when he's tricked by Barry Pepper during their final fight (the "Final Fights" podcast episode about the brawl is lots of fun) is worth all the smelted gold in Fort Knox.
Perhaps the most maligned aspect of the film is all the Dutch angles — i.e. tilted camera angles that create an uneasy or paranoid atmosphere — that director Roger Christian insisted on using to create a "comic book look" for the film. The uncomfortable angles have been the subject of a vast array of commentary (for fun, Google "Dutch Angle Battlefield Earth"), including by the late, great Roger Ebert, who wrote that Christian "has learned from better films that directors sometimes tilt their cameras, but he has not learned why." The comment certainly stings, but it's not wrong, and all Christian wanted was to make the Psychlos look taller.
---
KERBANGO IS THE MVP
(Photo by Warner Bros. Pictures)
The best moments in Battlefield Earth all feature the alcoholic beverage kerbango. We're not encouraging the consumption of green alien booze; we're just saying magic happens when it's around. Whether it's Ker (Forest Whitaker) smugly slurping kerbango (with a straw) when he thinks he's pulled a fast one on Terl, or Terl cradling three growlers of it in his arms as he tells the bartender (whom he later decapitates) to put it on his non-existent tab, the mood — and the actors — seems to loosen up whenever the the mysterious green liquid is in play.
The most memorable quote in the film happens when Chirk (Kelly Preston, Travolta's wife, in a quick cameo) tells Terl, "I am going to make you as happy as a baby Psychlo on a straight diet of kerbango." The odd line, followed by a long CGI tongue and a saucy wiggle by Travolta, elicits a visceral mix of confusion and disgust, which perfectly captures what it's like to watch Battlefield Earth. Is Chirk implying that Terl will feel like a drunk baby? If so, is that a good thing? Does it matter? The answers are maybe, apparently, and not in the least.
Battlefield Earth isn't commonly mentioned alongside The Room, Troll 2, or Batman & Robin as an exemplar of "so bad, it's good" cinema — it's usually considered merely bad — but, with respect, it should be. It's just as ironically enjoyable, it's arguably weirder, and it's just so earnest that, despite its blatant shortcomings, you may be surprised to find yourself rooting for it.
---
Where You Can Watch It Now
FandangoNOW (rent/own), Amazon (rent/own), Google (rent/own), iTunes (rent/own), Vudu (rent/own)
---
Battlefield Earth was released on May 12, 2000.
#1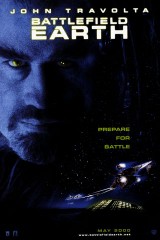 Critics Consensus:
Ugly, campy, and poorly acted,
Battlefield Earth
is a stunningly misguided, aggressively bad sci-fi folly.
Synopsis:
In the year 3000, there are no countries, no cities... Earth is a wasteland. And man is an endangered species....
[More]