This week at the movies, we've got carbon-copied killers (Gemini Man, starring Will Smith and Will Smith), kooky kinfolk (The Addams Family, featuring the voices of Charlize Theron and Oscar Isaac), and stalker Siri (Jexi, starring Adam DeVine and Rose Byrne). What are the critics saying?
---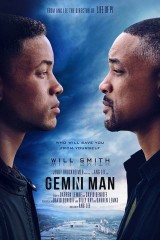 There are few stars left who can carry a film on charisma alone, and Will Smith is one of them. So what happens when you cast him in an action blockbuster opposite… himself? That's what we find out this week in Gemini Man, Ang Lee's sci-fi thriller about an aging assassin (Smith) on the cusp of retirement who suddenly finds himself on the run from an agent hired by his old employers. Surprise — it's actually a cloned, younger version of himself! If this all sounds a bit familiar, that's because the film was originally conceived some 20 years ago, and in that time we've gotten movies like The Island, The 6th Day, Timecrimes, and Looper, many of which cover similar territory (especially Looper). Critics say that Gemini Man is helped by Smith's presence in the lead role, as well as some of Lee's intriguing directorial decisions, but the de-aging technology used to create the younger Will Smith dips a little too far into the uncanny valley, and despite some committed performances by the cast, the storytelling is rote and dated, packed with ineffective one-liners and groanworthy dialogue.
---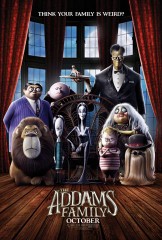 When cartoonist Charles Addams created The Addams Family back in 1938, there was no way he could have known that it would blossom into a multi-media franchise. His satirical take on the prototypical nuclear American family became a successful television series in the 1960s, spawning an animated series in the 1970s, a pair of cult classic films in the early 1990s, and yet another animated series shortly thereafter. And that doesn't even cover the video games, the stage musical, and various other forms of entertainment based on the characters. This week, we get the latest iteration on the big screen in The Addams Family, an animated film that not only boasts a stacked voice cast that includes Charlize Theron, Oscar Isaac, Chloë Grace Moretz, Finn Wolfhard, Allison Janney, and Bette Midler (plus even more, but whew!), but also incorporates character designs directly inspired by Addams' original cartoons. The story follows the kooky titular family as they flee yet another town that misunderstands them and settle into an abandoned asylum in New Jersey, only to butt heads with a home improvement reality show host whose goal is to homogenize the entire town. The Addamses have always stood for the power of individuality and represented the part of all of us that sometimes feels like an outsider, which is typically great fodder for a children's film, but critics say The Addams Family mostly misses the mark. Not only does it drown viewers in its sweetness, its script is somehow both altogether predictable and disappointingly disjointed to feel like a single cohesive tale. It's probably plenty engaging for toddlers, but it may be hit-or-miss for anyone older than that.
---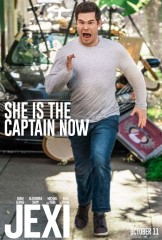 As long as we're doing high-concept movies this week, we might as well talk about Jexi. Adam DeVine stars in this comedy about a phone-obsessed pop culture writer named Phil whose life begins to change for the better when some new A.I. software called "Jexi" (voiced by Rose Byrne) boosts his confidence and helps him make some smart decisions. The downside? As things start to look up for Phil, Jexi gets jealous and resorts to all kinds of shenanigans to keep him to herself. This is, in other words, something of a cross between Her and Fatal Attraction, and we'd love to be able to tell you what the critics thought, but the film wasn't widely screened for critics. You know what that means: take a stab at what you think Jexi's Tomatometer will be in the comments!
---
Also Opening This Week In Limited Release
---
Like this? Subscribe to our newsletter and get more features, news, and guides in your inbox every week.