This weekend at the movies, we have a night out with friends gone terribly wrong (Game Night, starring Jason Bateman and Rachel McAdams), some terrifyingly unique sci-fi (Annihilation, starring Natalie Portman and Jennifer Jason Leigh), and a YA romance with a Quantum Leap-stye twist (Every Day, starring Angourie Rice and Maria Bello). What are the critics saying?
---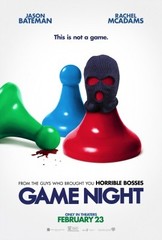 What if two of the guys who wrote
Horrible Bosses
were turned loose on David Fincher's
The Game
? The answer — or something like it — might lie in
Game Night
, in which a married couple (Jason Bateman and Rachel McAdams) find their weekly get-together with friends turned upside down when Bateman's brother (
Kyle Chandler
) adds a murder mystery twist that soon seems all too real. It's a solid setup for the type of pitch-black lunacy that co-directors
John Francis Daley
and
Jonathan Goldstein
are known for, and although they're not responsible for the script — that honor goes to former Disney writer
Mark Perez
— critics say the end result is still a comedy that just about lives up to its loaded premise, thanks in no small part to the efforts of a well-chosen cast. Whether you're a fan of the people involved or simply in the mood for some laughs with a slightly nasty edge,
Game Night
 looks like a winner.
---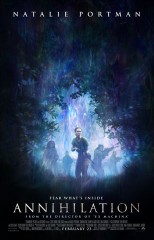 In this week's cinematic equivalent of "unstoppable force meets immovable object," author Jeff VanderMeer's allegedly unfilmable sci-fi bestseller
Annihilation
 meets acclaimed young director
Alex Garland
— and the winner turns out to be the audience. Critics say that this horror-tinged science fiction drama may not be the most faithful adaptation of the book, but it distills its core themes into a thoughtful, unapologetically challenging experience that leavens its weightier ingredients with genre thrills, outstanding performances from an ensemble cast, and a refreshing willingness to get weird. Expect the unexpected from
Annihilation
 — and if the box office is kind, expect some sequels too, since VanderMeer's book has a couple of follow-ups already on store shelves.
---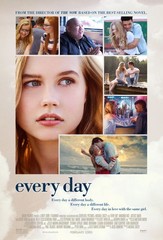 At this point, a filmgoer could definitely be forgiven for assuming that if you've seen one young adult romance, you've seen 'em all. There are exceptions, however, and despite what its rather generic title and fresh-scrubbed marketing materials might suggest,
Every Day
 definitely adds a wrinkle to the genre. An adaptation of the David Levithan novel, this
Michael Sucsy
-directed drama follows the budding love between 16-year-old Rhiannon (Angourie Rice) and A — a literal wandering soul who inhabits a different body (ahem) every day. As a way of exploring gender fluidity — and the setup for a film whose cast is refreshingly diverse — it has a lot of potential. But while a number of critics have responded to the end result, the overall reception is turning out to be somewhat lukewarm. It's still early for
Every Day
, with just a handful of reviews posted, and if you or your fellow filmgoers of choice are part of the target audience for this type of story, then you may still want to investigate. On the whole, however, this looks like something of a missed opportunity.
---
Also Opening This Week In Limited Release