One of the most accomplished and successful electronic musicians of the past two decades, Moby has also created a body of work synonymous with the world of film soundtracks. His 1991 techno hit "Go" sampled Angelo Badalamenti's "Laura Palmer's Theme" from David Lynch's Twin Peaks, and his music has since accompanied dozens of films and television shows, from 007 to Michael Mann to Danny Boyle and beyond. (Not for nothing was his 1997 movie music compilation entitled I Like To Score.) He even came something of a full circle when Lynch directed the music video for his 2009 single, "Shot in the Back of the Head."
Moby's tracks provide the musical foundation for Lucy Walker's Oscar-nominated documentary Waste Land, which is being re-released in select theaters this week ahead of the February 27 Academy Awards. An unexpectedly moving piece, it chronicles the journey of Brazilian-born artist Vik Muniz as he returns to the favelas of Rio and engages the local "garbage pickers," who work in a literal city of trash, to become a part of his art project. More than simply an eco-themed documentary, it's a surprising human story that captures the transformative effect that art can have on peoples' lives.
Read through for our full conversation in which Moby discusses Waste Land, the issue of licensing his music, his impetus to compose original soundtracks… and what it was like to DJ his friend David Lynch's wedding.
But first, we got him to talk about his five favorite films.
---
INLAND EMPIRE (2006, 72% Tomatometer)
 

Well, in no particular order, and not to be sycophantic, number one would be INLAND EMPIRE, the last David Lynch movie. I saw it four times in the theater, at the IFC theater on Sixth Avenue in New York, and I loved it because it plays with a lot of narrative conventions but then disposes with them. It made of lot of more traditional filmmaking seem sort of adolescent to me. And I might be alone in my opinion, but I think it's the best movie David Lynch has ever made.
Fireworks (Hana-bi) (1997, 94% Tomatometer)
 

Number two is Fireworks by Takeshi Kitano. I remember when I saw it, I love the way he marries in that movie… it's emotional and impressionistic but it still has these amazing outbursts of violence. I can't think of a single movie [like it] that goes from, in one instance,

being very delicate and poetic, to being almost obscenely violent. I think he's remarkable.
Man Facing Southeast (1986, 83% Tomatometer)
 

Number three, I don't know the name of the director [Ed. note: Eliseo Subiela], unfortunately, but it was a movie made in the '80s called Man Facing Southeast. It's an Argentine film. I should really find out who the director is, 'cause I saw it a bunch of times in an art theater in the mid '80s when it was released. I fell in love with it and I dragged all of my friends to go see it, and of course none of them liked it as much as I did, but something about it I just found incredibly powerful and it really resonated with me.
Dead Man Walking (1995, 94% Tomatometer)
 

And four… oh, this is tricky. I'm just trying to go through them in my head. It's probably easier to pick 30 favorite movies as opposed to five. It might seem like an odd choice but I really loved it, the Tim Robbins movie Dead Man Walking. I just thought it was such beautiful, emotional, thoughtful filmmaking, and I'm surprised it hasn't taken a bigger place in the western film canon.
Them! (1954, 100% Tomatometer)
 

Okay, so I can think of about 300 to possibly choose, but this was one of my favorite movies when I was growing up. It's a movie called Them!; it's about giant ants that invade Los Angeles. My friend Paul and I, when we were growing up, we had a videotape of it and we just watched it obsessively over and over again. Especially like the first 20 or 30 minutes of it, it's so apocalyptic and quiet and disconcerting. And the sound design [of the ants] is amazing. I was gonna pick Godfather II or something a little more predictable, but I'll go with Them! 'cause it truly is one of my favorite movies.
Next, Moby talks about the score for Waste Land, licensing and composing music for soundtracks, and his friendship and collaboration with David Lynch.
RT: You allowed Lucy Walker, who's a friend, to use your songs for free in Waste Land — you must have really believed in the film.
Moby: I've been friends with Lucy for about 17, 18 years now. When she explained the movie to me I really had no idea what she was talking about. On the surface of things, a movie about a Brazilian artist who makes art with people who live in a garbage dump doesn't exactly sound like… well, it sounds like the sort of movie that eight academics would watch at Quad Cinema in New York City; so when she was working on it, I thought it was the sort of tiny labor of love movie that no one would ever actually see. So I've been really happy for her, and for Vik, and for everyone involved that it's taken on a life of its own that's been so much more than anyone expected. Traditionally artist biopics don't get seen by too many people other than the artist and his or her family, so it's really nice that so many more people have seen it and have ended up loving it.
When you saw the film were you surprised by the human arc that the story takes in following the lives of the garbage pickers?
Yeah. As I said, Lucy and I had been friends for quite a while and I really like the movies that she makes, but this one, it's the first time she's really been allowed to make her own movie. I really think that the filmmaking involved in the movie and the fact that it's a documentary that does have this really remarkable narrative arc to it — it's hard to talk about it without sounding too clichéd, 'cause I start using expressions like "a celebration of the human spirit," but that's kind of what it is.
Did Lucy select the music for the soundtrack or did you collaborate on the choices?
It's funny, I basically just handed a whole bunch of music over to Lucy and gave her complete carte blanche to use what she wanted to use, however she wanted to use it. I made the music, but she's the one who decided what was gonna be used and where. So once I was done making the music I handed it over to her and that was the end of my involvement in it… to just sit back and bask in her reflective glory.
You're no stranger to your music being licensed to films; do you always involve yourself personally in approving what context your songs are used in?
Not really. For a while the reason I didn't do that was because there was a long period where I didn't actually own my music — so it wasn't up to me really where my music was licensed, especially when it came to advertisements.
Has that changed?
Yeah, luckily now; somehow because my manager's really smart, he was able to get control of some of my music. Now my manager and I control a lot of my music, so we can decide where it's actually gonna be placed. But when it comes to licensing music to films, I'm honestly, for better or worse, just really happy to hand the music over to filmmakers and let them do with it as they see fit.
Not to sound too much like a literary grad student, a book that really inspired me when I was growing up is the book Steppenwolf by Hermann Hesse, and at the very end he's having this sort of psychedelic, psychotic breakdown and he's desperately trying to control everything in his life; and he has this epiphany, realizing that life is this big messy complicated thing and the more you try and control things, the worse they end up being. So that's sort of my professional ethos, especially with regards to music in films: I hand my music over to people and if they wanna use it, that's great, and it's not up to me how they use it or where they use it or when they use it — I'm just flattered that anyone would choose to use my music and I'm perfectly happy for them to do with it as they see fit.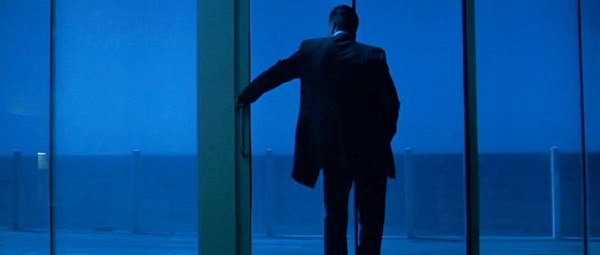 Have you ever been watching something and suddenly heard one of your tracks and thought, "Wow, I didn't know my song was licensed to that?"
Oh yeah, and sometimes it's great and sometimes it's terrible.
Was there an instance where you went, "Oh, that's not good; I don't like this"?
I went to go see the Tom Green movie, Freddy Got Fingered, which is… I really like The Tom Green Show but suffice it to say that the movie is, um… it's not one of the better movies ever made. And half way through it as my friends and I were saying to each other that this is one of the worst movies we'd ever seen, one of my songs came up and my friends just started ridiculing me and laughing at me.
And is there a moment in which your music's been used that you've been really pleased with?
Yeah, I've gotten really lucky because honestly, 99 per cent of the times when my music has been used in films I've been happy with the results. My favorite is the ending of the movie Heat, when Michael Mann uses a song of mine called "God Moving Over the Face of the Waters," and that was one of the first times I'd ever licensed music to a movie, and I just remember going to the movie with a friend of mine and sitting there and hearing the music at the end and just being so kind of awed that this amazing filmmaker, who could have used any piece of music on the planet, had chosen to use mine for this really sort of powerful, emotional denouement. When music and film work well together it's so much more powerful than, you know, the sum of the parts.
Speaking of which, I liked your score for Southland Tales, which, I think, is an under-appreciated film…
Oh I love Southland Tales. I actually just saw Richard Kelly the other night. When it came out it was almost universally reviled and I was really proud to work on it; I think it's a challenging, amazing movie. I understand why some people might not like it, but I thought, if nothing else, it should have been celebrated for trying to do something really idiosyncratic and really different.
What was it like scoring a film that was so dense narratively, and so strange in tone? Did you collaborate with Richard when he was writing the thing, or did he come to you afterward and ask you to compose music?
Well what was interesting, and I don't know if this has happened too many times with musicians before, was that I basically scored the script. The music was all done before they started shooting, because he wanted to be able to listen to the music while he was shooting. So he sent me this script which was really obscure and Byzantine and difficult and I loved it, because at the end of reading the script it made no sense to me whatsoever. And so the music was all either compiled or written while it was just in script form. The movie itself had so many iterations. There's one four-hour long cut that was also very difficult and very obscure and very strange, and of all the cuts that was my favorite one but it also seemed like it was the cut that most people hated.
And most of us, sadly, have never seen.
Well it's long and difficult; it's even longer and more difficult and obscure than the finished cut. I'm sure he's got it floating around somewhere, if you ever see him he'd probably be more than happy to give you a copy.
Is there a particular something that appeals to you in a film or director, like Richard Kelly and Southland, that makes you want to compose original music for a project?
I guess, I mean there are so many conventional movies in the world and there are a lot of musicians who are really good at writing conventional movie music. I don't think I'm one of those people, so I don't have much interest in writing conventional score or working on conventional movies. I'm much more interested in working on stuff that's odd and idiosyncratic and low budget and will probably never get seen by anybody. My one remaining film music dream is to write the music for a Takeshi Kitano movie, 'cause he's one of my favorite filmmakers. I mean, if Steven Spielberg and Takeshi Kitano came to me on the same day and asked me to write music for one of their movies I would have to say "no" to Steven Spielberg and an enthusiastic "yes" to Takeshi Kitano. Just because, as I said, there are so many normal, conventional movies — and they're good — and they tend to benefit from having normal, conventional scores, so I feel like you just leave
that world to the people who are good at it. I'm much more interested in working with the oddballs who make movies that might never get seen.
Well on that note, you're friends with David Lynch — have you two ever considered working together on a feature?
Yeah, I would love to. He's one of my heroes, and it's really interesting becoming friends with your heroes. If David Lynch makes another movie I will happily make coffee. I'll happily clean up the set when everybody else is done with it.
So long as it's David Lynch signature coffee.
Yeah… I would do anything. We've collaborated on a lot of different things. I've done music for his DLF TV, which is his meditation charity, so I've done a lot of music for that, and he made a music video for me, and I DJed at his wedding; so we've done a lot of sort of strange non-filmic collaborations, but yeah — if he ever decides to make another feature, I mean I would literally drop whatever I am doing to just, I don't know, sit and park his car.
What was on the playlist for David's wedding? Were there any special requests?
You know, it was funny: My wedding gift to David and his wife was to DJ at their wedding and I was the most generic, bog-standard wedding DJ. Some people might imagine the soundtrack for a David Lynch wedding being like the slowed-down sound of a box of glasses being broken while an
18th-century operatic piece is played backwards pitched down three octaves, but no, instead I was playing "Brown-Eyed Girl" by Van Morrison. Most of the people there were friends and family, so there was me just like the generic wedding DJ in the corner playing CDs.
What did you think of David's recent dance track, "Good Day Today"? Your single "Go" sampled Twin Peaks and it seems almost like David was nodding back in your direction with his song.
Yeah. I love his music. It's funny, I really like David's music, I like his singing, but he's sort of shy about it, so I've had those experiences where I've been around him and I've asked to hear music and he'll get kind of shy; which is of course unjustified because the music that he makes is, I think, really special.
Well he has mentioned in interviews that he's in awe of you as a musician…
Which is… I mean, it's unjustified but it's flattering.
You've got a new album, Destoyed, on its way soon — what can we expect from that, musically?
The album is music that was written in hotel rooms late at night, so it's quite atmospheric. The way I describe it is that it's like broken-down electronic music that was written in hotel rooms at 2 o'clock in the morning. So it's very melodic but sort of disconcerting at the same time.
---
Waste Land is released to selected theaters in Los Angeles this week, with New York to follow.