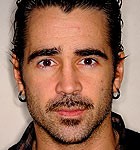 Seemingly overnight at the turn of the century, Colin Farrell went from just another struggling actor to a major Hollywood star — only to retreat into semi-obscurity less than a decade later, after cluttering his filmography with a handful of big-budget turkeys. But while misguided efforts like Daredevil and Miami Vice obscured Farrell's gifts, he remained capable of superlative work — and he's proved it with a string of critically lauded appearances in recent films. The latest chapter in Farrell's reinvention is set to arrive with the forthcoming season of HBO's True Detective, in which Farrell has just been announced as one of the lead actors. With that in mind, we decided now would be the perfect time to take a look back at the critical highlights of an often underrated career. It's time for Total Recall!
---
---
---
---
---
---
---
---
---
---
---
In case you were wondering, here are Farrell's top 10 movies according RT users' scores:
1. In Bruges — 86%
2. Saving Mr. Banks — 85%
3. Minority Report — 80%
4. Crazy Heart — 76%
5. Intermission — 76%
6. The Way Back — 72%
7. Seven Psychopaths — 71%
8. Tigerland — 71%
9. Horrible Bosses — 70%
10. American Outlaws — 69%
---
Take a look through Farrell's complete filmography, as well as the rest of our Total Recall archives. And don't forget to check out the reviews for The Way Back.