Disney's latest remake, Aladdin (2019) 57%, arrives in theaters on Friday riding a lava wave of hot-takes and head-scratching curiosity: the first images of Will Smith as a "blue genie" left some fans skeptical, and the choice of British director, Guy Ritchie, who got his start making kinetic gangster flicks, seemed either odd or inspired, depending on your bent. Could the team possibly pull off a live-action version of a tale that got so much of its verve from the possibilities of animation – and the performance of the late Robin Williams? The first word in from critics is that they have – mostly. Not everyone is enamored with this 2019 Aladdin, which infuses a hip-hop sensibility into some of the musical numbers and gives Jasmine a stronger arc, and there are signs of live-action-Disney-remake fatigue. But according to the critics, fears about the Smith Genie are misplaced – he makes it his own – and there is plenty of magic still to be found in Agrabah and the story of its parkour-loving street rat and independent-minded princess.
Here's what critics are saying about Aladdin:
---
Wait, so it's actually pretty good?
Call it "Aladdin and the Fresh Prince of Ababwa" — which could well have been Ritchie's pitch for a still largely stereotype-driven project that seems to work best when it's not directly emulating the cartoon that came before.
– Peter Debruge, Variety
While early looks at the film — especially scenes that focused on Smith turning on the bravado with a vibrant song-and-dance — were received badly enough that both Ritchie and Smith were asked to respond to the critical jabs, within the context of Ritchie's warmly silly film, they work. They really, really work.
– Kate Erbland, IndieWire
---
(Photo by @ Walt Disney Studios Motion Pictures)
---
What about Will Smith as the Genie?
"A lot of people talk a lot of trash about this movie, and after watching it for myself tonight: You owe Will Smith an apology."
– Sharronda Williams
And Smith himself succeeds at making the Genie his own whenever he's allowed to play the character as, well, Will Smith in a top-knot and turban.
– David Crow, Den Of Geek
Smith, faced with the impossible task of living up to Robin Williams' iconic voice performance, easily makes the role his own. His infectious personality shines throughout, and he even manages to infuse his martini-swilling Genie with moving emotional moments.
– Frank Scheck, The Hollywood Reporter
If anything, it's the stage Genie whose influence comes through, for it was on Broadway that the Genie was first played so flamboyantly (James Monroe Iglehart earned a Tony for that fresh interpretation). Smith builds on that approach, affecting the diva-like attitude of a demanding fashion designer.
– Peter Debruge, Variety
He makes a less quippy and in some ways pricklier Genie, less inclined to coddle Aladdin and more prone to doling out the kind of romantic advice that might remind you of the professional love guru Smith played in "Hitch."
– Justin Chang, L.A. Times
---
(Photo by @ Walt Disney Studios Motion Pictures)
---
How are Mena Massoud and Naomi Scott as Aladdin and Jasmine?
As Jasmine and Aladdin, Scott and Massoud are well-matched, and they're even better when their characters are allowed to be loose and fun (they're aces on that key magic carpet ride, both crumble into mealy-mouthed line-readers when asked to deliver hammy exposition). Chemistry-wise, the heat between the duo is lacking, but that's okay, this is a film aimed at a younger audience, and they are going to love it.
– Kate Erbland, IndieWire
Among the rest of the cast, Naomi Scott is a standout and makes Jasmine the other highlight of the film, and she further makes a persuasive case that she's better than the material she's offered here.
– David Crow, Den Of Geek
Massoud, who possesses the requisite lithe physicality and toothy grin, and Scott, who sings gorgeously, display a winning chemistry and charm that make the central love story fully engaging.
– Frank Scheck, The Hollywood Reporter
Scott commands her share of respect as Jasmine, reinventing the character via the movie's contemporary-sounding "Speechless" — the closest thing to a female empowerment anthem Disney has given us since Queen Elsa let it go in "Frozen."
– Peter Debruge, Variety
Canadian-Egyptian actor Mena Massoud perfectly captures Aladdin's street-smart charm, while British-Gujarati actress Naomi Scott gives a fire-cracker performance as Princess Jasmine, showing she's less concerned with finding a husband than learning the required skills to succeed her father (Navid Negahban) to the throne.
– Joseph Walsh, Time Out
---
(Photo by @ Walt Disney Studios Motion Pictures)
---
Does Marwan Kenzary make a terrifying Jaffar?
Dutch actor Marwan Kenzari may be a handsome alternative to the animated version's effete vizier, with his pencil moustache and Sophia Loren eyes, but he no longer looms large enough to feel like much of a threat.
– Peter Debruge, Variety
Jafar, moderately reconceived as an ambitious former "street rat" himself who wants to transform Agrabah into a conquering empire. For all that, he is a touch less sinister and more human — and, as played by Kenzari, considerably more attractive — than his hook-nosed cartoon counterpart.
– Justin Chang, L.A. Times
---
How does it compare to other recent Disney remakes?
Whatever its faults, one could see Burton [with Dumbo] strive to do something at least vaguely new and meaningful with the material, if only as a creative exercise, and finding a bit of heart in the process. There isn't even a pulse in Aladdin.
– David Crow, Den Of Geek
Happily, while it may not have the directorial personality of Tim Burton's dark Dumbo or the musical majesty of Beauty and the Beast, this Aladdin is still an enjoyable take on the Middle Eastern folk tale, benefitting from terrific performances from a fun, fast-talking and scene-stealing Smith, alongside Mena Massoud and Naomi Scott, as Aladdin and Jasmine.
– Jo Berry, The List
I'm tempted to just copy-and-paste my review of 2017's Beauty and the Beast here, because this new Aladdin suffers from all the same problems: it's a watered-down pastiche of itself, like one of those on-ice horrors, or the movie equivalent of how a musical's soaring and enrapturing character showtunes get deliberately blandified and drained of all personality for the end credits on their way to the pop charts.
– Maryann Johanson, flickfilosopher 
---
---
What are the musical numbers like? (Because we still have that soundtrack memorized.)
Meshing Middle Eastern styled dance with Bollywood theatricality, [one sequence] is a successful detour from the original '92 movie that is genuinely fun with eye-popping Michael Wilkinson costumes—so much so they do an encore during the end credits—and hints that there could've been a version of the Aladdin remake that had its own identity.
– David Crow, Den Of Geek
It's the big musical sequences that are the most successful, including Genie's cave-set introduction and an eye-popping street parade that functions as the coming out party for Aladdin's royal alter-ego Prince Ali.
– Kate Erbland, IndieWire
The parade of the big showstopper number, "Prince Ali," might as well be a daily procession at Disney World; it's weary and rote, not in the least bit magical.
– Maryann Johanson, flickfilosopher 
Smith's exuberant interpretations of 'Prince Ali' and 'Friend Like Me'…are so infectiously entertaining and grandly staged you won't be able to stop yourself from humming along.
– Jo Berry, The List
---
(Photo by @ Walt Disney Studios Motion Pictures)
---
How does Director Guy "Snatch" Ritchie Handle Himself in a Disney movie?
Usually a kinetic filmmaker, the boredom Ritchie exudes for the material is only matched by his visceral discomfort in bashfully following Massoud, Scott, or Smith as they walk around strangely cramped sets while belting it out.
– David Crow, Den Of Geek 
You can tell his heart is more in the elaborate chase sequences and pyrotechnics than the musical numbers, which, as is so often the case these days, are so frenetically assembled that they seem to have been edited in a Cuisinart.
– Frank Scheck, The Hollywood Reporter
There are also some odd directorial choices: a slow-motion fall that, well, falls a bit flat; and clunky moments featuring snippets of stagey feeling songs, that would have been best left unsung and only serve to slow the adventure down.
– Jo Berry, The List
Where the director really shines is in melding practical elements with virtual ones. Whether making Smith's computer-enhanced and cerulean-skinned Genie look natural sharing the screen with Aladdin or swooping the camera along magic carpet rides through virtual sets, Ritchie's style embraces the kind of expressionism needed to pull off such a fanciful tale.
– Peter Debruge, Variety
---
(Photo by @ Walt Disney Studios Motion Pictures)
What did they change… and does it work?
There's also an entirely new number, "Speechless," featuring lyrics by Benj Pasek and Justin Paul (Dear Evan Hansen, La La Land), that feels all too calculated but probably necessary as a feminist anthem for a character who at one point is told, "It's better for you to be seen and not heard."
– Frank Scheck, The Hollywood Reporter
The upgrades here are primarily cosmetic, which is no reason to discount their pleasures. There's an infectiously entertaining dance number in which the Genie manipulates Aladdin's body like a marionette, allowing Massoud to show off some deft physical slapstick.
– Justin Chang, L.A. Times
Ritchie and co-screenwriter John August have added a fair bit of modernization to Jasmine's character, imagining her as a leader-in-the-making who is eager to rule her country, despite a father (Navid Negahban) who doesn't see the need to change tradition… It's a smart change, and gives Jasmine plenty more to do: from new songs to belt, like the Pasek and Paul-penned "Speechless," to a fresh motivations that add emotional dimensions to the role, Scott makes off with one of the juiciest Disney Princess roles in recent memory.
– Kate Erbland, IndieWire
---
The bottom line?
Is Aladdin a perfect film? By no means. Is it a shameless cash grab? Probably. Despite this, it's a hell of a lot of fun, and my cynicism was counteracted by its charm. Disney know how to sell magic, and now it is obvious that they know how to resell it.
---
Aladdin opens in theaters May 24, 2019. 
#1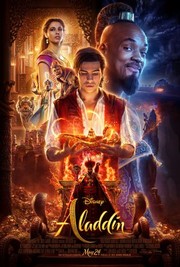 Critics Consensus:
Aladdin retells its classic source material's story with sufficient spectacle and skill, even if it never approaches the dazzling splendor of the animated original.
Synopsis:
A street rat frees a genie from a lamp, granting all of his wishes and transforming himself into a charming...
[More]
---
Like this? Subscribe to our newsletter and get more features, news, and guides in your inbox every week.