Watch: Vin Diesel on the building-to-building jump in Furious 7 above.
In 2019, Rotten Tomatoes turns 21, and to mark the occasion we're celebrating the 21 Most Memorable Moments from the movies over the last 21 years. In this special video series, we speak to the actors and filmmakers who made those moments happen, revealing behind-the-scenes details of how they came to be and diving deep into why they've stuck with us for so long. Once we've announced all 21, it will be up to you, the fans, to vote for which is the most memorable moment of all. In this episode of our '21 Most Memorable Moments' series, actor Vin Diesel recalls the moment that for many has come to define the Fast and Furious franchise.
VOTE FOR THIS MOMENT IN OUR 21 MOST MEMORABLE MOVIE MOMENTS POLL
---
The Movie: Furious 7
(2015)
81%
When 2001's The Fast and the Furious began with a trio of Honda Civics lifting a shipment of now-obsolete electronics from a delivery truck, there was no way to know that the film would eventually blossom into one of the most successful action-adventure franchises ever, still going strong 18 years later. Initially characterized by smaller-scale crime stories enlivened by elements of street-racing culture, the series has established a reputation for consistently one-upping its own breathtaking stunts and spectacular, over-the-top action scenes.
By the time Furious 7 premiered in 2015, the franchise had already successfully transitioned into a globetrotting blockbuster adventure series, but its beating heart lay in the friendship between one-time criminal Dom Toretto (Vin Diesel) and former FBI agent Brian O'Conner (Paul Walker). Just halfway through production on the film, however, Walker tragically suffered a fatal car accident, and his death loomed large over the proceedings. Diesel recalls his first interactions with Walker and how their relationship evolved over the course of the franchise.
"We kind of embraced that he was this L.A. kid and I was this New York kid."
"We got along from the start, and we kind of embraced that he was this L.A. kid and I was this New York kid. That was kind of the fun of building that brotherhood bond. We didn't know in the first film that we would be the poster child for brotherhood, but I guess it was beginning back then. He did something very interesting that was very flattering and also made me extremely uncomfortable.
I'd been acting since I was seven years old, and had gotten no lead roles, no lead movies, and then I went off and directed movies and went to Cannes and went to Sundance as a director. So, because of so many years of struggle, and then finally seeing the beginnings of success by doing it myself, I was very reliant on myself. I was very opinionated.
And when we did a 50-person read-through for the first time at Universal with all the top executives, the marketing, and the directors and writers — more people than I'd ever seen in a production meeting. We were reading the script out loud. After every other line — Paul was sitting on the opposite side of this big U-shaped table set-up — he'd look up and stop the read-through and say, 'Vin, what do you think of that line?' And it kind of set the stage for what our relationship was gonna be, that he had a big brother in this. This was at the read-through when we didn't know each other. We had just met one second, and I guess I was so opinionated that Paul just wanted to hear truth. He didn't want any more Hollywood bulls–t; he just wanted to know if the line was right or not. And he'd stop and ask me, in front of everyone."
"I'm proud of every moment of every frame and every player and everybody that's contributed."
"It's a big part of my life, both the happy times and the severe melancholy that comes with this whole saga for me. But I'm proud of every moment of every frame and every player and everybody that's contributed. Of course, there's always faults and self doubt and, you know, a plague of being a perfectionist. You obviously have your highs and lows and your more confident moments and your less confident moments.
And I just thought how grateful — my children were born on these movies. Every one of my kids was born during a day I was filming with Paul. The irony is, I played the big brother in the saga, and one of the most influential people sending me off into fatherhood was Paul Walker. So, it's no mystery that these movies are very sacred to me."
---
The Moment: "Cars don't fly!"
There is perhaps no one sequence in the Fast and Furious franchise that quite captures its freewheeling, devil-may-care sensibility as acutely as the one that takes place in Abu Dhabi midway through Furious 7. In it, Dom and Brian "pilot" a supercar from one skyscraper to another, and then again to the next one, smashing through windows and defying gravity in a gleeful display of impossible physics. When Diesel first read it in the script, he was surprised, but flattered.
"It was that moment where we realized that Fast and Furious didn't need to be restricted in any way."
"The first thing I can think of is, I remember going to everyone and saying, 'Come on. Dom can't just lift up this car,' and seeing their faces look at me like I was crazy, like, 'Of course he can.' And I'm thinking, 'Oh my God. The belief that you all have in Dom is profound.' Because lifting up the car, it's technically possible. 'If anyone can do it, it's Dom!' So I remember that was the theme of the day. It was one of those things that was so enticing because it was so much wish fulfillment. It was designed so well — James Wan executed it brilliantly. Our second unit director, everyone just really knocked it out of the park.
And it was that moment where we realized that Fast and Furious didn't need to be restricted in any way. That we were so thorough about story and character, and it's so much a tale of brotherhood and family, right, that we were allowed these kind of outrageous and fantasy-filled moments, and flying through the air was playing to that. Flying from building to building was playing to that. It was one of those solutions to the riddle, or answers to the riddle, 'How do we one-up the spectacle of each film?'
God, the things that we'd been asked to do. Yeah, we were asked to fly. Obviously, CGI components to all of it. And traditionally, with Fast and Furious, we always try to take a practical approach first, so we'll take a practical run. But something as outrageous as that… If you want to know if Paul and I drove from one building to the next, as much as I'd like to say 'maybe,' I mean, it's pretty obvious that that might not have been the thing for us to do."
"When you're sitting in that theater, and you see that scene, the first thing that reacts is the inner child in you."
"What's funny is that if you talked to us back then, we'd be willing to do anything. What usually would happen was, in the first film, we went to, like, race car driving school. But then, as we continued making the films, it was more important for us to go to stunt-driving school. So, before every film, we would spend a couple of weeks in stunt-driving school and learn how to do stunts in cars. And you can learn as much as you want, but when it's actually shoot day, and the pyrotechnics are launching bombs and fireballs in the air and you're driving through smoke, and the steering goes out, it's always a dangerous thing. I don't think the world realizes how much risk one has to consider when doing some of those heavy action sequences with cars.
Fortunately, we were safe. But it was always a running theme with Paul and I. We'd do interviews, and we'd talk about how we can't believe we're still OK, because of what we did and how committed we were to playing these roles. But yeah, without taking away the magic of movie making, thank God that that was in 2014 and we were able to use CGI the way we did.
It's been so many great stunts; I'd say this is in the top five, just off the cuff. I was like, 'Holy s–t, we pulled it off.' I was kind of blown away. My first reaction was giddy. What the scene does is, it connects you to your inner child. So when you're sitting in that theater, and you see that scene, the first thing that reacts is the inner child in you. And that's a testament to an iconic moment."
---
The Impact: A Faster, More Furious Future
Thanks in part to its unparalleled, famously outsized action set pieces and an earnest, heartfelt tribute to Paul Walker, Furious 7 was a massive critical and commercial hit. Certified Fresh at 81%, it boasts the highest Tomatometer score of the entire franchise, and after a monster opening weekend, it went on to become not just the highest-grossing film in the series, but the eighth highest-grossing film of all time. That's no small feat, especially considering its roots in low-stakes car chases and small-time thievery.
The film marks the high point for an ongoing franchise that, beyond its theatrical features, has also spawned high-concept theme park attractions, toys, video games, a touring live show complete with stunt driving and pyrotechnics, and a planned television series in the works. Later this year, audiences will be treated to the first Fast and Furious spinoff movie, Hobbs & Shaw, which centers on the recurring characters played by Dwayne Johnson and Jason Statham.
But there is a surprising depth to these movies, something in their frequently reiterated mantra about family and their uniquely diverse cast of characters, that might help explain their pop culture ubiquity. Just ask Vin Diesel.
"I'll go to do press and everyone will say, 'This is not a movie. This is tradition.'"
"I was at the live show at the O2 arena earlier this year, and I had a moment where I saw the effect of this franchise, and what this franchise had represented. I've had many experiences like that, where I'll go to do press and everyone will say, 'This is not a movie. This is tradition.' And how people have embraced this saga and the themes in this saga, and people talking about the fact that they take their family to this movie, and it's the only time that they can discuss some humanity or morality or how we're supposed to treat people, treat each other and love each other. And that's all cool.
It goes without saying that Fast and the brotherhood of it all — Toretto and O'Conner and all that the Fast represents in terms of family and multiculturalism and empowerment — is very dear to me, and very sacred to me. And I work very hard, and I commit everything to realizing its best potential."
---
Furious 7 was released on April 3, 2015. Buy or rent it at FandangoNOW.
#1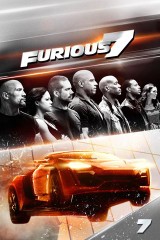 Critics Consensus:
Serving up a fresh round of over-the-top thrills while adding unexpected dramatic heft,
Furious 7
keeps the franchise moving in more ways than one.
Synopsis:
After defeating international terrorist Owen Shaw, Dominic Toretto (Vin Diesel), Brian O'Conner (Paul Walker) and the rest of the crew...
[More]