Anticipation is at fever pitch for Stephen King's Doctor Sleep, the sequel to the horror master's terrifying book The Shining and Stanley Kubrick's classic movie adaption of it. And while many will have to wait until November 8 to check back into the Overlook Hotel, you can get the jump on them at a series of Early Access screenings.
All you have to do to ensure you see the movie nine days before anyone else is purchase your tickets through Fandango here.
To celebrate the special Early Access screenings, Fandango has released a new fan-made poster by artist Chris Christodoulou. Check it out below.
(Photo by Chris Christodoulou)
The new film takes viewers back to the Overlook Hotel, the scene of Jack Torrance's murderous rampage against his wife and son, Danny, who had the gift of the Shine. Decades after those events – "Here's Johnny!" – a now-adult Danny Torrance (Ewan McGregor) is forced to confront his past when a young and similarly gifted woman enters his life pursued by a relentless group of demons.
The movie is brought to the big screen by Mike Flanagan (Netflix's The Haunting of Hill House) and the combination of that masterful filmmaker, the legendary Stephen King, and McGregor, has horror fans salivating.
You can see what new terrors the trio conjures when Doctor Sleep is released November 8 – or get a jump on everyone else and catch an Early Access screening on October 30.
---
Stephen King's Doctor Sleep is showing in a series of special screenings on October 30 – buy tickets now. The movie is in theaters everywhere November 8.
#1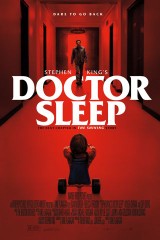 Critics Consensus:
Doctor Sleep
forsakes the elemental terror of its predecessor for a more contemplative sequel that balances poignant themes against spine-tingling chills.
Synopsis:
Struggling with alcoholism, Dan Torrance remains traumatized by the sinister events that occurred at the Overlook Hotel when he was...
[More]