---
Best-Reviewed Spanish-Language Movie 2018
Alfonso Cuarón's semi-autobiographical drama set in Mexico City has been at or near the top of a lot of "Best of 2018" lists, so it's no surprise that it also reigns supreme over all of the terrific Spanish-language films we got this year. This new category was created to reflect the incredible number and quality of Spanish-language films being released in U.S. theaters.
The order of the rank below reflects the Adjusted Score as of December 31, 2018. Scores might change over time.
#1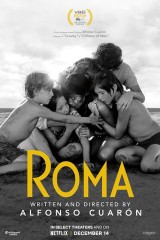 Critics Consensus:
Roma
finds writer-director Alfonso Cuarón in complete, enthralling command of his visual craft - and telling the most powerfully personal story of his career.
Synopsis:
Cleo is one of two domestic workers who help Antonio and Sofía take care of their four children in 1970s...
[More]