Marvel goes super small-scale with its next big screen adventure, Ant-Man and the Wasp, which serves as a lighthearted romp on the heels of Avengers: Infinity War, which came out a couple months ago. But if you can't make it out to the theaters to see the latest superhero extravaganza, you can stay at home and catch these other adventures featuring characters who embark on tiny adventures.
---
THE MOVIE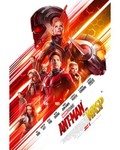 Rating: PG-13, for some action violence.
It's the latest installment in the Marvel Cinematic Universe, so you know what you're in for here: chases, danger, and our heroes battling villains in big action sequences. But Ant-Man and the Wasp — like its 2015 predecessor, Ant-Man — is a lot lighter and goofier than, say, Avengers: Infinity War. The fate of all of humanity isn't at stake, which makes this sequel a more genuinely pleasant experience. The always entertaining Paul Rudd returns as the title character, this time teaming up with Evangeline Lilly's Wasp and her dad, scientist Hank Pym (Michael Douglas), to return to the Quantum Realm. There, they will try to retrieve the Wasp's mom (Michelle Pfeiffer), who's been stuck there for 30 years. (An early scene flashes back to Lilly's character's childhood and the memory of her mother being lost forever, which could be difficult for younger viewers.) But plenty of other people are after the technology Pym and his daughter are developing, including an ethereal but powerful force known as The Ghost (Hannah John-Kamen). Ant-Man and the Wasp is fast-paced and playful, but it also features a ton of hand-to-hand combat, knives, guns and general chaos, some of which involves crowds of tourists in San Francisco. It also has some language scattered throughout. But on the whole, there's nothing scary here. A great choice for kids around 8 or 9 and older.

---
THE RECOMMENDATIONS
After you've seen Ant-Man and the Wasp, here are some other movies featuring characters who shrink down and go on big adventures. Try one of these on for size:
Rating: Not rated.
It's a Universal sci-fi classic, with impressive visual effects and strong themes exploring what it means to be human. Grant Williams stars as a man who goes on a boating expedition with his wife (Randy Stuart) off the coast of California. A strange cloud passes over him, leaving his bare chest sparkling with a mysterious substance. In time, he finds that his clothes are getting bigger as he grows smaller, until eventually he becomes tinier than an insect. Dangers abound, from a ferocious cat to a monstrous spider to the general existential threat of wasting away and being lost forever. But he also gains fame as a fascinating spectacle. It's thrilling stuff, which director Jack Arnold depicts through inspired use of perspective. Kids probably won't get the movie's larger ideas, but they'll be fascinated by the fantastical depiction of size and space. Fine for viewers around 7 and older.
Watch now on: Amazon, FandangoNOW, iTunes
---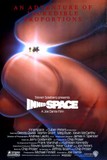 Rating: PG, for adult situations/language and violence.
Innerspace made Saturday Night Live alum Martin Short a major movie star, and it was considered super high-tech in its day. Directed by sci-fi great Joe Dante (The Howling, Gremlins), the film features Dennis Quaid as a Navy test pilot who gets shrunk down and accidentally injected into the body of an uptight grocery store clerk (Short) when a military experiment goes horribly wrong (as they so often do). Madcap hilarity ensues, much of which features Meg Ryan as Quaid's girlfriend, who gets caught up in the confusion. There's a lot going on here, both visually and thematically. This is a high-energy, overstuffed adventure that allows Short to flex his muscles with a ton of big, slapstick comedy, which is one of his specialties. There's quite a bit of danger, some language scattered throughout and slight nudity from behind. This movie is insane, but also a lot of fun. Fine for viewers around 10 and older.
Watch now on: Amazon, FandangoNOW, iTunes