What happens when two of the funniest TV stars of their generation – one of them soon to be a Marvel superhero – get together for a movie adventure? Comedy gold, according to the critics. In The Lovebirds, Issa Rae and Kumail Nanjiani play a couple who get caught up in some major organized crime drama while on a night out on the town – think of it as Date Night with more edge, and more F-bombs, and currently a very Fresh Tomatometer score. Ahead of the movie's release on Netflix on May 22, Rotten Tomatoes editor Jacqueline Coley sat down – at a compliant, safe, remote distance – with Rae and Nanjiani to talk about their wildest nights out, what they've discovered about themselves during quarantine, and to get the skinny on Marvel's upcoming The Eternals. (Though given Nanjiani's transformation, "skinny" may not be the right word.)
The Lovebirds is available on Netflix May 22, 2020. 
#1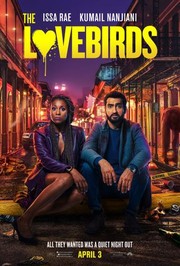 Critics Consensus:
If the breezily enjoyable The Lovebirds feels like a little less than the sum of its parts, it's still an enjoyable showcase for the talents of its well-matched stars.
Synopsis:
A couple (Issa Rae & Kumail Nanjiani) experiences a defining moment in their relationship when they are unintentionally embroiled in...
[More]