Director Guy Ritchie returns to his roots with new gangster flick, The Gentlemen, and he's brought an all-star cast of big-name Brits and Americans with him. The movie, which sees a marijuana kingpin (Matthew McConaughey) attempting to sell off his empire to a fellow drug lord – and facing a ton of complications and F-bombs in the process – is already shaping up to be one of Ritchie's best-reviewed movies in years. Ahead of the release of The Gentlemen, Rotten Tomatoes sat down with McConaughey and co-stars Hugh Grant, Michelle Dockery, Charlie Hunnam, and Henry Golding to discover what drew them to Ritchie's latest project, how they pivoted with the director's on-set changes to scenes, and what they think makes the perfect gentleman. Plus: Golding gave us some fresh new details on the upcoming G.I. Joe spin-off, Snake Eyes. 
---
The Gentlemen is in theaters January 24, 2020
#1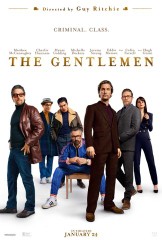 Critics Consensus:
It may not win writer-director Guy Ritchie many new converts, but for those already attuned to the filmmaker's brash wavelength,
The Gentlemen
stands tall.
Synopsis:
Mickey Pearson is an American expatriate who became rich by building a highly profitable marijuana empire in London. When word...
[More]
---
Like this? Subscribe to our newsletter and get more features, news, and guides in your inbox every week.